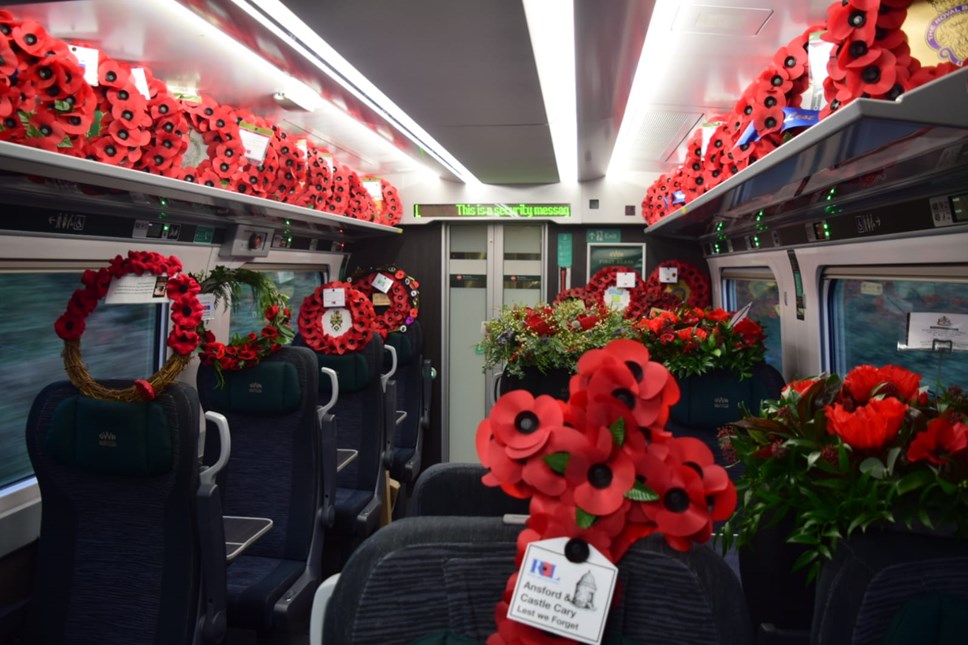 Widow of VC hero Lt Col H Jones joins Poppies to Paddington operation as GWR marks 40 years since the Falklands conflict
Great Western Railway's third Poppies to Paddington operation on Remembrance Day paid special tribute to the Falklands conflict.
Sara Jones CBE, widow of Falklands hero Lt Col Herbert 'H' Jones VC, laid a wreath at London Paddington's iconic war memorial on Platform 1 as GWR continues to mark 40 years since the Falklands War.
Hundreds of wreaths were taken to the capital by train on Friday as GWR again joined forces with The Veterans Charity to coordinate its Poppies to Paddington operation.
For B-roll footage of the event, including an interview with Sara Jones CBE, please click here.
Lt Col Jones VC was killed charging at an Argentine position during the battle for Goose Green on May 28, 1982. The battle was seen as a pivotal moment in the fight to liberate the islands following Argentinian invasion.
Pictured: Sara Jones CBE and her late husband, Lt Col Herbert 'H' Jones
One of 255 British military personnel who lost their lives during the conflict, the commanding officer of 2nd Battalion, Parachute Regiment, was awarded the Victoria Cross – the highest and most prestigious award of the British honours system – for his actions.
Sara, who read Psalm 46 at the Remembrance service, said:
"This year has been a particularly poignant one which began with a service of Remembrance at the Falkland Islands Memorial Chapel at Pangbourne.
"Poppies to Paddington was a fitting way to round off the 40th anniversary and I find it particularly heart-warming that people are so keen to remember those who died in the conflict after all this time."
In June, GWR unveiled a special Falklands 40 livery on one of its Class 255 Castle sets. Power car 43040 was chosen to mark the 40th anniversary, while Class 255 recognises the number of lives lost.
GWR Business Assurance Director, Joe Graham, said:
"In the summer we were proud to pay our own tribute to the courageous men and women who joined the military task force and helped liberate the Falklands Islands in 1982.
"Now our third Poppies to Paddington operation gives us an opportunity to not only honour the bravery of all those who took part in the conflict, but the sacrifices of all those members of the Armed Forces who have died in the line of duty."
Poppies to Paddington was conceived in 2020 to ensure communities within the GWR network could honour our fallen heroes despite the restrictions in place around Covid-19.
Danny Greeno, CEO of The Veterans Charity, said:
"We are delighted that GWR's Poppies to Paddington will again bring communities together across their network and transports dozens of wreaths and tributes to Paddington on Armistice Day. We are especially proud that many Veterans will be involved this year in a unique and poignant tribute to their fallen comrades."
Lt General Sir Andrew Gregory, CEO of SSAFA, the Armed Forces charity, said:
"It is wonderful that Great Western Railway is once again commemorating the service and sacrifice of members of the Armed Forces along their routes through Poppies to Paddington.
"Men and women step forward to serve this nation, in the process putting others before themselves. The annual period of Remembrance, which this year marks the 40th anniversary of the Falklands Conflict, is when we all honour those who have given so much for our freedom."
GWR has already underlined its support for the Armed Forces community by signing the Armed Forces Covenant.
The covenant is a promise by the nation that those who serve or have served in the Armed Forces, and their families, should be treated fairly when accessing services in the UK, and do not face discrimination compared to other citizens.
Contact Information
John Carter
Media and Communications Manager
Great Western Railway
0845 410 4444
07715 040424
Notes to editors
Pictures by Rob Thomas, Cat Hyde and Mike Swift
First Greater Western Limited, trading as "Great Western Railway" (GWR), operates trains across the Great Western franchise area, which includes South Wales, the West Country, the Cotswolds, across southern England and into London. GWR provides high speed, commuter, regional and branch line train services, and before the covid-19 pandemic helped over 100 million passengers reach their destinations every year. GWR has been awarded a National Rail Contract to continue operating the Great Western network, which shall run up to 21 June 2025, with the potential for a further three years at the Secretary of State's discretion. Find out more here: https://www.gwr.com/about-us