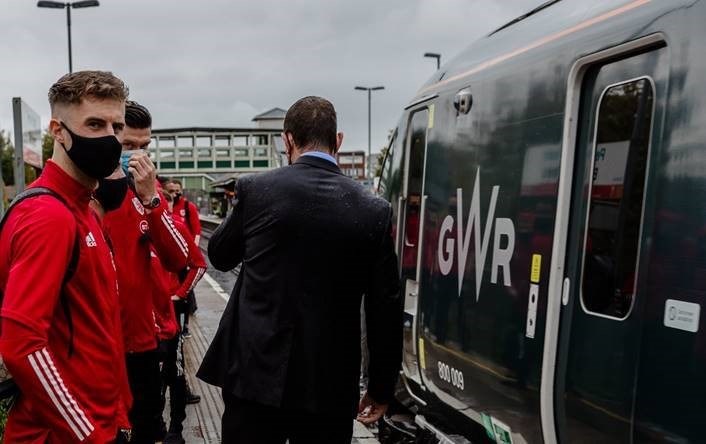 Welsh football team board GWR train named after two of country's biggest sporting icons
Wales prepared for tonight's international football friendly with England by boarding a Great Western Railway train bearing the names of two of the country's best-known sporting legends.
Wales prepared for tonight's international football friendly with England by boarding a Great Western Railway train bearing the names of two of the country's best-known sporting legends.
Ryan Giggs' squad travelled from Bridgend to London Paddington on the Intercity Express Train named after football giant John Charles and rugby great Sir Gareth Edwards.
London bound: Joe Rodon, Kieffer Moore and other members of the Wales team about to board
Pictures: Football Association of Wales
IET 800009 was named in March 2018 as part of the train operator's #GreatWesterners campaign, paying tribute to past and present heroes of the GWR network.
Charles is regarded as one of the greatest British footballers of all time, winning 38 international caps and helping Wales to the quarter-finals of the 1958 World Cup.
Sir Gareth was a member of the iconic Welsh rugby union side of the 1960s and 70s that dominated the Five Nations Championship – winning the title seven times, including three Grand Slams.
Iconic: IET 800009 features the name of Welsh football legend John Charles

Travelling on the train was the perfect pre-match boost for Giggs' men ahead of tonight's international friendly at Wembley.
Mark Evans, head of International Affairs at the Football Association of Wales, said:
"We'd like to thank Great Western Railway for their assistance in ensuring our trip to Wembley was as seamless as possible. Travelling on the train that celebrates one of our most iconic players, John Charles, was a very special touch.
"The Welsh national team has travelled by train in the past and yesterday's journey was a particularly pleasant experience that helped our preparations ahead of tonight's match."
Train incoming: Wales boss Ryan Giggs at Bridgend station
This was the second time in a month that GWR has taken a football team to an away fixture, having carried players and staff from QPR to an EFL Cup match at Plymouth Argyle at the beginning of September.
Following the success of these outings, GWR is keen to encourage more sports clubs to explore the option of travelling on its network.
Phil Delaney, GWR Sales and Marketing Director, said:
"We are delighted to have been able to carry the Wales team and their support staff ahead of tonight's friendly at Wembley.
"A lot of hard work has been done to make sure people can be confident to travel safely, and that includes running more trains and carriages to make extra room, as well as our enhanced cleaning and social distancing measures.
"We know the Covid-19 pandemic has changed our customer landscape, and these football partnerships are a great example of what we're doing to adapt to this change. It's something we'd be very happy to repeat with other teams on our network."
With more people starting to use trains again operators are reminding passengers to:
plan ahead – travel at quieter times where they can, buy a ticket online and in advance, and book ahead if you need travel assistance
consider others – wear a face covering unless you're exempt, not travelling if you have Covid symptoms and consider others, not all disabilities can be seen
stay safe – maintaining your distance wherever possible; wash your hands and carry hand sanitiser, paying contactless where you can
GWR has been providing rail services throughout the pandemic and has worked to ensure that these are as safe as possible. This includes increased cleaning regimes and the use of a virucidal spray; extra staff at key stations to offer help and guidance; and processes in place to help customers maintain a safe distance where possible such as restricting the number of reservations available.
Notes to editors
GWR has a long and proud history of naming trains after #GreatWesterners and you can learn more about its special fleet of IETs here.
John Charles
Charles starred at Leeds United from 1949-1957 and remains their second highest all-time goal scorer with 157 goals in 297 appearances.
He went on to join Juventus, scoring 108 goals in 155 matches, winning the Scudetto three times and the Italian Cup twice. Nicknamed 'Il Gigante Buono' (The Gentle Giant), he was never cautioned or sent off.
In 1997, Charles was voted by Juventus fans as the club's best-ever foreign player.
Sir Gareth Edwards
Edwards won the first of his 53 caps for Wales in 1967 at the age of 19. The following year, he became the youngest player to captain the side.
The scrum-half appeared 10 times for the British and Irish Lions – starring in the 1971 team that was the only side to win a series in New Zealand, and in the 1974 team that went unbeaten in South Africa.
He was knighted in the 2015 Queen's Birthday Honours for services to sport, and for charitable services.
Great Western Railway (GWR) provides high speed, commuter, regional and branch line train services. We help over 100 million passengers reach their destinations every year - across South Wales, the West Country, the Cotswolds, and large parts of Southern England.

We're currently seeing the biggest investment in the network since Brunel so we can offer more trains, more seats, and shorter, more frequent journeys and continue the network's heritage of helping connect more businesses to new and prosperous markets. Through a series of initiatives we aim to be a good neighbour to the communities we serve and are committed to making a positive social impact in those regions. Learn how we're Building a Greater West at GWR.com. GWR is a FirstGroup company.
Contact Information
James Davis
Media Relations Manager
Great Western Railway
0845 410 4444
07703 890 711