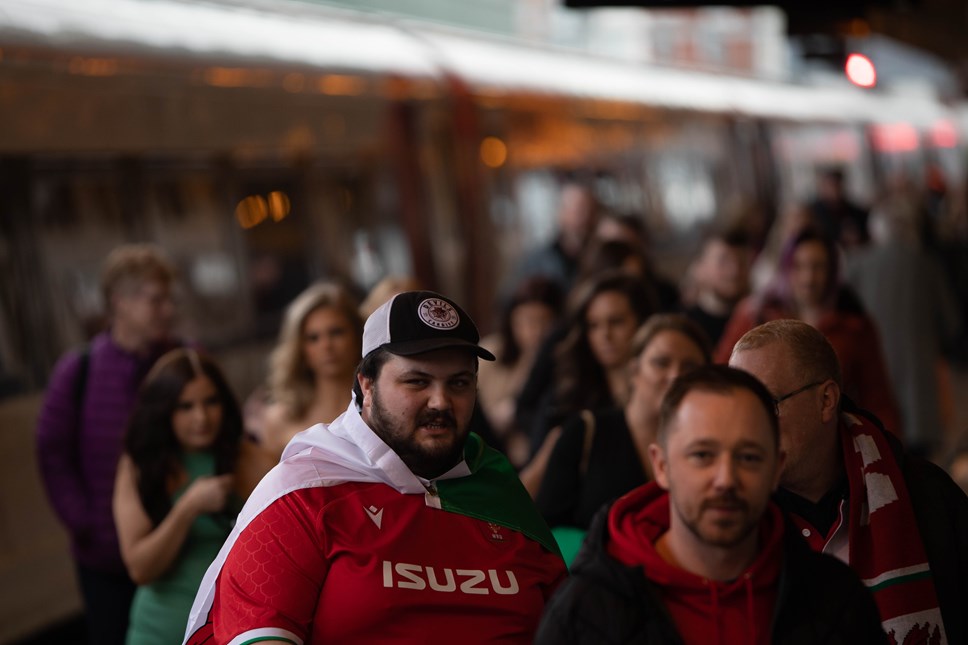 Wales v Barbarians: Great Western Railway reminds fans they'll need to queue to board trains safely
Great Western Railway is reminding rugby fans that trains will be extremely busy immediately before and after the Wales-Barbarians match tomorrow (Saturday), and a queueing system will be in place to help get people home safely.
The operator is providing 46 trains to and from Cardiff Central for the eagerly-awaited fixture at the Principality Stadium (1430).
Supporters travelling between London and Cardiff are reminded that engineering works mean services will operate on a diverted route throughout the day, with journey times increased by 30 minutes.
GWR will operate a total of 29 trains to Cardiff Central ahead of the match, with a further 17 trains carrying fans home.
In a repeat of the system in place for the Six Nations, supporters travelling east towards Newport after the match will be asked to queue on the square in front of Cardiff Central, rather than from Riverside Car Park.
GWR Customer Service & Operations Director, Richard Rowland, said:
"We're pleased to provide some additional services to allow people to visit Cardiff and have a comfortable journey, but trains will be extremely busy leading up to kick-off and immediately after the match. To avoid the queues, you may want to soak up some more of the atmosphere in this great city before heading home.
"Check journey times and if you do need to return straight after the game, allow sufficient time to queue to board trains safely."
Transport for Wales Head of Planning, Adam Terry, said:
"We'll be adding capacity where possible but services in and out of Cardiff immediately before and after the game are expected to be busy so please allow plenty of time for your journey.
"After the match our normal queuing system will be in place and there will be plenty of services available. We would like to thank our customers in advance for their patience with their fellow supporters and our staff while we get everyone home safely."
For more information, or to check your journey, please visit GWR.com.
Contact Information
John Carter
Media and Communications Manager
Great Western Railway
0845 410 4444
07715 040424
Notes to editors
First Greater Western Limited, trading as "Great Western Railway" (GWR), operates trains across the Great Western franchise area, which includes South Wales, the West Country, the Cotswolds, across southern England and into London. GWR provides high speed, commuter, regional and branch line train services, and before the covid-19 pandemic helped over 100 million passengers reach their destinations every year. GWR has been awarded a National Rail Contract to continue operating the Great Western network, which shall run up to 21 June 2025, with the potential for a further three years at the Secretary of State's discretion. Find out more here: https://www.gwr.com/about-us