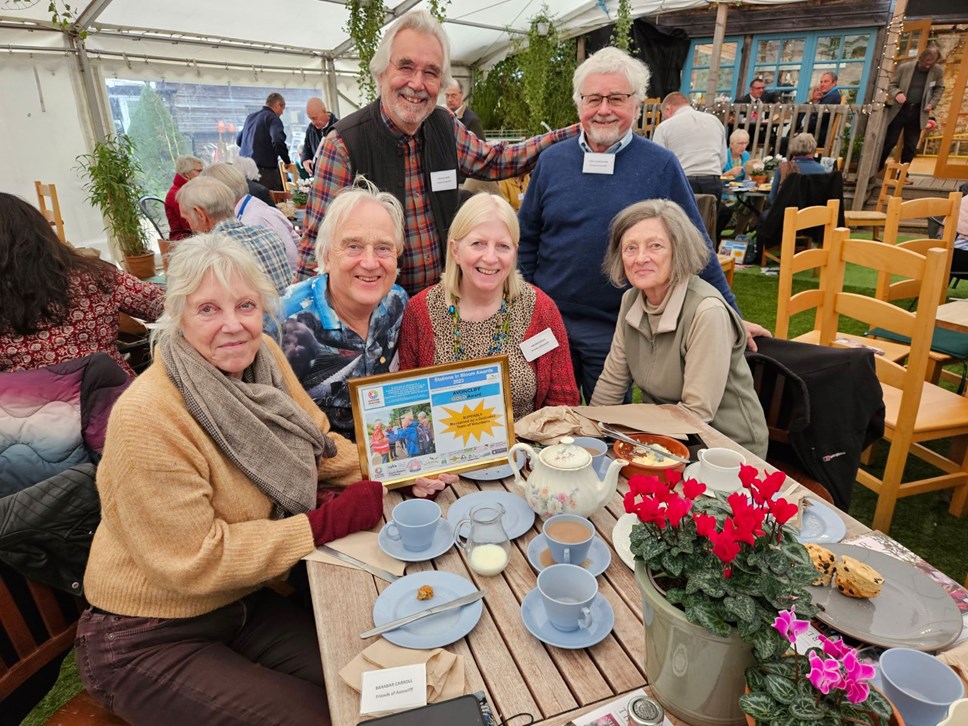 Volunteers at Avoncliff station bloom with pride at gold award
Green-fingered volunteers at Great Western Railway's (GWR) Avoncliff Halt station are celebrating after taking home a gold award in the Stations in Bloom Awards.
The Friends of Avoncliff Halt group, which is formed of volunteers from the local community, saw their first ever entry to the annual competition take home the gold, following a year of diligently tending to a variety of displays at the Wiltshire station.
The competition covers a wide range of stations across the Great Western and South Western Railway networks, celebrating the hard work and dedication of volunteers who donate their time and skills to create a welcoming environment both for rail users and the wider community.
The picturesque station, which provides the community with links to Westbury, Bath, and Bristol, has become a green gateway to the villages served by the station following the group's tireless care and effort to maintain the space. Visitors are greeted with large planting troughs which contain bee-friendly flowers, with bee houses implemented to help support the UK's population of pollinators, as well as a range of herbs for use by the local community.
The Friends of Avoncliff Halt volunteer, Dr Trevor Turpin, said:
"We were surprised and delighted to be presented with a Gold Award for '(a Station) Superbly Maintained by a Dedicated Team of Volunteers'."
Avoncliff Halt station manager, Jordan Welsby, said:
"All of us at Great Western Railway are incredibly grateful to the volunteers from The Friends of Avoncliff Halt for their hard work over the past year.
"Whether travelling to work or school, or visiting local National Trust Property, Westwood Manor during the spring and summer months, visitors to this beautiful corner of the Wiltshire countryside will receive a warm welcome as they pass through the station.
"We are dedicated to putting our local communities at the heart of what we do, providing grants from our community fund, and also working closely with groups such as this. We want to extend a huge congratulations to the volunteers for their success in their gold award and thank them for supporting the Avoncliff community in this way."
Photo credits: Dr Trevor Turpin
Photos show:
1. The Friends of Avoncliff Halt with their Stations In Bloom Gold Award
2. Stuart Meek, chief operating officer of South Western Railway, presents Dr Turpin with the Gold award at Sherborne Station
Contact Information
Catherine Hyde
Notes to editors
First Greater Western Limited, trading as "Great Western Railway" (GWR), operates trains across the Great Western franchise area, which includes South Wales, the West Country, the Cotswolds, across southern England and into London. GWR provides high speed, commuter, regional and branch line train services, and before the covid-19 pandemic helped over 100 million passengers reach their destinations every year. GWR has been awarded a National Rail Contract to continue operating the Great Western network, which shall run up to 21 June 2025, with the potential for a further three years at the Secretary of State's discretion. Find out more here: https://www.gwr.com/about-us.