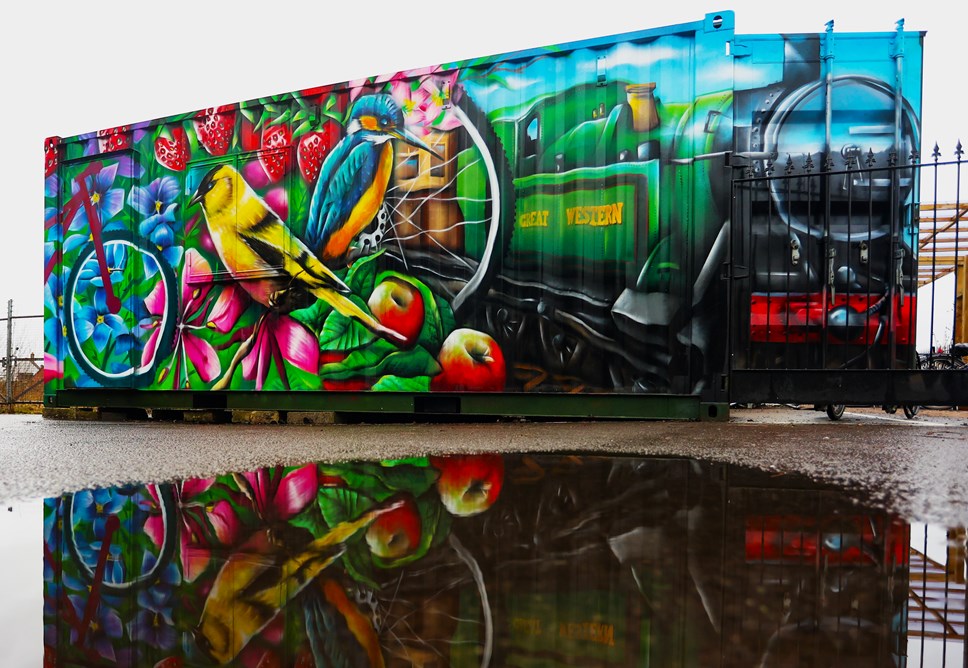 Vibrant new mural welcomes visitors to Yatton station
A stunning new mural celebrating local wildlife and steam train heritage now welcomes visitors to Yatton station in North Somerset.
The vibrant artwork created by Clevedon-based Damien Jeffery was officially unveiled at a special celebration event today (Tuesday 10 January).
The design, sprayed on to a shipping container housing hire bikes, features a yellow Siskin bird, a Kingfisher, strawberries, forget me nots and pine leaves from the Dawn Redwood, one of the trees planted around Yatton as part of the Treasured Trees project in 2012.
One end shows a sprightly Springer Spaniel leaping in the air, while the other features classic 1924-built GWR steam locomotive number 4555, which to this day still runs on the East Somerset Railway.
The container belongs to Strawberry Line Cycle Project and houses adapted bikes for use by people with disabilities. Brightening it up was the idea of cycle hire project coordinator Sally Wilcock, who felt it was an eyesore for station visitors.
The project was part-funded by Great Western Railway's Community Fund, and Community Rail Network's Community Rail Development Fund.
GWR's Community Fund was launched in May last year to support local communities and address areas of social need. As part of its National Rail Contract with the Department for Transport, the train operator is committed to supporting schools, colleges, councils, community and other not-for-profit organisations by aiding a number of initiatives.
GWR Business Assurance Director Joe Graham said:
"The Community Fund is a fantastic opportunity for us to invest in projects that really make a difference to our customers and communities at a local level.
"We're delighted to support this initiative. Damien has designed an incredible piece of artwork which really does provide a wonderful welcome to visitors using the station car park. Who knew a shipping container could look quite so striking as this!?"
Strawberry Line Cycle Project co-ordinator Sally said:
"We wanted to find an artist who could create a mural that would look contemporary but suitable for the heritage station, while showcasing the café & bike hire at the same time.
"Damien really has conjured up something truly special and the container has been completely transformed. We're so grateful to him, the Severnside Community Rail Partnership, GWR and the Community Rail Network for supporting this project."
North Somerset Council Leader, Cllr Steve Bridger, said:
"The Strawberry Line and the café are jewels in Yatton's crown, and this colourful mural will only enhance this reputation. I'm full of admiration for how Damien has brought the essence of the line to life supported by the collaborative efforts of the Severnside Community Rail Partnership, GWR and the innovative bike hire team."
Yatton station already benefits from GWR staff who tend to the planters, while hard-working volunteers have landscaped the garden with paths and plants.
Contact Information
John Carter
Media and Communications Manager
Great Western Railway
0845 410 4444
07715 040424
Notes to editors
PICTURES
From top, the stunning new mural; representatives from GWR, Severnside Community Rail Partnership, Community Rail Network, Strawberry Line Cycle Project and North Somerset Council; artist Damien Jeffery; and one end featuring GWR steam locomotive number 4555
First Greater Western Limited, trading as "Great Western Railway" (GWR), operates trains across the Great Western franchise area, which includes South Wales, the West Country, the Cotswolds, across southern England and into London. GWR provides high speed, commuter, regional and branch line train services, and before the covid-19 pandemic helped over 100 million passengers reach their destinations every year. GWR has been awarded a National Rail Contract to continue operating the Great Western network, which shall run up to 21 June 2025, with the potential for a further three years at the Secretary of State's discretion. Find out more here: https://www.gwr.com/about-us 
Strawberry Line Cycle Project was launched in 2020 to encourage people to get outdoors and active, exploring the Strawberry Line. It also wanted to offer people with learning disabilities a chance to get meaningful work and vocational training. Find out more about group rides and bike hire here: https://www.strawberrycycles.com/