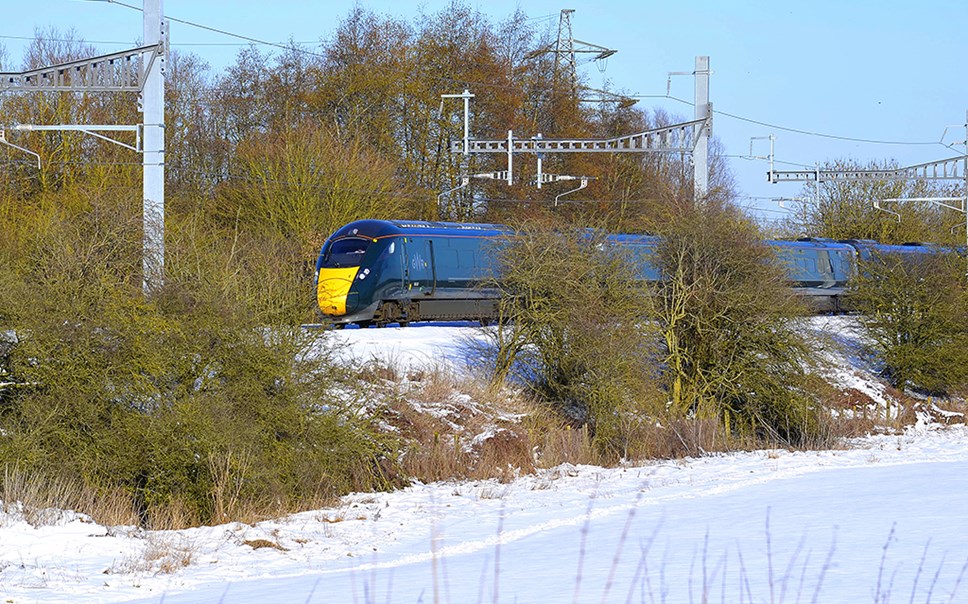 Travelling by train this Christmas? When will trains be busiest and where is engineering work taking place?
With Christmas falling on a weekend this year, train operator GWR has released details about which services it expects to be busiest.
Data from the number of seats already booked shows that trains on Thursday 23 and on Monday 27 December are the most in demand, with those departing between 1000 and 1400 set to be the busiest of them all.
Which are the top 10 most in-demand trains this year?
1204 Paddington to Penzance, Thursday 23 December
1204 Paddington to Penzance, Wednesday 22 December
1004 Paddington to Penzance, Thursday 23 December
0910 Penzance to Paddington, Monday 27 December
1204 Paddington to Penzance, Monday 20 December
1104 Paddington to Plymouth, Thursday 23 December
1404 Paddington to Penzance, Thursday 23 December
0815 Penzance to Paddington, Monday 27 December
0710 Penzance to Paddington, Monday 27 December
1000 Bristol Temple Meads to Paddington, Monday 20 December
Trains between London Paddington and Bristol, and South Wales, also feature in the top 20.
GWR is asking those travelling this Christmas to book in advance, remember you must reserve a seat*, and try to travel at quieter times for the best experience. The company warns that services immediately before and after the Christmas period are set to be in demand.
How do I avoid busy trains?
Travel as early as you are able to. Services in the latter half of the week, and between 1000 and 1400, are busiest
Please be aware that rail services will shut-down earlier on Christmas Eve. Check your journey in advance.
Will engineering work affect my journey?
Work in the Bristol and Gloucestershire areas will extend beyond the usual Christmas Day and Boxing Day shut-down, affecting train services from Monday 27 to Friday 31 December.
During this time, sections of track either side of Bristol Parkway will be renewed, to ensure the continued safe and reliable running of the railway.
A bridge is also being replaced between Gloucester and Cam & Dursley on behalf of the Cotswold Canals Connected Project to allow boats to pass under the railway.
Here is a summary of the changes to services:
Trains between London and South Wales will be diverted via Bath Spa and will stop at Patchway instead of Bristol Parkway
Trains between Birmingham and the South West will also be diverted, stopping additionally at Gloucester but not Bristol Parkway
Trains will still run between Great Malvern and Gloucester as well as between Bristol Temple Meads and Westbury or the South Coast
Buses will replace trains between Bristol Parkway and Patchway, Filton Abbey Wood, Bristol Temple Meads and towards Gloucester.
Transport for Wales' ongoing work to develop the South Wales Metro is continuing over the festive period, with buses replacing trains between Pontypridd and both Merthyr Tydfil and Aberdare from Saturday 27 December to Thursday 6 January. Services between Radyr, Pontypridd and Treherbert will also continue to be replaced by buses in the evenings while overnight work takes place. For more information, please visit the TfW website.
GWR Head of Customer Experience Samyutha Bala said:

"We have been working hard to make sure that people can be confident to travel safely, and that includes running as many trains and carriages as we can to make extra room, as well as enhanced cleaning and social distancing measures.

"Please do, however, plan ahead, reserve a seat, and be considerate of others."

In line with the latest Government advice, GWR is encouraging customers to travel safely.
People are reminded to:
Wear a face covering
Wash your hands more regularly
Buy tickets online, on a smart card or by using the GWR app
Notes to editors
Great Western Railway (GWR), operates trains across the Great Western franchise area, which includes South Wales, the West Country, the Cotswolds, across southern England and into London.
GWR provides high speed, commuter, regional and branch line train services, and before the covid-19 pandemic helped over 100 million passengers reach their destinations every year.
GWR's enhanced cleaning regime includes:
A 24% increase in cleaning hours every week since March 2020
Sanitising (fogging) of 1,120 vehicles every 4 weeks
Carrying out 2,150 on board surface tests (ATP) every four weeks, to ensure the effectiveness of our cleaning
272 train cleaning processes reviewed, and many adapted
Hand sanitising facilities at key stations across its network.
*: To help make sure everyone can travel safely, you must reserve a space before travelling on many of our trains. This helps us limit the number of people on these trains so it's easier to socially distance. For reservable trains, we'll automatically allocate you a space if one is available or ask you to try another service if not. Don't worry, we always leave space on board for those with walk-up tickets, such as season tickets, or those who may have been disrupted.


Contact Information
James Davis
Media Relations Manager
Great Western Railway
0845 410 4444
07703 890 711