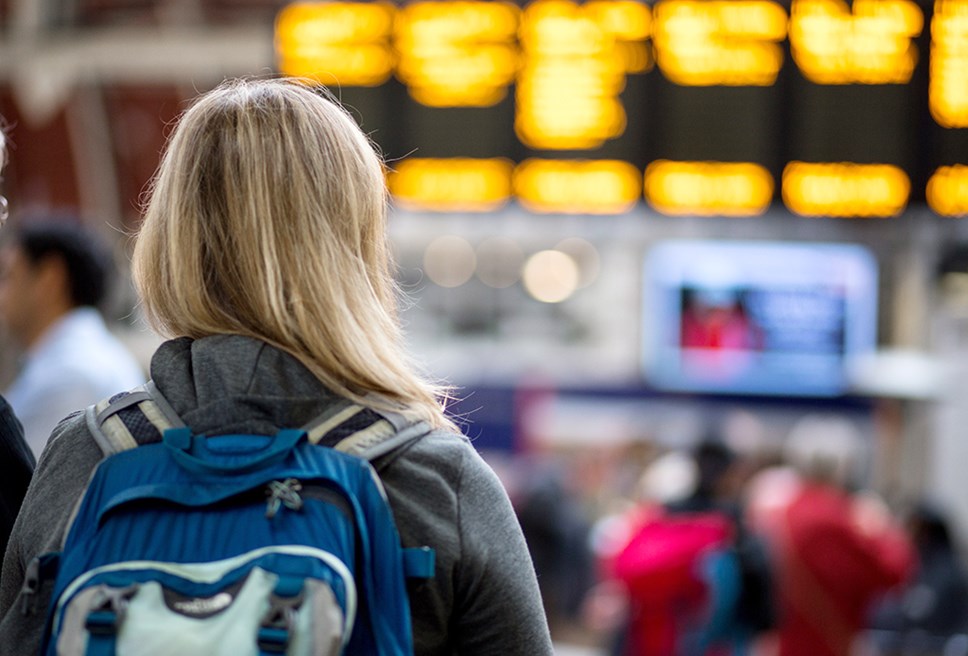 Train operator warns of disruption as strike action set to go ahead:  Only travel if necessary over the affected period. Book in advance for Christmas trains.
Train operator Great Western Railway is warning of significant disruption to rail services during December and January but expects trains in the week before Christmas will continue to operate.
Trades unions have announced industrial action, including strike action and action short of strike, over December and January that will affect rail services from 13 December to 18 December 2022, and from 24 December 2022 to 8 January 2023. 
A reduced, revised timetable will operate across several train operators, including GWR, for most of this period.
On strike days (13/14; 16/17 December; 3/4 and 6/7 January) only an extremely reduced service will operate on a limited number of routes. Some parts of the GWR network will have no service at all. Services will start later (07:30) and all journeys must be completed by 18:30.
On the days between the strikes (15 December and 5 January), a reduced timetable will operate, and trains will start later. On the days after the strikes (18 December and 8 January) trains will start later and there could be short-notice cancellations and alterations.
Should strike action be called off, there will still be considerable disruption across the rail network while work is carried out to restore timetables.
From Monday 19 December to Saturday 24 December a full timetable is planned to run. However, trains will finish much earlier than usual on Christmas Eve; and customers should check their journey before travelling, travel earlier in the day and you are advised to reserve a seat on services. We strongly recommend anyone travelling on Christmas Eve plans to finish their journey by lunchtime that day.
After Christmas and throughout the new-year period, a reduced timetable will operate on all routes, and there will be some late-night cancellations.  
On the days affected, passengers are advised to find an alternative way to travel. Where services are running, customers should only travel by train if absolutely necessary, and it is highly recommended that a seat reservation is made*. Other train operators are also affected by this action, so onward travel could also be affected. 
 Where we are able to run services, they are expected to be extremely busy and we are not able to provide bus replacement services. 
 Customers who have already purchased tickets for strike days can claim a full refund or amend their ticket; those who travel and are delayed may be entitled to Delay Repay compensation if they are delayed by 15 minutes or more.
To help customers, tickets will be valid for travel on alternative days on GWR services as follows:
Tickets for 13, 14, 16, 17 December can be used the day before, or up to and including Tuesday 20 December
Tickets for 24, 27 December can be used the day before (where applicable), or up to and including Thursday 29 December
Tickets for 3, 4, 6, 7 January can be used the day before, or up to and including Tuesday 10 January
Season-ticket holders can apply for compensation through the Delay Repay scheme.
For more detailed information, including when journey planners will be updated with the latest train times, please click here.
Contact Information
James Davis
Media Relations Manager
Great Western Railway
0845 410 4444
07703 890 711
Notes to editors
*: To help make sure everyone can travel safely, you must reserve a space before travelling on many of our trains. This helps us limit the number of people on these trains. For reservable trains, we'll automatically allocate you a space if one is available or ask you to try another service if not. Don't worry, we always leave space on board for those with walk-up tickets, such as season tickets, or those who may have been disrupted. 
First Greater Western Limited, trading as "Great Western Railway" (GWR), operates trains across the Great Western franchise area, which includes South Wales, the West Country, the Cotswolds, across southern England and into London. GWR provides high speed, commuter, regional and branch line train services, and before the covid-19 pandemic helped over 100 million passengers reach their destinations every year. GWR has been awarded a National Rail Contract to continue operating the Great Western network, which shall run up to 21 June 2025, with the potential for a further three years at the Secretary of State's discretion. Find out more here: https://www.gwr.com/about-us