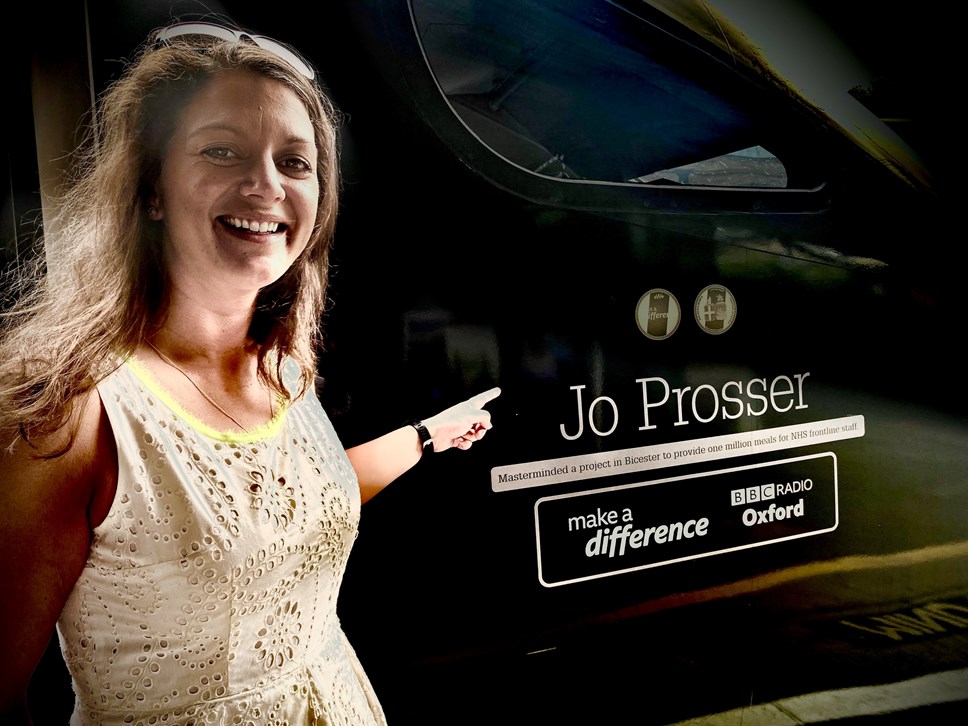 Train-name fame as GWR celebrates 18th and final BBC Make a Difference Superstar
Great Western Railway has staged the last of its train-naming events celebrating BBC Make a Difference Superstars who went above and beyond to help others during the Covid-19 pandemic.
Jo Prosser, who masterminded a project in Bicester to provide one million meals for NHS frontline staff, was honoured at Oxford Station yesterday (July 12).
GWR joined forces with the BBC in 2020 to celebrate Make a Difference Superstars from nine BBC Local Radio regions. Jo is the last of 18 heroes to be awarded train-name fame for selflessly helping others at the peak of the pandemic.
Jo left behind her husband and much-loved dog in Lincolnshire for four months to spearhead a Salute the NHS project in Bicester co-founded by Ron Dennis CBE, founder of F1 team McLaren.
As lead operations director, she worked tirelessly to coordinate 800 volunteers to deliver one million meals, boxes, bags and 75,000 soothe and care packs to the NHS. She showed her full array of skills, from driving a forklift to managing orders, packing boxes and liaising with all the teams involved.
Always working with a smile, Jo proved an inspirational leader, setting up visits with potential partners, key celebrities and even a Royal guest.
After being nominated by listeners on BBC Oxford, Jo was selected by judges as a BBC Make a Difference Superstar, with her name now featuring on Intercity Express Train 800034.
Victoria Prentis, MP for Banbury (including Bicester), said:
"Jo is a true unsung hero. It is because of the efforts of people like her that we made it through the last couple of difficult years. Jo worked tirelessly to deliver over one million meals for NHS frontline staff in Bicester. It is brilliant to see her honoured in this unique way by GWR and the BBC."
Great Western Railway Managing Director Mark Hopwood said:
"It was a privilege to partner with the BBC Make a Difference campaign and the stories which featured on BBC local radio were truly overwhelming.
"The various lockdown restrictions which have followed since 2020 have presented challenges in terms of staging train-naming events for these BBC Make a Difference Superstars, but we are delighted to finally recognise Jo and bring this excellent partnership to a conclusion.
"Jo went to incredible lengths to support her community during the pandemic and we're thrilled to add her name to the side of an Intercity Express Train.
"The GWR has a long and proud history of naming trains after Great Westerners – past and present heroes from across our network – and it's a real treat to add her to that list."
Head of Audio and Digital for BBC England Chris Burns said:
"We have been amazed by the response of many listeners to our Make a Difference campaign on Local BBC Radio, as listeners have been helping each other out throughout the pandemic.
"It has been humbling to learn about the kind-hearted efforts of so many in our communities and Jo is a great example to the rest of us. Congratulations to her and to the team at BBC Oxford."
Contact Information
John Carter
Media and Communications Manager
Great Western Railway
0845 410 4444
07715 040424
Notes to editors
First Greater Western Limited, trading as "Great Western Railway" (GWR), operates trains across the Great Western franchise area, which includes South Wales, the West Country, the Cotswolds, across southern England and into London. GWR provides high speed, commuter, regional and branch line train services, and before the covid-19 pandemic helped over 100 million passengers reach their destinations every year. GWR has been awarded a National Rail Contract to continue operating the Great Western network, which shall run up to 21 June 2025, with the potential for a further three years at the Secretary of State's discretion. Find out more here: https://www.gwr.com/about-us