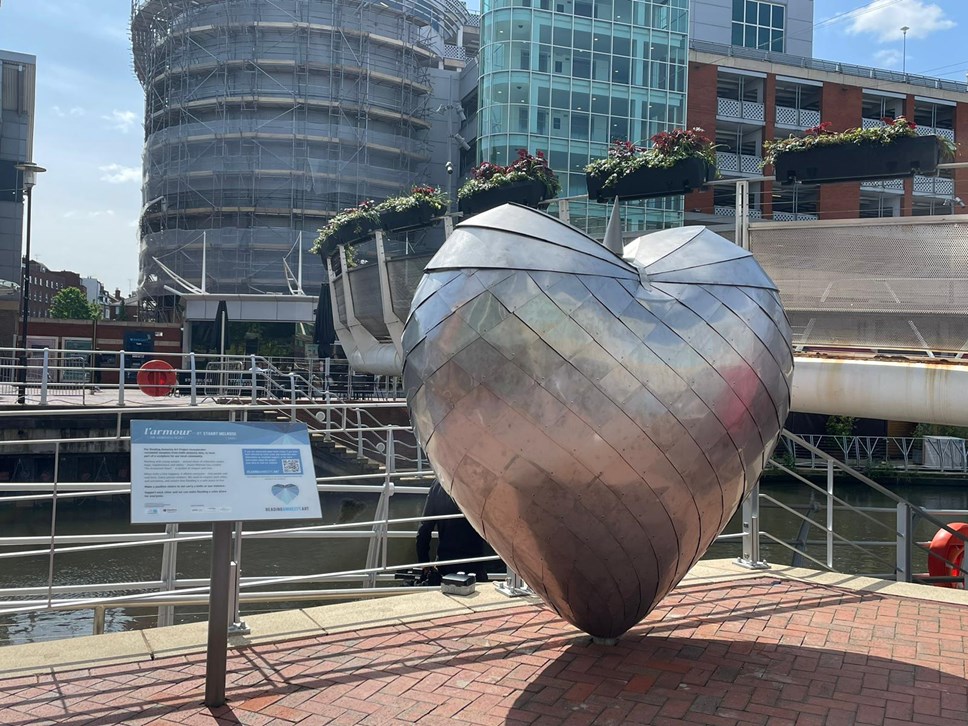 The Armoured Heart – a new sculpture to inspire anti-knife crime – is unveiled in Reading
A new thought-provoking piece of public art has been unveiled in Reading, created by the efforts of young people involved in a project focusing on tackling knife crime and violence in the town.
The Armoured Heart sculpture is now installed outside the east entrance of The Oracle shopping centre, standing as a physical symbol for peace and hope as it is in part created from blades handed in to knife amnesty bins across Reading and the rest of the Thames Valley.
It was created by local artist Stuart Melrose, who has worked on the Amnesty Art project alongside members of the Young Voices project run by Reading's Starting Point mentoring service. This has involved young people shaping the design of the sculpture and learning through developing a new programme to educate on the risks and consequences of violence and knives.
Representing the strength of Reading's communities and the potential of young people growing up in the town, the 2m tall structure is in the shape of heart, made up of multiple precision-cut stainless steel diamonds to depict armour plating. At the top a swirling steel finial shape has been made from weapons recovered by Thames Valley Police and then melted down and repurposed into an inspirational art form.
With the artwork created to inspire young people to make positive choices around knives, there is also an interactive digital layer that can be viewed through a mobile phone using augmented reality technology.
Members of the public are invited to visit the sculpture and learn more from its adjacent information board where it can be viewed for free on the riverside outside the Oracle, opposite the cinema. This will be followed by a month of action in July where the installation will be the catalyst for an educational outreach programme aiming to help young people reach their potential and challenge any culture that knives or violence are acceptable as a form of protection or as a solution to any situation. A new website – www.readingamnesty.art – has been launched to carry resources and advice.
The sculpture was funded through grants received from GWR's Community Fund, the British Airways community fund, the Thames Valley Violence Reduction Unit and community donations. It was commissioned through a partnership project including Reading Borough Council, Thames Valley Police, The Oracle shopping centre, the University of Reading, Berkshire Community Foundation, the Hampshire Community Rail Partnership and Reading & Basingstoke Community Rail Partnership, amongst others.
Councillor Karen Rowland, Lead Member for Environmental Services & Community Safety at Reading Borough Council, said:
"The unveiling of this incredible, evocative sculpture has created a physical symbol of peace and hope that everyone can take inspiration from.
"The sculpture celebrates the opportunity of the positive choices that our young people can make to grow up safe in Reading's communities.
"The production of this sculpture is proudly "Made in Reading", the culmination of our local young people alongside Reading's own Stuart Melrose, to create a thought-provoking manifestation of our message. The upcoming educational programme to follow will remind us all that within Reading we have the power to work together to move away from knife crime and violence.
"My thanks go to The Oracle shopping centre for the prime location and to GWR and British Airways, the Thames Valley Violence Reduction Unit and other community organisations for the funding and volunteering efforts that have made this possible."
Artist Stuart Melrose said:
"It has been a fascinating project to work on, drawing upon what the partners felt represented their hopes for Reading and those growing up here, but also as a symbol of the resilience in the community and its strength.
"The young people I worked with are overcoming all the challenges they face growing up today, but their enthusiasm and vision has shaped both the sculpture but also a wider brand which will help the education project have a lasting impact."
GWR Business Assurance and Strategic Director Joe Graham said:
"The Community Fund is a great opportunity for us to invest in projects that really make a difference to our customers and communities at a local level.
"We were delighted to support this initiative with a grant for £44,000. The sculpture itself is fantastic as a permanent installation, but it is the opportunity to inspire further positive change that we are particularly pleased to be able to support for the long term."
Contact Information
John Carter
Media and Communications Manager
Great Western Railway
0845 410 4444
07715 040424
Notes to editors
The Amnesty Art project has been run in partnership over the past 12 months and will continue to run through the Community Safety Partnership to deliver the educational outreach programme is developed and delivered.
The project received direct sponsorship totalling £64,000 to cover all costs of the sculpture design and the development of the educational materials. Sponsorship included:
£44,000 from the GWR Community Fund 2022/2023
£7,500 from British Airways
£12,000 from the Thames Valley Violence Reduction Unit, to support piloting of anti-knife crime messaging
£500 in individual donations from community sponsors
Project partners include:
Reading Borough Council
Thames Valley Police – Reading Local Policing Area
Thames Valley Violence Reduction Unit
The Oracle shopping centre
Starting Point mentoring, part of the Mustard Tree foundation
Berkshire Community Foundation
University of Reading – in particular the Museum of English Rural Life
Hampshire Community Rail Partnership
Reading & Basingstoke Community Rail Partnership
Amanda & Stuart Stephens, the parents of murdered schoolboy Ollie Stephens
Monday 15 May also marks the start of the national "Operation Sceptre" or Knife Crime Awareness Week, running until Sunday 21 May. During the week, police and partners seek to raise awareness of the risk and consequences of carrying knives. Weapons amnesty bins are available for anyone to anonymously dispose of weapons and knives, no questions asked. Thames Valley Police will be issuing its media release at the end of the week via the usual channels.
Knife amnesty bins in Reading are located at the Waitrose Car Park in Caversham, Cintra Park, Coley Park Community Centre, Kensington Park, Orts Road and Tilehurst Triangle.
GWR's Community Fund was launched in May last year to support local communities and address areas of social need. As part of its National Rail Contract with the Department for Transport, the train operator is committed to supporting schools, colleges, councils, community and other not-for-profit organisations by aiding a number of initiatives.