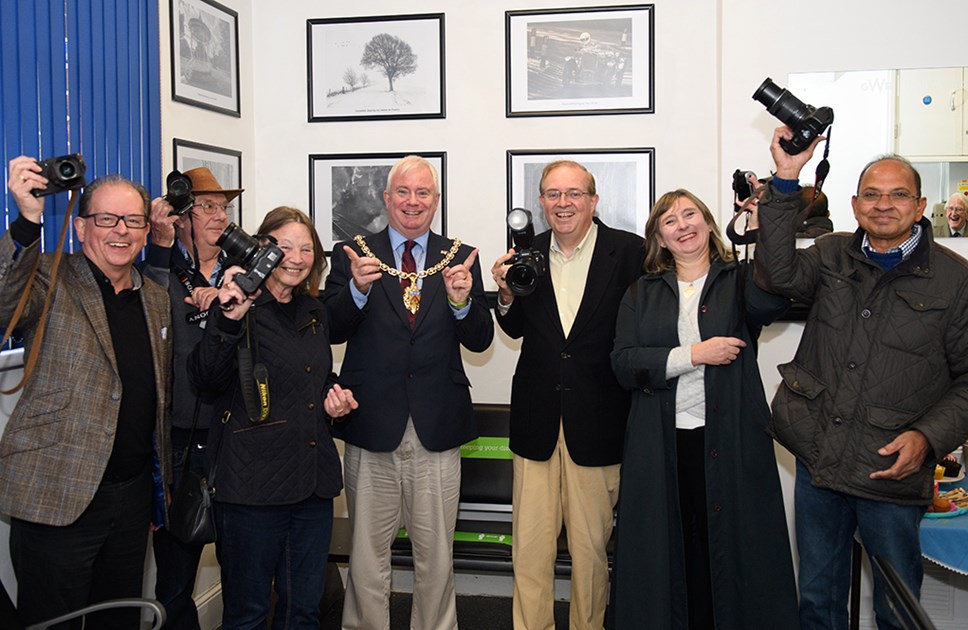 Station Photography Exhibition opened by Mayor of Cheltenham
The Mayor of Cheltenham has cut the ribbon on an exhibition of local photography which is being displayed in the waiting room of Cheltenham Spa station.
Great Western Railway (GWR) is hosting the exhibit in partnership with Cheltenham Camera Club, the largest photography club in Gloucestershire, who support photographers of all abilities from all corners of the community.
The exhibition, which was opened by Mayor of Cheltenham, Councillor Steve Harvey on Friday 15 October, will showcase the talents of local photographers who have used their skills to capture the spirit of the community.
A chance meeting between GWR Customer Ambassador Sarah Bennet and a member of the Cheltenham Camera Club led to an exciting collaboration to produce an exhibition of stunning photographs celebrating the beautiful town, railway, and surrounding countryside that Gloucestershire can offer.
Sarah said:
"Cheltenham Spa welcomes customers from all over the country and world, with the station acting as a gateway not only to Cheltenham, but to the surrounding areas. I wanted our waiting room to delight both our local customers and also inspire those less familiar with the area to explore more and see what Cheltenham and Gloucester have to offer."
Cheltenham Camera Club Committee Member, John Clare said:
"The station and the camera club have both been around since Victorian times and this was a great opportunity for us to combine. The exhibition will be a permanent showcase of the glory of Cheltenham and the photographic skills of our members. The images look fantastic and transform the waiting rooms into art galleries. We hope it will add to the enjoyment of locals and visitors alike"
Station Manager Sally Fouracre said:
"GWR is so proud of what Sarah has achieved together with Cheltenham Camera Club. Supporting our communities is at the heart of what we do, and this exhibition demonstrates exactly what can be achieved when we work together with local groups. We hope that all our customers who travel through the station will enjoy the beautiful images of Cheltenham and beyond that we have been able to share."
Notes to editors
First Greater Western Limited, trading as "Great Western Railway" (GWR), operates trains across the Great Western franchise area, which includes South Wales, the West Country, the Cotswolds, across southern England and into London. GWR provides high speed, commuter, regional and branch line train services, and before the covid-19 pandemic helped over 100 million passengers reach their destinations every year. GWR was recently awarded an extension to its direct award franchise (called DA3), which shall run up to 31 March 2023, with an option to extend for a further year.
Find out more here: https://www.gwr.com/about-us
GWR's enhanced cleaning regime includes:
A 24% increase in cleaning hours every week since March 2020
Sanitising (fogging) of 1,120 vehicles every 4 weeks
Carrying out 2,150 on board surface tests (ATP) every four weeks, to ensure the effectiveness of our cleaning
272 train cleaning processes reviewed, and many adapted
Hand sanitising facilities at key stations across its network.
Contact Information
James Davis
Media Relations Manager
Great Western Railway
0845 410 4444
07703 890 711