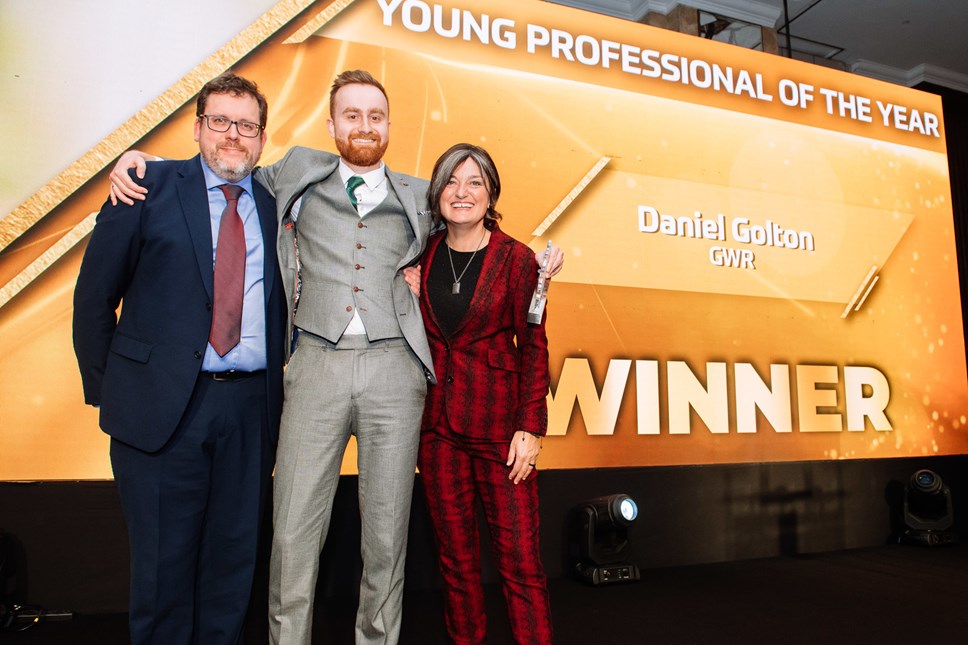 Rising GWR star named Young Professional of the Year at Rail Business Awards
Great Western Railway's Daniel Golton has been named Young Professional of the Year at the Rail Business Awards, the industry's most recognised awards scheme.
Daniel, 28, from Gloucester, has made giant strides in his short career at GWR, playing a pivotal role in enhancing the operator's train service performance.
A citation at last night's 25th Rail Business Awards at Park Lane's London Hilton read:
"The judges were impressed by the 'exceptional progress' that Daniel had displayed during his 3½ years in the rail industry, and his achievements as Performance Manager which demonstrated a breadth of impact with a positive influence on the customer experience."
GWR Managing Director Mark Hopwood said:
"I'm delighted that Daniel has been named Young Professional of the Year. It is worthy recognition for the work he has done in helping to improve train performance. He has progressed very quickly through the ranks of our performance team and has established himself as the go-to-person for addressing complex train service delivery issues.
"He shows that there are great opportunities for young people to do well in rail, and we are very proud of his excellent achievement."
Daniel has played a significant role in improving the performance of train services, introducing and updating systems to monitor performance of key services and working with GWR and NR colleagues to find solutions to improve reliability and punctuality.
Daniel said:
"I'm intensely passionate about the railway and its amazing force for social good. As an industry I think that sometimes we get a little down on ourselves, but these awards demonstrate there's an awful lot of people doing incredible stuff to push against that.
"To even make the shortlist of four in the Young Professional category was fantastic. To win it is completely surreal, but I'm absolutely stoked."
GWR's Sales & Marketing team was also shortlisted in the Marketing & Communications Excellence category for a 'blockbuster campaign that supercharged leisure rail recovery'. The campaign helped to promote leisure travel across the GWR network.
Established as the first national awards for the UK rail sector, the Rail Business Awards are committed to recognising and celebrating achievements in every aspect of the industry, from daily operations, safety and customer service to technical innovation and major projects.
Contact Information
John Carter
Media and Communications Manager
Great Western Railway
0845 410 4444
07715 040424
Notes to editors
Picture: Left to right, award sponsor Trevor Bradbury, Daniel Golton and host Zoe Lyons
First Greater Western Limited, trading as "Great Western Railway" (GWR), operates trains across the Great Western franchise area, which includes South Wales, the West Country, the Cotswolds, across southern England and into London. GWR provides high speed, commuter, regional and branch line train services, and before the covid-19 pandemic helped over 100 million passengers reach their destinations every year. GWR has been awarded a National Rail Contract to continue operating the Great Western network, which shall run up to 21 June 2025, with the potential for a further three years at the Secretary of State's discretion. Find out more here: https://www.gwr.com/about-us