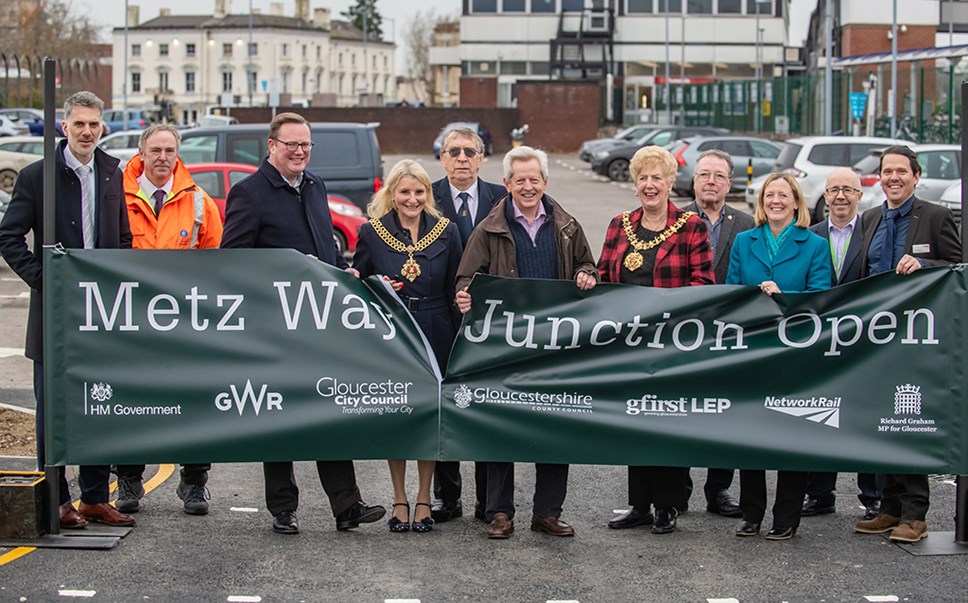 Regeneration of Gloucester Station a step closer after completion of major junction works
Work on the next stage of Gloucester station has been successfully completed with Gloucestershire County Council finishing improvements to Metz Way junction.
The programme of work allows for better bus and rail integration at the station, promoting sustainable travel and helping economic recovery and renewal. It also makes it possible for work to start on improving the walking route connecting the station and the City Centre with changes to Bruton Way Junction.
Richard Graham MP said:
"I first suggested this important change – good for reducing journey times, taxi fares and air pollution – about six years ago and am delighted that two funding bids work involving five different public bodies and Great Western Rail has finally led to this new entrance and exit.
"It's also vital to the next stage of improvements at our railway station in the New Year, at the station building, forecourt, original entrance, Bruton Way and underpass. It's a series of mini projects and congratulate all involved on success so far."
Gloucester City Leader Cllr Richard Cook said "The opening of this new Metz Way entrance to Gloucester Railway Station is an important step in the overall project. It marks progress in the project as we look to make improvements to the railway station in Gloucester, including the underpass to Great Western Road.
The opening of this entrance will allow work to begin at the Bruton Way junction, which will help to create a better link between the station and the city centre."
Gloucestershire County Councillor Leader Mark Hawthorne MBE said
"I am delighted to see this new entrance from Metz Way has been completed. The new access into the railway station will provide easier connections with other areas of the city and help to reduce congestion in the city centre. It is an important step in the wider improvements of the railway station."
GWR Managing Director Mark Hopwood said:
"We are delighted to see work on this next phase has been completed. Working together we have been able to build on the previous investment and pave the way for further improvements. This would not have happened without the combined efforts of local government, national government, the rail industry and the local enterprise partnership.
"This is a perfect example of how working collaboratively can support the communities we serve to thrive."
Network Rail Western Senior Project Sponsor Daniel Collins said:
"We are proud to be working with Gloucestershire County Council, Great Western Railway and other key partners on this important scheme.
"Effective transport links - whether passengers are travelling for work, leisure or needing to visit the Gloucestershire Royal Hospital - are essential. And we look forward to helping GWR develop and deliver the future plans for the station."
Ruth Dooley Chair of GFirst Local Enterprise Partnership said:
"It's great to see the first phase of the Gloucester railway station scheme now complete. GFirst LEP successfully bid for £4.3million for this project from the Government's Growth Deal fund. We are looking forward to seeing the next important phases commence to the underpass and forecourt.
Gloucester's residents and all its visitors will hugely benefit from the regeneration of the railway station. The project is a real enabler for growth, follows in the footsteps of another LEP funded project, The Transport Hub and will compliment all the wider exciting projects taking shape in the heart of the city".
Work on the next stage of improvements, Bruton Way Junction, is expected to start in January.
In line with the latest Government advice, GWR is encouraging customers to travel safely.
People are reminded to:
Wear a face covering
Wash your hands more regularly
Buy tickets online, on a smart card or by using the GWR app
Notes to editors
Great Western Railway (GWR), operates trains across the Great Western franchise area, which includes South Wales, the West Country, the Cotswolds, across southern England and into London.
GWR provides high speed, commuter, regional and branch line train services, and before the covid-19 pandemic helped over 100 million passengers reach their destinations every year.
GWR's enhanced cleaning regime includes:
A 24% increase in cleaning hours every week since March 2020
Sanitising (fogging) of 1,120 vehicles every 4 weeks
Carrying out 2,150 on board surface tests (ATP) every four weeks, to ensure the effectiveness of our cleaning
272 train cleaning processes reviewed, and many adapted
Hand sanitising facilities at key stations across its network.
Contact Information
James Davis
Media Relations Manager
Great Western Railway
0845 410 4444
07703 890 711
Notes to editors
Pic shows:
Left to right: GWR's Dan Oakey; Cllr Vernon Smith, Cabinet lead for Highways at Gloucestershire County Council; Cllr Mark Hawthorne; Leader of Gloucestershire County Council; Cllr Collette Finnegan, City Councillor and Mayor of Gloucester; Cllr Paul Toleman, City Councillor for the Westgate ward; MP for Gloucester Richard Graham; Cllr Pam Tracey, City Councillor for the Westgate ward and Sheriff of Gloucester; Cllr Richard Cook, leader of Gloucester City Council; GFirst LEP Neil Hopwood and Ruth Dooley; Daniel Collins, Network Rail Senior Project Sponsor