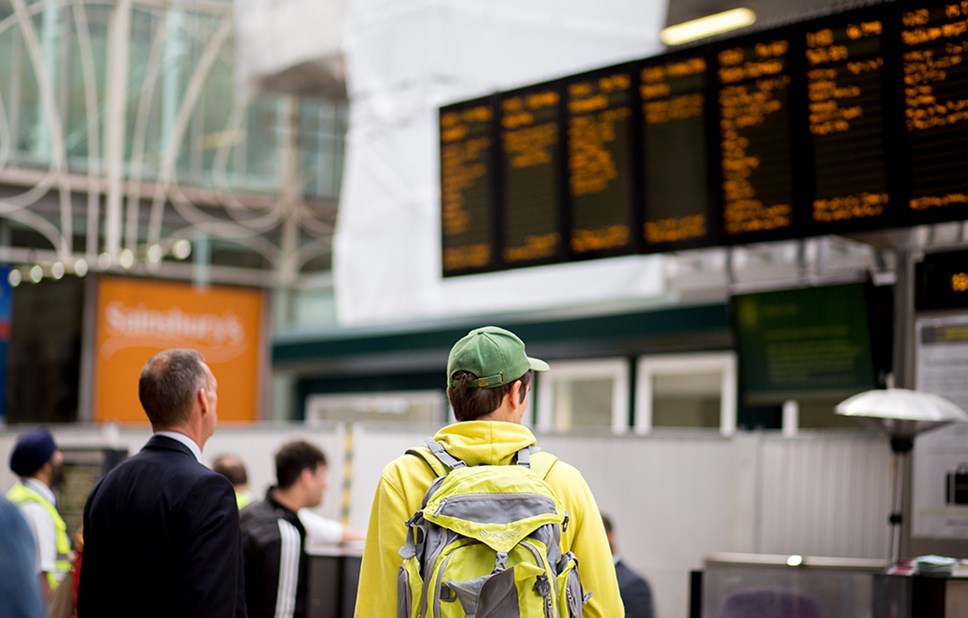 Rail services to be severely affected this week as strike action looms
Journey planners for Wednesday's and Thursday's reduced temporary train timetable have now been updated, with planned industrial action by the RMT, Aslef and the TSSA unions severely affecting rail services.
On both strike days (Wednesday 27 and Saturday 30 July) an extremely limited service will operate between 0700 and 1830, and last trains will leave much earlier. On non-strike days, no services will run before 0700. Due to the timing of the strike action, services either side of the strike days will also be affected up to and including Sunday 31 July.
Passengers are advised to find alternative ways to travel during the strike period. Only travel if absolutely necessary. The majority of train services will not operate and there will be no services on some routes.
GWR will operate as many trains as possible during the strike action, however, most train services will be affected on the days announced.
No rail services will operate on Wednesday 27 July on the following routes:
All lines in Cornwall, including all branch lines
Beyond (west of) Exeter towards Plymouth / Cornwall (due to no contingency signallers)
All branch lines in Devon (Barnstaple, Exmouth, Paignton, Okehampton)
South Wales main line (Carmarthen/Swansea-Cardiff Central)
Berks & Hants line (Reading-Taunton via Castle Cary)
Wessex main line (Bath Spa-Portsmouth Harbour)
Heart of Wessex line (Westbury-Weymouth)
TransWilts line (Swindon-Westbury via Melksham)
Severn Beach line (Bristol Temple Meads-Severn Beach)
North Cotswolds line (Hereford/Worcester-Oxford)
South Cotswolds line (Cheltenham Spa-Swindon)
Worcester/-Gloucester-Bristol
Greenford branch line
North Downs line (Reading-Gatwick Airport)
With train drivers set to strike on Saturday 30 July, GWR expects to operate even fewer services on the second of the two strike days.
On Saturday an extremely limited service will only operate on the routes below. Services will also start later and finish much earlier than normal.
Bristol Temple Meads-London Paddington
Bristol Temple Meads-Cardiff Central
Reading to Oxford
Reading to Basingstoke
No other GWR services will run.
Customers who have already purchased tickets can claim a full refund or amend their ticket; those who travel and are delayed may be entitled to delay repay compensation if they are delayed by 15 minutes or more. Season ticket holders can apply for compensation through the Delay Repay scheme.

Where GWR is able to run services, they are expected to be extremely busy. The train operator is not able to provide bus replacement services.

To help customers, GWR is allowing people with tickets for travel on strike days to be able to travel on the day before and up to and including Tuesday 2 August.

We are working to update journey planners with the changes to our timetable as soon as we are able to. Online journey checkers are expected to be updated with the latest timetable information as per below:
| | | |
| --- | --- | --- |
| Date | Strike day/non-strike day | Passenger information published |
| Tuesday 26 July | Non-strike day | Saturday 23rd July |
| Wednesday 27 July | Strike day | Saturday 23rd July |
| Thursday 28 July | Non-strike day | Sunday 24th July |
| Saturday 30 July | Strike day | Tuesday 26 July |
| Sunday 31 July | Non-strike day | Wednesday 27 July |
The company's refund policy and Book with Confidence policy will remain in place and we will update this page with more information if the current situation changes. If you hold a return ticket, you can claim a refund of your full fare, even if only one leg of your journey is affected.
For the very latest information please visit: www.gwr.com/strike
The RMT has also announced further strike dates on Thursday 18 and Saturday 20 August.
Contact Information
James Davis
Media Relations Manager
Great Western Railway
0845 410 4444
07703 890 711
Notes to editors
Notes to editors
First Greater Western Limited, trading as "Great Western Railway" (GWR), operates trains across the Great Western franchise area, which includes South Wales, the West Country, the Cotswolds, across southern England and into London. GWR provides high speed, commuter, regional and branch line train services, and before the covid-19 pandemic helped over 100 million passengers reach their destinations every year. GWR has been awarded a National Rail Contract to continue operating the Great Western network, which shall run up to 21 June 2025, with the potential for a further three years at the Secretary of State's discretion. Find out more here: https://www.gwr.com/about-us