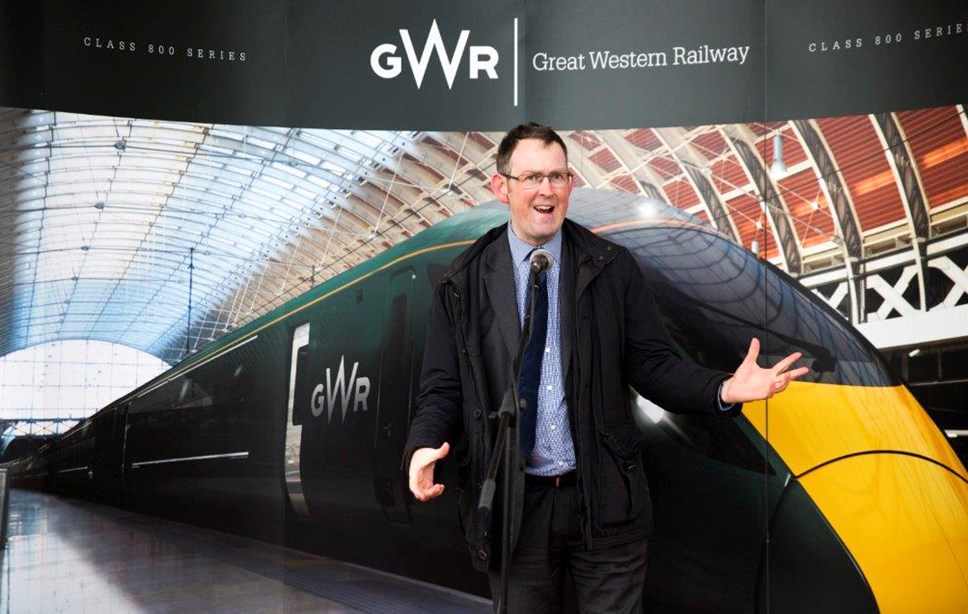 Rail Minister travels on special TransWilts train to honour valuable role of community rail
Rail Minister Paul Maynard has today travelled on a special train service to mark the role of community rail and to visit the proposed site of a new station at Wilton.
Rail Minister Paul Maynard has today travelled on a special train service to mark the role of community rail and to visit the proposed site of a new station at Wilton.
The Minister travelled on a special GWR 1005 Swindon to Salisbury service.
He said:
"It was a pleasure to ride on this special TransWilts train today and see first-hand all the hard work which is going in to make this Community Partnership Railway successful.
"These railways are good for communities increasing revenue, reducing costs, increasing community involvement and supporting social and economic development.
"Across the country there are about 3,200 rail volunteers who work 250,000 hours per year, helping to improve stations and reduce vandalism."
The TransWilts Line is one of the fastest growing lines in the country and has seen passenger numbers grow year on year. In 2015 there was over 215,000 journeys on the line, nearly a 20% increase on the previous year.
GWR Managing Director said:
"Community Rail groups play a leading role in helping to improve services and stations across the country; as we have seen here on the TransWilt.
"Working with Wiltshire Council, and the TransWilts CRP we at GWR have been able to launch additional services on this line, improving rail links and further supporting the local economy; and I am delighted to be able to welcome the Minister here today on this special, extended train service."
Following many years of community involvement, the rail user group was officially recognised as a Community Rail Partnership in October last year.
GWR is committed to working with Wiltshire County Council and the TransWilts Partnership to further improve services on the line, building on the remarkable growth since new services were introduced in 2013.
New electric trains in London and the Thames Valley, and new Intercity Express Trains across the GWR mainline network, will drive a fleet cascade in which passengers in key cities will see significant improvements in capacity on local suburban services; including two car trains on this TransWilts line service and further improvements in the quality of rolling stock will see free WiFi included.
Today's special journey shows GWR's and TransWilts CRP's hopes of extending the current service from Westbury through to Salisbury.
The train will stop at Trowbridge and Westbury before arriving at the proposed site of Wilton Parkway Station, before continuing to Salisbury arriving at 1122.
Paul Johnson from TransWilts added:
"We are delighted that the Rail Minister has chosen to visit TransWilts CRP so soon after granting us Designated Service status. In the last two years our passenger numbers have grown by 25% and since the service started in December 2013 Melksham station passenger numbers have increased five-fold. TransWilts, working with GWR, is playing an increasing role in connecting Wiltshire's principal communities along the north - south Wiltshire corridor. I particularly want to thank our enthusiastic membership who continue to be such an essential part of our continuing success.
"During the Minister's visit, as well as celebrating our Service Designation, we are demonstrating the potential of an extended TransWilts service. Our growth aspiration is to increase the service frequency and to extend the reach of the service south from Westbury via Salisbury as far as Southampton Airport."
David Northey, Senior Strategic Planner at Network Rail said:
"It is great to see the growth of the TransWilts line in recent years and the benefit this has brought to the communities that it serves. Community Rail groups play a vital role in helping to improve services and with the proposed development of Wilton station it is a further indication of the success of the TransWilts line."
Notes to editors
Great Western Railway (GWR) provides high speed, commuter, regional and branch line train services. We help over 100 million passengers reach their destinations every year - across South Wales, the West Country, the Cotswolds, and large parts of Southern England.

We're currently seeing the biggest investment in the network since Brunel so we can offer more trains, more seats, and shorter, more frequent journeys and continue the network's heritage of helping connect more businesses to new and prosperous markets. Through a series of initiatives we aim to be a good neighbour to the communities we serve and are committed to making a positive social impact in those regions. Learn how we're Building a Greater West at GWR.com. GWR is a FirstGroup company.

Contact Information
James Davis
Media Relations Manager
Great Western Railway
0845 410 4444
07703 890 711