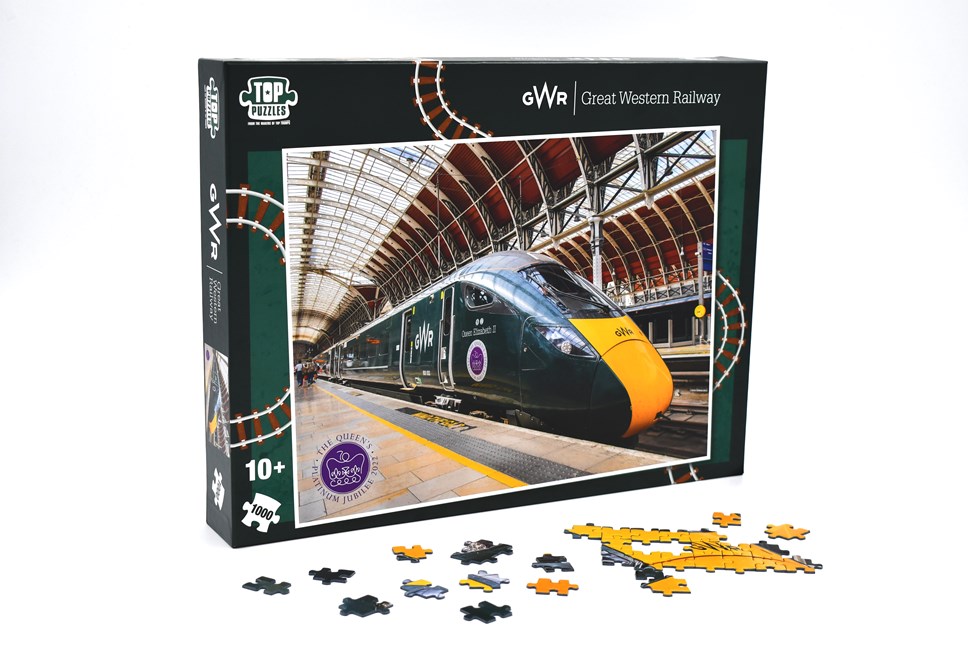 Puzzle prize giveaway as Great Western Railway celebrates National Puzzle Day
Great Western Railway (GWR) is celebrating National Puzzle Day by giving its followers a chance to win one of its new special-edition jigsaws celebrating Her Majesty Queen Elizabeth II's Platinum Jubilee.
Four of the new one-thousand-piece puzzles, which feature the Intercity Express Train (IET) named after the Queen in 2017, will be up for grabs from Sunday 29 January as prizes in GWR's National Puzzle Day competition.
Puzzle-loving followers on Twitter, Facebook, Instagram and TikTok will have to identify the unit number of the train featured in the puzzle and tag a friend in their post to be up for a chance to win one of the highly-coveted prizes.
The competition runs from 0700 on Sunday 29 January to 2359 on Sunday 5 February.
Originating in 2002, National Puzzle Day recognises the benefits of puzzling for mental wellbeing. From jigsaws to crosswords, puzzles have been proven to support vocabulary, problem-solving and mathematical skills, as well as improving memory. They are versatile in bringing people together, as well as being enjoyed as a solitary pursuit either at home or while travelling by train.
The new design of GWR's puzzle showcases the Queen Elizabeth II IET waiting under the magnificent roof of Network Rail's London Paddington station.
The train was named Queen Elizabeth II on 13 June 2017 to mark the 175th anniversary of the first rail journey made by a monarch. Her Majesty recreated the original journey made by Queen Victoria, before officially naming the train.
The Jubilee logo was added on 1 June 2022 to mark Her Majesty's Platinum Jubilee.
Interim Head of External Communications, Paul Gentleman, said:
"Naming this Intercity Express Train in celebration of Her Majesty Queen Elizabeth II was one of the proudest days in the recent history of Great Western Railway.
"It remains one of the most popular named trains operating on our network and serves as a permanent celebration of Her Majesty's long and distinguished reign.
"We hope people will enjoy our new special-edition jigsaw, which celebrates Her Majesty's Platinum Jubilee and has been released just in time for National Puzzle Day."
The Queen Elizabeth II train was the first to be named in a formal ceremony. Since then, Great Westerners, as selected by members of the public in 2017, have included those who have made significant contributions to the communities across the GWR region.
Author Michael Bond, WWII heroes Odette Hallowes and Alan Turing, and civil rights pioneer Dr Paul Stephenson OBE all join Her Majesty by being part of the journeys of thousands of travellers every year. From reuniting families and friends, to getting people to work and school, they serve the communities of the Great Western region faster than ever.
www.gwr.com/about-gwr/our-named-trains
Contact Information
John Carter
Media and Communications Manager
Great Western Railway
0845 410 4444
07715 040424
Notes to editors
GWR #NationalPuzzleDay Competition Terms and Conditions
Terms & Conditions
The GWR #NationalPuzzleDay competition runs from 07:00 on Sunday 29 January 2023 to 23:59 on Sunday 5 February 2023.
To enter simply tag a friend and guess the train number of the pictured train.
Employees of Great Western Railway are not eligible to win but are welcome to take part.
The winner will be drawn at random and announced on Monday 6 February 2023.
If the winner cannot be contacted or does not claim the prize within 14 days of the announcement, we reserve the right to withdraw the prize from the winner and pick a replacement winner.
About GWR
First Greater Western Limited, trading as "Great Western Railway" (GWR), operates trains across the Great Western franchise area, which includes South Wales, the West Country, the Cotswolds, across southern England and into London. GWR provides high speed, commuter, regional and branch line train services, and before the covid-19 pandemic helped over 100 million passengers reach their destinations every year. GWR has been awarded a National Rail Contract to continue operating the Great Western network, which shall run up to 21 June 2025, with the potential for a further three years at the Secretary of State's discretion. Find out more here: https://www.gwr.com/about-us