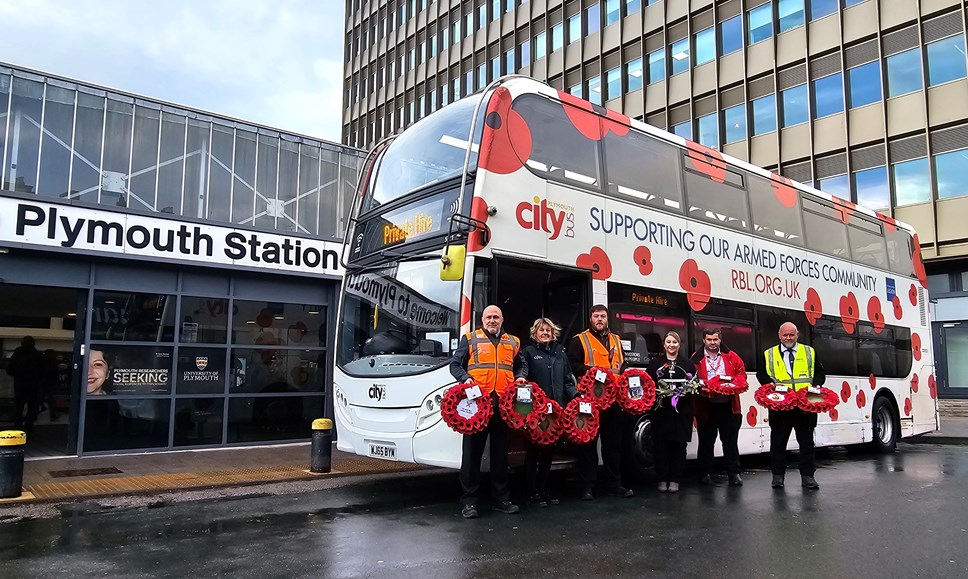 Poppies to Paddington: Royal Navy helicopter and 'Poppy Bus' lend support to Great Western Railway and The Veterans Charity
GWR Remembrance service will mark 70 years since the end of the Korean War
Great Western Railway's latest Poppies to Paddington operation is already in full swing – thanks to support from a Royal Navy helicopter and a 'Poppy Bus'.
Partnering with The Veterans Charity, the Royal Navy Air Station Culdrose deployed a Merlin Mk2 helicopter to carry poppy wreaths from its base to Plymouth ahead of tomorrow's GWR Remembrance service (Friday 10 November).
And further strengthening this year's integrated travel approach, Go South West today kindly provided its 'Poppy Bus' to collect wreaths from stations through the region and carry them to Plymouth.
With planned engineering work preventing trains from running between Penzance and Plymouth, it means the fourth Poppies to Paddington operation has still served Cornwall.
Representatives from across West Cornwall held a short service at RNAS Culdrose, Helston, on Monday to load wreaths on to a waiting helicopter.
The wreaths were flown to the Royal Citadel in Plymouth and then transported to the city's railway station, ready to begin their journey to London Paddington.
Taking part were Royal Navy personnel alongside West Cornwall MP Derek Thomas, the mayors of Penzance and Helston, representatives from the NHS and GWR, as well as veterans from all three services of the Armed Forces.
This year GWR is remembering 70 years since the end of the Korean War as it once again carries swathes of poppy wreaths from across the network to London Paddington for the special Remembrance service.
Six 'Poppy' trains are expected to collect more than 200 wreaths from GWR stations ahead of the service at Paddington's iconic war memorial on Platform 1.
GWR will especially remember the 81,000-Armed Forces personnel who took part in the Korean conflict, particularly those of the Gloucester Regiment and the Royal Fusiliers, who were involved in some of the heaviest fighting.
GWR Sales and Marketing Director, Amanda Burns, said:
"We're incredibly grateful to RNAS Culdrose and Go South West for supporting our fourth Poppies to Paddington operation and ensuring poppy wreaths from Cornwall can be placed by the war memorial at Paddington.
"Poppies to Paddington was conceived in 2020 to ensure communities within the GWR network could honour our fallen heroes despite the restrictions in place around Covid-19, and this kind-hearted gesture by RNAS Culdrose and Go South West sums up the very spirit of the occasion."
The Veterans Charity CEO, Danny Greeno, said:
"We are very proud to have wonderful support from GWR for its Remembrance initiative which is now in its fourth year. Poppies To Paddington will once again be hugely poignant, paying respects to the fallen. Thanks to great support from the military and railway communities, wreaths are still able to complete their journey from across the South-West to Paddington to form the backdrop to the annual Remembrance service on Platform 1.
"Bringing communities, service personnel and Veterans together to remember in this special way is so important to ensure the sacrifices of the fallen are never forgotten. Our sincere thanks to everyone who is helping to make this happen, especially to GWR and RNAS Culdrose."
RNAS Culdrose commanding officer Captain Stuart Irwin said:
"An aircraft on a training sortie was available so we were delighted to step in on this occasion and help with this annual event. Remembering those who have lost their lives in the defence of our country is important to us here at RNAS Culdrose."
Plymouth Citybus and Go Cornwall bus commercial director, Mark Collins, said:
"We have been long-time supporters of the Poppy Appeal and the Royal British Legion. We launched our 'Poppy Bus' back in 2018 and it has been serving passengers of Plymouth and Cornwall for five years. What better vehicle to transport poppies on than a Poppy Bus?"
Military personnel and veterans attending services of remembrance can travel to and from the events by train for free on Saturday 11 November and Sunday 12 November.
Rail Delivery Group (RDG), which represents train companies, said the offer was open to serving military personnel in uniform or who show a current Ministry of Defence-issued identity card. Veterans can show a Veterans Railcard, a Veterans Oyster card or other proof of service – such as a Ministry of Defence-issued Veterans ID card.
GWR is also allowing free travel for military personnel and veterans travelling to remembrance events on Friday 10 November.
Poppies to Paddington trains on Friday 10 November
| | |
| --- | --- |
| Carmarthen | 0618 |
| Llanelli | 0651 |
| Swansea | 0720 |
| Neath | 0732 |
| Port Talbot Parkway | 0739 |
| Bridgend | 0752 |
| Cardiff Central | 0817 |
| Newport | 0830 |
| Bristol Parkway | 0856 |
| London Paddington | 1014 |
| | |
| --- | --- |
| Paignton | 0634 |
| Torquay | 0639 |
| Torre | 0642 |
| Newton Abbot | 0651 |
| Poppies transferred to service from Plymouth | 0718 dep |
| | |
| --- | --- |
| Plymouth | 0637 |
| Ivybridge | 0651 |
| Totnes | 0706 |
| Newton Abbot | 0718 |
| Teignmouth | 0725 |
| Dawlish | 0730 |
| Exeter St Davids | 0744 |
| Tiverton Parkway | 0758 |
| Castle Cary | 0844 |
| Frome | 0858 |
| Westbury | 0910 |
| Pewsey | 0927 |
| Hungerford | 0941 |
| London Paddington | 1029 |
Great Malvern

0713

Malvern Link

0716

Worcester Foregate Street

0726

Worcestershire Parkway

0738

Pershore

0744

Evesham

0751

Honeybourne

0758

Moreton-in-Marsh

0810

Kingham

0818

Charlbury

0827

Hanborough

0835

Oxford

0846

London Paddington

0940

Taunton

0724

Bridgwater

0735

Highbridge & Burnham

0742

Weston-super-Mare

0755

Weston Milton

0759

Worle

0803

Yatton

0809

Nailsea & Backwell

0815

Bristol Temple Meads

0830

Bath Spa

0844

Chippenham

0857

London Paddington

1006

Worcester Shrub Hill

0725

Ashchurch

0741

Cheltenham Spa

0752

Gloucester

0814

Stonehouse

0826

Stroud

0831

Kemble

0847

Swindon

0902

Didcot Parkway

0919

Reading

0935

London Paddington

1000
Contact Information
John Carter
Media and Communications Manager
Great Western Railway
0845 410 4444
07715 040424
Notes to editors
Pictured, from top: The Go South West 'Poppy Bus' at Plymouth station; Royal Navy personnel salute from the Merlin Mk2 helicopter; The 'Poppy Bus' at St Austell station; wreaths ready to be transported from RNAS Culdrose
First Greater Western Limited, trading as "Great Western Railway" (GWR), operates trains across the Great Western franchise area, which includes South Wales, the West Country, the Cotswolds, across southern England and into London. GWR provides high speed, commuter, regional and branch line train services, and before the covid-19 pandemic helped over 100 million passengers reach their destinations every year. GWR has been awarded a National Rail Contract to continue operating the Great Western network, which shall run up to 21 June 2025, with the potential for a further three years at the Secretary of State's discretion. Find out more here: https://www.gwr.com/about-us
The Veterans Charity was founded in 2008 and provides immediate needs support to Veterans and families who find themselves in hardship. In the past 5 years alone, we have delivered vital provisions including food shopping, clothing, household items, utilities support and communications devices to more than 2200 cases, bringing much-needed and deserved relief and morale boost. The Veterans Charity is registered in England and Wales as a charity under number 1123149.