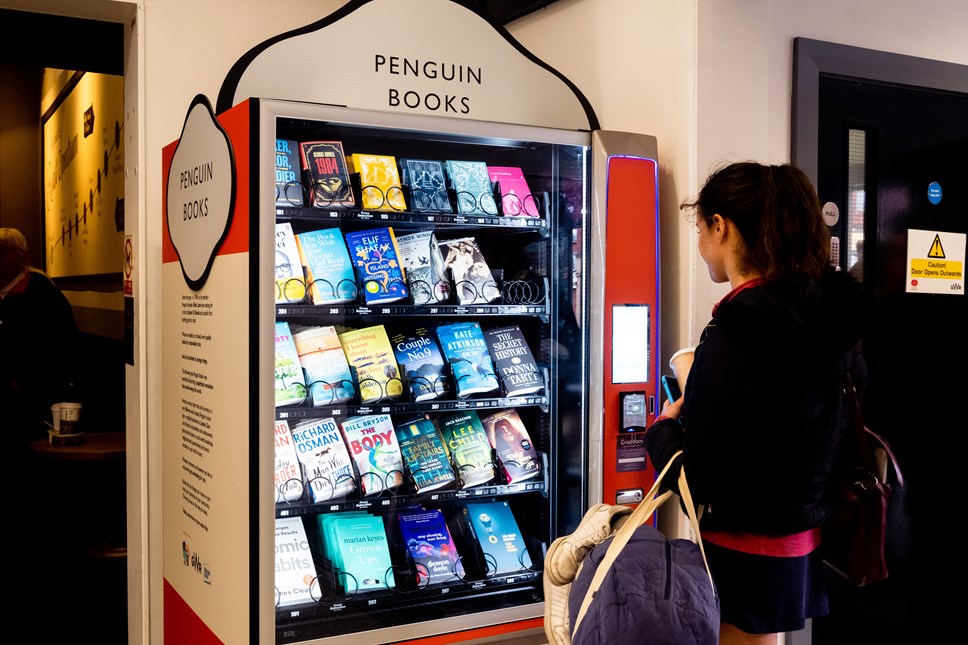 Penguin Books installs book vending machine at Exeter St Davids
A book vending machine has been installed at Exeter St Davids thanks to a new partnership between Penguin Books, Exeter UNESCO City of Literature and Great Western Railway.
Supplied by Southwest-based vending machine company Graddon Vending, the machine sits in the entrance to Exeter St Davids, allowing passengers travelling through Exeter to purchase a wide range of Penguin Books, including contemporary and classic titles.
Titles will change on a regular basis, featuring new releases and perennial favourites, as well as marking key moments throughout the year, such as LGBTQIA+ History Month, Black History Month, COP28, and so on.
The simple act of walking through a train station and picking up a good book to enjoy on your journey forms the foundations of Penguin Books itself.
In 1934 Sir Allen Lane was waiting at Exeter St Davids train station and couldn't find a good book to read; only magazines or reprints of Victorian novels. Right there and then he decided that high quality, engaging and reasonably priced books should be available to everyone, anywhere. The following year saw history made with the birth of the paperback as Penguin Books released their first ten titles.
With the Penguin Books vending machine, commuters can easily pick up an affordable and high-quality book to enjoy on their journey, just as Allen Lane envisaged. It is a celebration of what is at the core of Penguin Books: engaging and absorbing books for anyone to read, wherever they go.
Profits from the vending machine will support Bookbag, a beloved local independent bookstore, and Exeter City of Literature, who promote literacy and celebrate books in the local area.
Anna Cohn Orchard, Executive Director of Exeter UNESCO City of Literature, knew of Penguin's history and approached the publisher in 2021 with the idea for a book vending machine at the site of Penguin's origin.
She says, "I grew up in Exeter, but didn't learn about Penguin's history until, ironically, I was working in publishing in New York. When I took on my current role, I knew I wanted to promote Exeter and Devon's interesting, and often hidden, literary history to a much wider audience.
"This incredible invention, made possible by Penguin's enthusiastic support and the work of a local vending machine company, will not only make reading more accessible to everyone who steps foot on to Exeter St Davids, but it will shine a light on how Devon has inspired so many great figures in the literary world."
Zainab Juma, Head of Brand at Penguin, says: "When Exeter City of Literature approached us about the Penguin Books vending machine, we knew immediately that it was the perfect way to celebrate our origins. Whiling away your time with a book is one of the great pleasures of train travel and this machine is just what our founder Allen Lane would have wanted to see as he set off on his journey.
"We're especially pleased that the vending machine will benefit Bookbag, a local independent bookstore, and Exeter City of Literature who do brilliant work celebrating Exeter's literary history and making books and reading more accessible in the local community."
Amanda Burns, Director of Sales & Marketing for GWR, said: "We are proud of our long affiliation with Penguin Books, which dates back nearly 90 years. This book vending machine is a wonderful addition to Exeter St Davids station and is already proving popular with customers.
"Many of us love a good book to read on a relaxing railway journey to an iconic destination and this installation means you can pick up a Penguin Book just before you travel."
Contact Information
John Carter
Media and Communications Manager
Great Western Railway
0845 410 4444
07715 040424
Notes to editors
Exeter City of Literature is a charity established to steward the UNESCO Creative City designation that Exeter received in 2019. Our vision is for everyone to love stories and storytelling and our mission is to celebrate diverse stories by working with our local and global communities. With 41 other UNESCO Cities of Literature, we provide opportunities for Devon residents to collaborate internationally and to use stories to better understand each other and the world we live in.
At Penguin we believe in the power of books. Books create belonging. They inform, entertain, and challenge us. They move us to see the world through the eyes of others, and lead to change in ways big and small. They can change our mood or our mind. Our commute or our community. They can help us eat well, sleep better, even keep that houseplant alive. That's why we make books for everyone.
We are, and have always been, the home of great stories and ideas from the world's best authors. We seek out, nurture, and publish all kinds of writers, from bestsellers and household names to debut talent, connecting their books with readers around the globe.
Our founders laid the roots for who we are today; celebrating creativity, championing independence, and promoting inclusion. Back in 1935, we invented the paperback, making good quality literature affordable and accessible. This mission remains at our heart. We make books for everyone, because a book can change anyone.
First Greater Western Limited, trading as "Great Western Railway" (GWR), operates trains across the Great Western franchise area, which includes South Wales, the West Country, the Cotswolds, across southern England and into London. GWR provides high speed, commuter, regional and branch line train services, and before the covid-19 pandemic helped over 100 million passengers reach their destinations every year. GWR has been awarded a National Rail Contract to continue operating the Great Western network, which shall run up to 21 June 2025, with the potential for a further three years at the Secretary of State's discretion. Find out more here: https://www.gwr.com/about-us