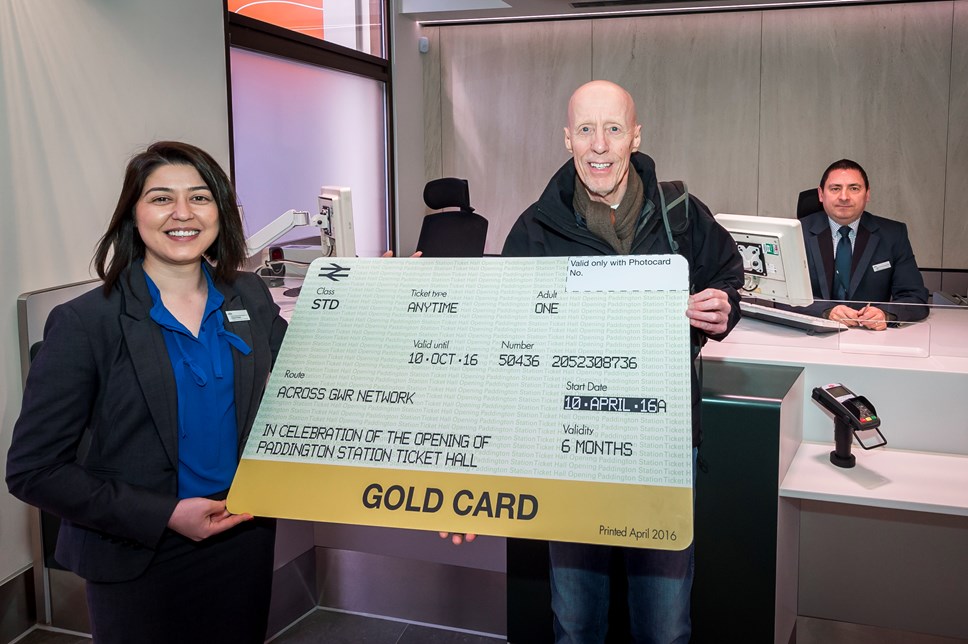 Paddington Station's new ticket hall delights 175th customer
Great Western Railway is delighted to announce that the new ticket hall at London Paddington station opened on Sunday 17 April as the train company continues its journey as GWR
Great Western Railway is delighted to announce that the new ticket hall at London Paddington station opened on Sunday 17 April as the train company continues its journey as GWR.




A six-month all GWR rail routes ticket was presented to the 175th customer of the newly opened ticket hall, marking the 175th anniversary of the first train between Bristol and London.



The rail pass, eligible to be used on any Great Western Railway service, was presented by Flagship Duty Station Manager Fatma Fraser to Peter Blowes of Shepperton, south west London.

GWR's Duty Station Manager Fatma said:

"It's great to have the new ticket office open, and is a significant step in our GWR journey. The improvements being made to the network will bring Brunel's railway into the 21stcentury, paving the way for new electric trains.

"These trains will provide passengers with more seats, more frequent services and faster journeys - helping to drive economic growth across the South West."

On 30 June 1841 with the opening of Box Tunnel, the first train journeys between Bristol and London began. To mark this landmark anniversary in the life of the Great Western Main Line, GWR is planning several events which will celebrate the achievement and the incredible impact this had on the communities that have been served over the last 175 years.



Contact Information
James Davis
Media Relations Manager
Great Western Railway
0845 410 4444
07703 890 711