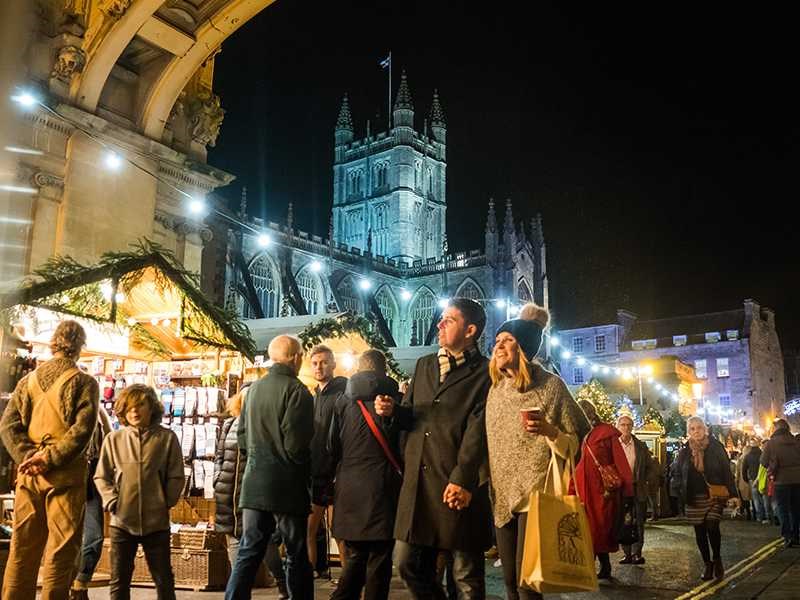 Over 10,000 extra train seats for this Saturday's Bath Christmas Market
More than 150 trains will serve Bath and its world-famous Christmas Market this coming Saturday, but those travelling at the busiest times are being warned that they may have to queue to board trains home.
From 05:41 on Saturday morning to 23:49 in the evening, 156 trains will call at Bath Spa station – the equivalent of a train every seven minutes – with train operator GWR also providing an extra 22 trains, more than 10,000 extra seats, on top of the usual Saturday timetable.
Trains are, however, expected to be extremely busy during the peak arrival and departure times, and a queueing system will be in place to help people to board trains safely.
Bath Spa Station Manager Oana Apetroaie said:
"The Christmas Market brings so much travel and tourism to Bath, it is fantastic to get back to normal after two years away and provide these really important extra trains.
"As we welcome people to the city, we would like to remind them that the station will be very busy for some periods and customers may experience a more comfortable journey by travelling earlier in the morning or later in the evening – outside of the peak times.
"Our friendly and approachable staff will be on hand to help keep people moving. Those travelling should also allow extra time for their journeys as the station will be very busy."
A number of rail services will also have extended dwell times at key locations and there will be slight alterations to normal timetabled services as a result; so please check before you travel.
Check your journey before you travel here.
Contact Information
James Davis
Media Relations Manager
Great Western Railway
0845 410 4444
07703 890 711
Notes to editors
Notes to editors
First Greater Western Limited, trading as "Great Western Railway" (GWR), operates trains across the Great Western franchise area, which includes South Wales, the West Country, the Cotswolds, across southern England and into London. GWR provides high speed, commuter, regional and branch line train services, and before the covid-19 pandemic helped over 100 million passengers reach their destinations every year. GWR has been awarded a National Rail Contract to continue operating the Great Western network, which shall run up to 21 June 2025, with the potential for a further three years at the Secretary of State's discretion. Find out more here: https://www.gwr.com/about-us