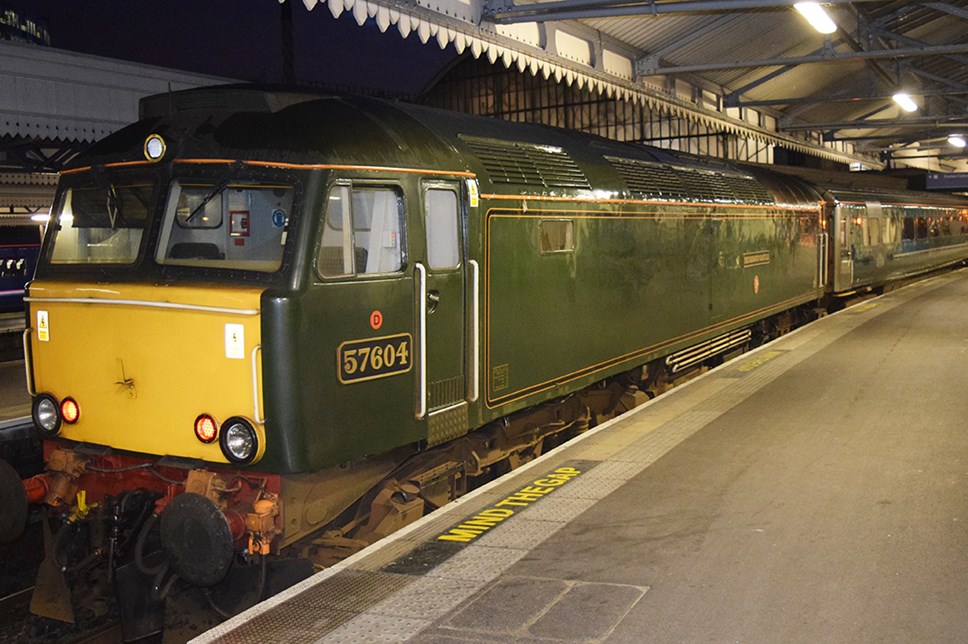 Old meets new as Pendennis Castle meets its steamier brother to mark iconic locomotive's return to operation.
GWR's class 57 diesel locomotive, Pendennis Castle, will come buffer to buffer with its older namesake, as one of the most famous locomotives in the Great Western Railway returns to operation.
On 2 April at Didcot Railway Centre the diesel-powered Class 57, 57604, will welcome the newly refurbished steam locomotive back into operation as it is unveiled to the public for the first time.
Famously locomotive number 4079, also named Pendennis Castle, triumphed in a series of trials against GWR's arch-rival LNER (London North Eastern Railway) and their Class A1 Pacific locomotive - the most famous of which is the Flying Scotsman.
At the Empire Exhibition in 1925 Pendennis Castle was displayed alongside Flying Scotsman with GWR proudly declaring it 'the most powerful' locomotive.
Mark Hopwood, Managing Director of the modern day GWR said:
"This steam locomotive is a major part of the history of the Great Western Railway and showcased the engineering excellence and heritage that had started with Isambard Kingdom Brunel and Sir Daniel Gooch.
"We are proud that our modern day Pendennis Castle locomotive is here to celebrate the return to steam of this famous engine and the incredible work of the team at Didcot Railway Centre."
The steam Castle Class locomotive number 4079 entered service in 1924, part of a fleet of 171 which were built between 1923 and 1950 and were operated until 1965.
Clive Hetherington, Chief Executive of the Great Western Society said:
"We are really proud and pleased that GWR's equivalent to the Flying Scotsman takes to the rails after travelling around the world and a 20-year award winning restoration under the watchful eye of its younger namesake.
"I'd like to thank GWR for allowing 57604 to make the short trip from Reading for this wonderful occasion."
Notes to editors
First Greater Western Limited, trading as "Great Western Railway" (GWR), operates trains across the Great Western franchise area, which includes South Wales, the West Country, the Cotswolds, across southern England and into London. GWR provides high speed, commuter, regional and branch line train services, and before the covid-19 pandemic helped over 100 million passengers reach their destinations every year. GWR was recently awarded an extension to its direct award franchise (called DA3), which shall run up to 31 March 2023, with an option to extend for a further year. 
Contact Information
James Davis
Media Relations Manager
Great Western Railway
0845 410 4444
07703 890 711