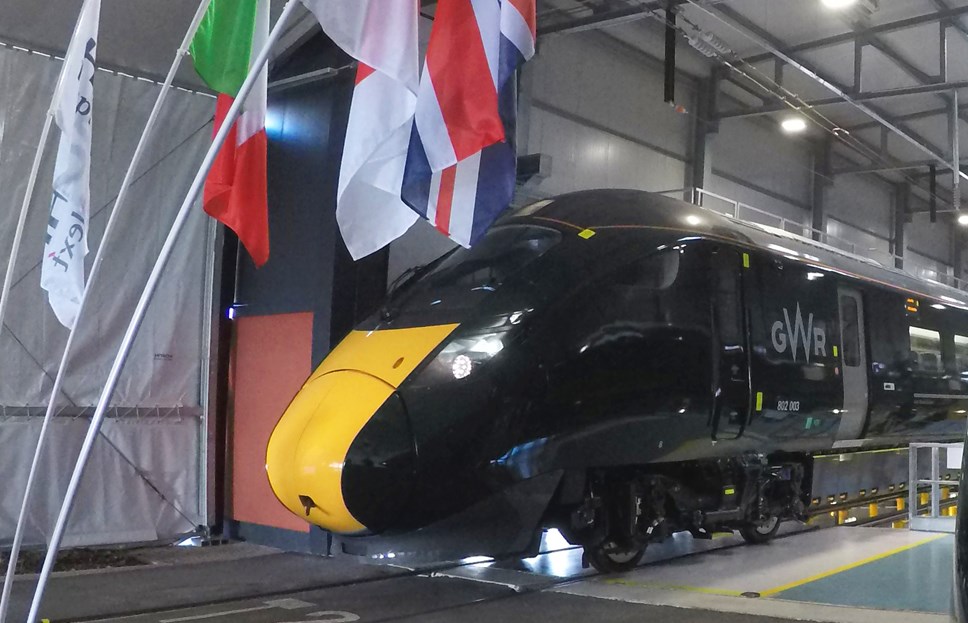 New trains for GWR's Devon and Cornwall route to embark on pan-European journey
The first new Intercity Express Trains for GWR's Devon and Cornwall route have rolled off the production plant in Italy and will soon begin their rare journey across Europe to the UK.
The first new Intercity Express Trains for GWR's Devon and Cornwall route have rolled off the production plant in Italy and will soon begin their rare journey across Europe to the UK.
The trains will also allow GWR to preserve direct services from Bedwyn and Hungerford; as well as serve routes towards Oxford and beyond to the North Cotswolds.
Mark Hopwood, Managing Director at Great Western Railways, said:
"We know how important the railway is to the economies and communities of the South West, and today marks another significant milestone in delivering the improvements we know our passengers wish to see.
"These trains have been privately financed and will help us deliver faster, more frequent services into the South West with no cost to the taxpayer."
The IETs will leave Hitachi's factory in Italy before travelling by rail through Austria, Germany, and France, arriving days later in the UK via the Channel Tunnel.
Two trains, the first with fully finished interiors, will join three prototype trains already being tested in the South West after their pan-European journey is complete.
Intercity Express Trains transforming GWR routes
Last year, the first wave of Intercity Express Trains began running on the historic Great Western main line, between London and key UK cities including Reading, Swindon, Bath, Bristol and Cardiff. Production of these trains is continuing in the UK at Newton Aycliffe, County Durham.
From summer 2018 a second wave, of 36 modern Intercity Express Trains, will begin running from London Paddington, via Reading, Wiltshire, Somerset, along coastal routes in Devon and Cornwall and as far south as Penzance. Due to Hitachi's UK factory being at full capacity, these trains are being built in Pistoia, Tuscany.
The Intercity Express Train harnesses Hitachi's pioneering Japanese bullet train technology, known for its quality and reliability. It has also been designed to withstand the region's variable weather conditions, including routes along the Dawlish coast.
Passengers can expect more seats, more frequent services, better on-board facilities and shorter journey times, saving as much as 14 minutes between London Paddington and Penzance.
Passengers will also benefit from new on-board technology, including real-time journey updates and seat reservation screens.
The entire fleet is fitted with hybrid technology, allowing trains to use both diesel and electric power, meaning passengers can enjoy the benefits of new trains as soon as possible.
Parts supplied from South West businesses
The new trains are seen as a boost for regional economies along the route, providing greater connectivity for businesses and tourist destinations.
GWR's order of the new fleet has also had a direct impact on firms in the region. Businesses located along the Great Western route were chosen by Hitachi to supply parts for the new Intercity Express trains: - Floors from Cornwall (Tiflex)
- Pantographs from Somerset (Brecknell Willis)
- Braking systems from Wiltshire (Knorr-Bremse)
Berry Sas, Projects Director at Hitachi Rail Europe, said:
"We are proud to see our factories producing high quality trains for the South West using parts sourced from the UK. A strong British supply chain is used in both our UK and Italian factories, and we are delighted to award big contracts to suppliers based along the GWR route"
"The test programme is moving apace ahead of summer entry into service, when passengers will enjoy the benefits of modern intercity trains"
Mary Kenny, Chief Executive Officer at Eversholt Rail, who are financing the deal said:
"Eversholt Rail has invested £497m in these new Class 802 trains, built by Hitachi Rail for operation on Great Western Railway, to modernize the rail connection and passenger experience from Devon and Cornwall to London. The despatch of the first completed trains from Hitachi Rail's Pistoia's works marks a significant milestone in the project for all parties and stakeholders."
Notes to editors
The two five carriage trains (802003 and 802004) will leave Italy in the coming weeks, arriving days later at Hitachi's West London depot.
The trains will be hauled by rail across Europe before arriving in the UK via the Channel Tunnel. They are expected in the South West for testing within weeks.
Two five carriage (802001 and 802002) and one nine carriage (802101) prototypes have been testing in the South West since Summer 2017. The test programme is based out of Hitachi's newly built depot in Bristol.
Great Western Railway (GWR) provides high speed, commuter, regional and branch line train services. We help over 100 million passengers reach their destinations every year - across South Wales, the West Country, the Cotswolds, and large parts of Southern England.
We're currently seeing the biggest investment in the network since Brunel so we can offer more trains, more seats, and shorter, more frequent journeys and continue the network's heritage of helping connect more businesses to new and prosperous markets. Through a series of initiatives we aim to be a good neighbour to the communities we serve and are committed to making a positive social impact in those regions. Learn how we're Building a Greater West at GWR.com. GWR is a FirstGroup company.
Contact Information
James Davis
Media Relations Manager
Great Western Railway
0845 410 4444
07703 890 711