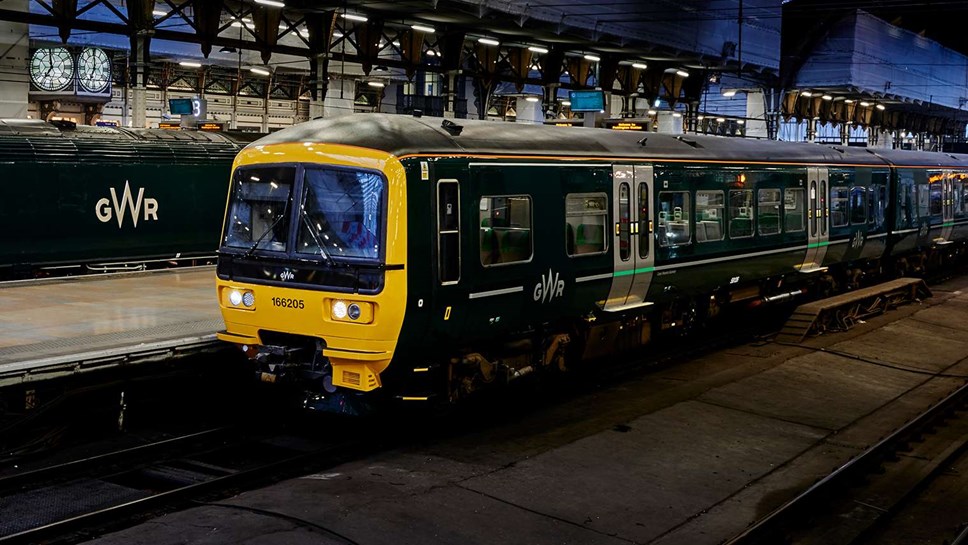 Massive increase in Bristol train seats continues today
Over 80% more seats and better trains between Bristol Parkway and Weston-super-Mare.
Over 80% more seats and better trains between Bristol Parkway and Weston-super-Mare
Bristol and the surrounding area is benefiting again this week from more modern trains as Great Western Railway (GWR) continues to modernise services throughout the city.
Trains running between Bristol Parkway and Weston-super-Mare (some services extend to Taunton) have been replaced by newer rolling stock, providing over 80% more seats per day between the two destinations and all stations stops in between.
Replacing former two carriage trains with three carriage 'Turbo' units with more seats, air conditioning, WiFi and improved access toilets, the modernised trains entered service this week.
Each three-carriage turbo has 118 more seats per train than its two carriage predecessor, providing over 3,000 extra seats a day between Bristol Parkway and Weston-Super-Mare in total.
The upgrade marks the continuation of GWR's plans to cascade diesel trains from the Thames Valley, and is an important milestone in increasing capacity for Bristol suburban services by 52%.
GWR Managing Director Mark Hopwood said:
"We know that our suburban Bristol services are some of our most in demand, and I am delighted to see even more of the improvements we promised coming into place.
"These trains from London and the Thames Valley will offer a significant change in passenger experience, and with the introduction of new Intercity Express Trains last week already carrying thousands of passengers, it also marks the continuation of the greatest fleet upgrade in in a generation for the people of Bristol."
The first three class 166 diesel trains began operating on the Severn Beach Line in July, and a further two refreshed trains are due to operate between Cardiff and Taunton (via Bristol) coming soon.
Cllr Elfan Ap Rees, Deputy Leader North Somerset Council with responsibility for transport issues said:
"The train service between Weston-super-Mare and Bristol is an important commuter link between the two centres and this improvement in rolling stock is to be welcomed. With the increasing pressures on our road network the train service is becoming a far more cost effective and time saving solution."
Wells MP James Heappey said:
"Great Western Railway's increase in passenger capacity between Bristol and Weston will be welcome for the many Somerset residents who travel from Yatton and Worle. I look forward to seeing Great Western Railway's plans for extending the passenger capacity, frequency of services, and better station facilities in Highbridge and Burnham, so residents in Somerset no longer need to travel 15 miles to catch the train."
Building on these suburban service improvements Bristol also saw the first brand new Intercity Express Train (IET) enter service last week, replacing 40 year-old High Speed Trains. The IETs have over a fifth more seats per train, delivering further improvements in capacity; as being able to offer more frequent services, and reduced journey times with the completion of electrification of the Great Western mainline. In their first week of service the IETs operated more than 35 journeys, covering over 5,500 miles, providing over 4,000 extra seats.
Notes to editors
Great Western Railway (GWR) provides high speed, commuter, regional and branch line train services. We help over 100 million passengers reach their destinations every year - across South Wales, the West Country, the Cotswolds, and large parts of Southern England.
We're currently seeing the biggest investment in the network since Brunel so we can offer more trains, more seats, and shorter, more frequent journeys and continue the network's heritage of helping connect more businesses to new and prosperous markets. Through a series of initiatives we aim to be a good neighbour to the communities we serve and are committed to making a positive social impact in those regions. Learn how we're Building a Greater West at GWR.com. GWR is a FirstGroup company.
Contact Information
James Davis
Media Relations Manager
Great Western Railway
0845 410 4444
07703 890 711