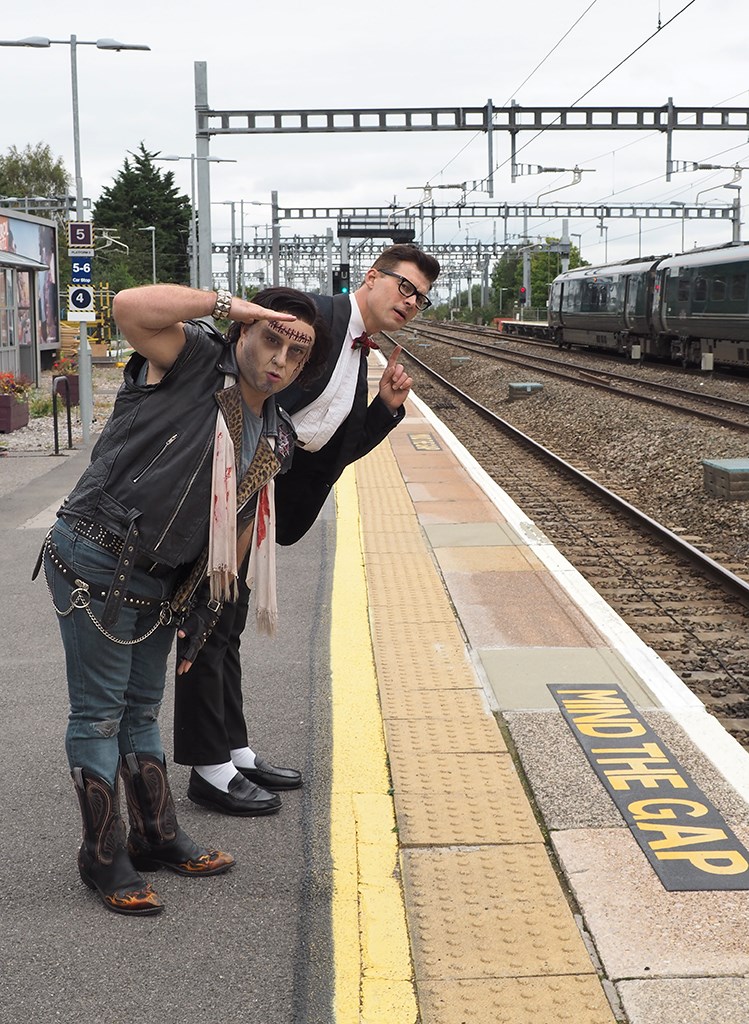 It's a jump aboard to the left.... And then a step to the right as legendary musical rocks the tracks
The cast of The Rocky Horror Show descended on Swindon train station yesterday afternoon to cause some of their customary chaos while in town.
Great Western Railway (GWR) passengers and staff were treated to an impromptu rendition of the pelvic-thrusting show stopping Time Warp as Eddie (Joe Allen) and Brad (Richard Meek) encouraged bemused onlookers to join in as they performed on the platform.
There was much laughter as Eddie cheekily delivered a 'Mind the gap' announcement, ensured passengers stayed behind the yellow line and fitted in a few infamous Rocky Horror lines. Meanwhile, Brad prudently checked tickets and assisted passengers with directions.
Laura James, Theatre Director at the Wyvern, said:
"We are absolutely delighted that The Rocky Horror Show is back in Swindon. We've had an absolute blast causing some mischief and mayhem with our friends at GWR and hopefully given passengers a little light relief during their journey. Come and see the show – it's astounding!"
Great Western Railway Sales and Marketing Director, Amanda Burns, said:
"We were thrilled to welcome the cast of The Rocky Horror Show as they brought their platforms to the platform for our customers and colleagues at Swindon station yesterday. It's not every day that you see Eddie at the station, and we are delighted to work with our partners at Wyvern as we deliver services to some of the country's most iconic venues and destinations."
GWR and the Great Western Railway has much of its history firmly rooted in Swindon. Opening in 1843, the Swindon Engineering works became one of the world's largest railway engineering hubs. By 1900 the works employed more than 12,000 people, keeping the Railway moving and the Wiltshire town thriving. Since closing in 1986, the Grade II listed site of the works now houses STEAM museum, dedicated to the history of the Great Western Railway, as well as the Swindon Designer Outlet Village.
2023 marks the 50th Anniversary of the legendary smash hit musical The Rocky Horror Show, as it continues to tour through 2023 to sell-out crowds. Richard O'Brien's legendary rock 'n' roll musical celebrates 50 years of non-stop partying with this special anniversary production. Since it first opened in London in June 1973 at the Royal Court Theatre, The Rocky Horror Show has become the longest continuous run of a contemporary musical anywhere in the world. The show has been seen by over 30 million people worldwide in more than 30 countries and translated into 20 languages as it continues to delight audiences on its sell-out international tour.
"Still the sexiest and funniest show in town" – Evening Standard
★★★★★
"Fresh, subversive, essential" – Daily Telegraph
The Rocky Horror Show is the story of two squeaky clean college kids – Brad and his fiancée Janet. When by a twist of fate, their car breaks down outside a creepy mansion whilst on their way to visit their former college professor, they meet the charismatic Dr Frank'n'Furter. It is an adventure they'll never forget, filled with fun, frolics, frocks, and frivolity. The Rocky Horror Show is ready to thrill you with fun and naughty moments, and features timeless classics including Sweet Transvestite, Damn it Janet, and of course, the pelvic thrusting show stopping Time Warp. A guaranteed party, which famously combines science-fiction, horror, comedy and music while encouraging audience participation - meaning, of course, getting dressed-up in the most outrageous fancy dress.
Ready to thrill you with fun and naughty moments, The Rocky Horror Show is the boldest bash of them all. But be warned, this show has rude parts!
'TICKETS PLEASE!'
The show is playing at Wyvern Theatre, Swindon until Saturday 2 September 2023
Ticket prices: From £10
Book online: swindontheatres.co.uk
Contact Information
James Davis
Media Relations Manager
Great Western Railway
0845 410 4444
07703 890 711