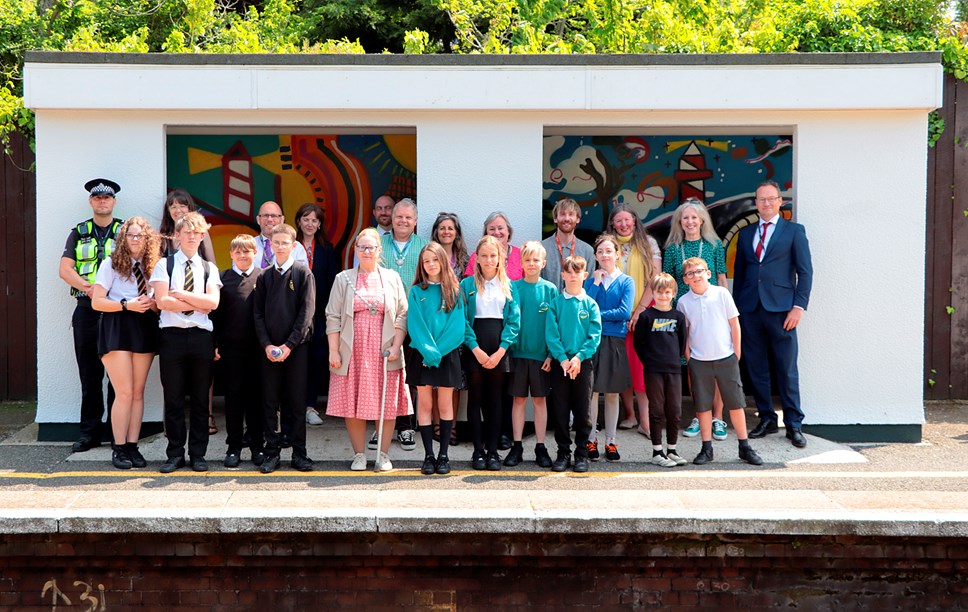 Hayle station gets an urban makeover thanks to special art project
Hayle Station has been given an urban makeover thanks to a collaboration between GWR, British Transport Police, Tate St Ives, Hayle Town Council and young people from schools in Hayle.
Hayle Art Project was conceived as a positive response to anti-social graffiti at Hayle Station in Cornwall.
This spring 12 young people from Hayle Academy, Bodriggy Academy and Penpol School in Hayle took part in artist-led workshops at Tate St Ives. Their brief was to create two artworks to enhance the passenger shelter at Hayle Station, for the benefit of the local community and visitors to the region. They took inspiration from Cornish landmarks and used a street-art style.
Many young people in Cornwall face rural isolation and poverty, and lack of access to employment, creative and cultural opportunities. These factors, and the fallout from the global pandemic, have led to a mental health and wellbeing crisis for young people in our region.
Rachael Woodhead (Tate St Ives Curator, Families, Schools and Young People) said:
"On a visit to the gallery where you are welcomed and inspired, the excitement of seeing a work of art for real and creating and experimenting alongside practising artists has a profound effect on wellbeing and confidence.
"We know that the barriers to accessing these opportunities are very real, and projects like Hayle Art Project are created to overcome them. We aim to make young people's achievements visible by celebrating and sharing through Tate St Ives' platforms and in our local community.
"Hayle Art Project was made possible by local agencies in the community coming together with a shared aim to open access to art, artists, and creative opportunities for young people, and create artwork that would benefit the whole community. Tate St Ives looks forward to continuing these partnerships and creating more inspirational art experiences for local young people in the future."
A Hayle Academy student who took part in the project said:
"I got to have a great time meeting lots of different people and it was my first visit to The Tate Gallery in St Ives. It was fun working with the students from other schools and the graffiti artist Jordan was really talented and creative."
The works were displayed as part of Tate St Ives U Studio festival before being installed at Hayle Station where an unveiling celebration took place on Monday 22 May.
The project is hoped to be the first of many in the town and the partnership of organisations involved would appreciate suggestions from all parts of the community for further ways to address anti-social behaviour. If a member of the public has ideas for practical positive ways forward, send an email to info@hayletowncouncil.net
The project has been made possible through a partnership between Devon & Cornwall Transport Police, GWR, Hayle Town Council and Tate St Ives.
Contact Information
John Carter
Media and Communications Manager
Great Western Railway
0845 410 4444
07715 040424
Notes to editors
Hayle Town Council serves the town of Hayle and surrounding area. Hayle is a port town in West Cornwall with a rich mining and manufacturing heritage. The town was awarded World Heritage status in 2006.
Hayle Town Council aims to maintain open and wide-ranging dialogue with the community it serves. It is committed to a sustainable approach that will steer the strategy for Hayle town and surrounding area.