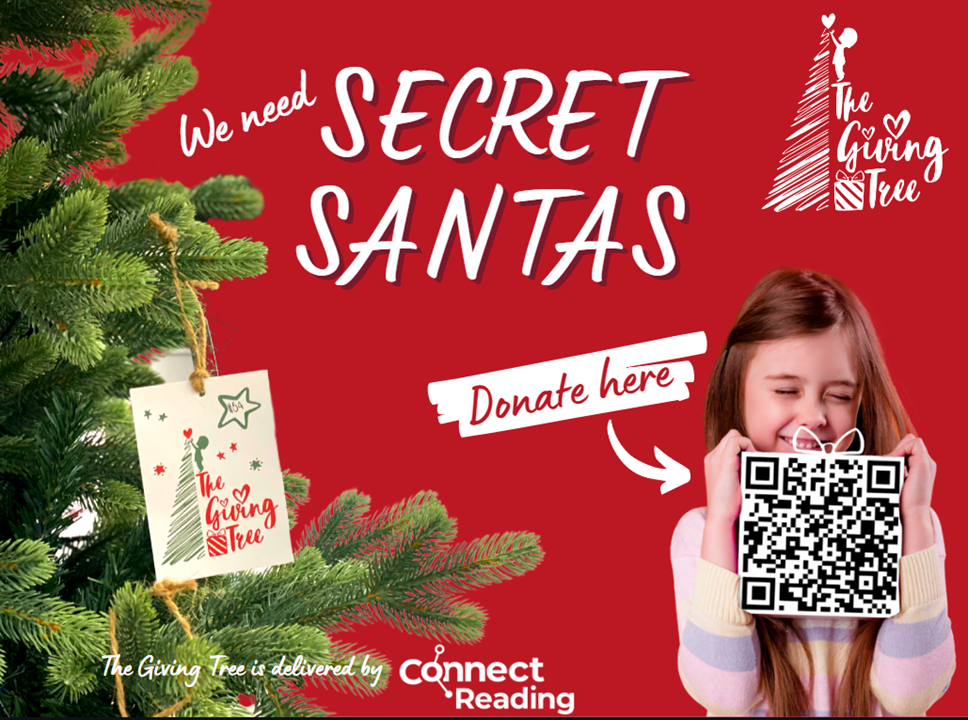 GWR's £11,000 festive funding for Connect Reading's Giving Tree campaign
A Christmas campaign providing cheer for charities, schools and hospitals in Reading has received an £11,484 'festive fillip' from Great Western Railway.
Connect Reading successfully applied for a grant from the train operator's Community Fund, which was launched in May to support local communities and address areas of social need.
As part of GWR's National Rail Contract with the Department for Transport, the train operator is committed to supporting schools, colleges, councils, community and other not-for-profit organisations by aiding a number of initiatives.
Connect Reading's Giving Tree campaign connects gifts with local people in need by working with other non-profit organisations that support individuals on the frontline.
Gifts are chosen by the beneficiaries, empowering them and reducing waste. Connect Reading manages a public gift drive at The Oracle shopping centre in Reading, as well as an online fundraiser to purchase gifts directly.
Connect Reading CEO Lorraine Briffitt said:
"We are so grateful for this grant. Without Great Western Railway's funding, the planning and execution of the campaign could not have occurred.
"The Giving Tree alleviates the burden on frontline charities, schools and hospitals because the Connect Reading Team does the fundraising, gift sorting, social media and connecting with businesses so they don't have to. We're proud to deliver Reading's annual Giving Tree to support local children and adults in need. A big thank you to GWR for helping make it possible."
Connect Reading is continuing to fundraise online, hoping to ensure that charities, schools and the local hospital can give all the needed gifts to beneficiaries on Christmas Day.
Last year 2,075 gifts were given to needy people, worth £21,400. This year, The Giving Tree is supporting 22 local non-profits, aiming to provide 1,456 gifts and raise £8,125. Fundraising is currently only £3,000, leaving a big gap!
To donate, please visit connectreading.org/thegivingtree
GWR Business Development Director Tom Pierpoint said:
"The Community Fund is a fantastic opportunity for us to invest in projects that really make a difference at a local level.
"We're delighted to support the Connect Reading Giving Tree to help local people in need. There's no other project which can have an impact on 22 local charities in one go, ensuring more than 1,000 people receive the gift they chose and feel the direct generosity of a stranger."
Contact Information
John Carter
Media and Communications Manager
Great Western Railway
0845 410 4444
07715 040424
Notes to editors
First Greater Western Limited, trading as "Great Western Railway" (GWR), operates trains across the Great Western franchise area, which includes South Wales, the West Country, the Cotswolds, across southern England and into London. GWR provides high speed, commuter, regional and branch line train services, and before the covid-19 pandemic helped over 100 million passengers reach their destinations every year. GWR has been awarded a National Rail Contract to continue operating the Great Western network, which shall run up to 21 June 2025, with the potential for a further three years at the Secretary of State's discretion. Find out more here: https://www.gwr.com/about-us