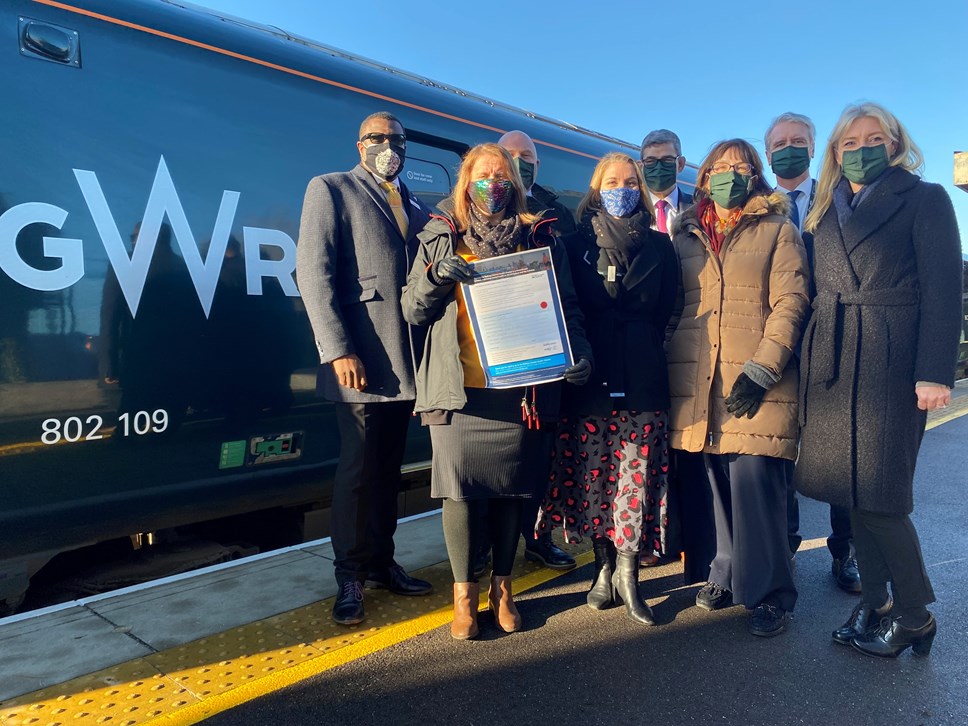 GWR signs up to new mental health charter supporting wellbeing of colleagues
Great Western Railway has underlined its commitment to the wellbeing of colleagues by signing up to The Railway Mental Health Charter (RMHC).
The charter provides a framework designed to help rail companies promote, manage and support mental wellbeing in the workforce.
GWR Human Resources Director Ruth Busby said:
"The charter helps us to ensure we're doing everything we can to support the mental health and wellbeing of our colleagues, which we know is so important.
"It also helps us to connect with others in the rail industry, ensuring we can learn from one another and provide the very best support we can to our colleagues."
GWR Customer Service & Operations Director Richard Rowland added:
"This is important because it underlines to all of our colleagues – everyone from drivers to gateline staff, managers and apprentices, and engineers to administrators – that we are committed to their wellbeing and they know that support is available should they need."
The charter was developed by Lee Woolcott-Ellis, Mental Health Lead Manager at Southeastern Railway, in collaboration with the Rail Safety and Standards (RSSB) and the Mental Wellbeing Group.
Lee said:
"The rail industry exposes the workforce to unique working conditions. Shift patterns, challenging demands and working conditions, and exposure to potentially traumatic events are some of the issues that make the management of mental health in the industry particularly complex."
The charter, developed in collaboration with RSSB and the Mental Wellbeing Group, aims to:
encourage all member workplaces to engage with and embrace the mental health agenda.
support rail companies in preventing and addressing mental ill health, including the effective management of stress in the workplace.
make good practice and information readily and freely available to member organisations.
support the industry in taking a proactive approach to end mental health stigma, get conversations underway and create an open and inclusive culture where all colleagues know where and when to ask for support.
Notes to editors
First Greater Western Limited, trading as "Great Western Railway" (GWR), operates trains across the Great Western franchise area, which includes South Wales, the West Country, the Cotswolds, across southern England and into London. GWR provides high speed, commuter, regional and branch line train services, and before the covid-19 pandemic helped over 100 million passengers reach their destinations every year. GWR was recently awarded an extension to its direct award franchise (called DA3), which shall run up to 31 March 2023, with an option to extend for a further year.
Find out more here: https://www.gwr.com/about-us
Contact Information
John Carter
Media and Communications Manager
Great Western Railway
0845 410 4444
07715 040424
Notes to editors
Picture
Signed up: GWR colleagues with a poster committing to The Railway Mental Health Charter. Left to right, Head of Stations James Adeshiyan; Employee Director Sally Bennett; Head of Drivers Andrew Penrose; Human Resources Director Ruth Busby; Customer Service & Operations Director Richard Rowland; Head of Wellbeing Nicola Hide; Head of On Board David Crome; and Wellbeing Manager Lucy Shephard