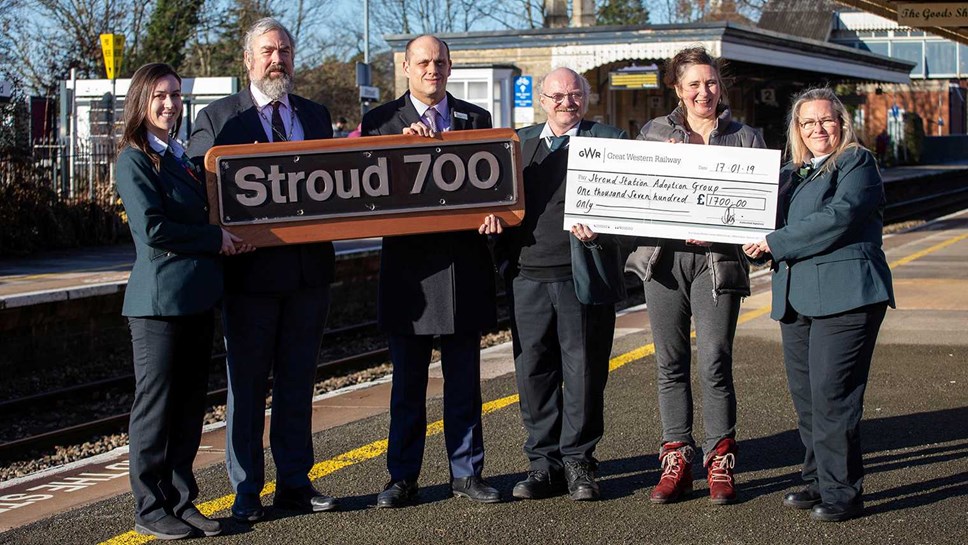 GWR Nameplate marking 700 years of Stroud presented to the town
A Great Western Railway nameplate carried on one of its High Speed Train locomotives has been presented to the town.
A Great Western Railway nameplate carried on one of its High Speed Train locomotives has been presented to the town.
The locomotive, number 43 143, was named Stroud 700 in 2004 marking 700 years since the incorporation of the town in 1304.
As GWR carry out the biggest fleet upgrade in a generation, new Intercity Express Trains are now replacing the 40 year old High Speed Trains and this locomotive has now been taken out of service.
Stroud Town Mayor Kevin Cranston said: "Although we're sad to see "our" train – Stroud 700- retire, the Town Council is delighted to receive this important piece of railway history that celebrates the town's long-standing links with the railway.
"In the 21st century the station and the railway is still as important to the town as it ever was; maybe more so at a time when we look to achieve sustainable transport solutions and to ensure a thriving future for our historic market town."
Joe Graham, Business Assurance Director for GWR said, "Naming trains and locomotives is an integral part of the railway, a unique way to recognise and celebrate the people and communities we serve. We are thrilled to be able to present to Stroud this nameplate as a reminder of the important link between Stroud and GWR."
GWR also presented a cheque for £1700 which was raised from the sale of the second nameplate. This will be donated to Stroud Station Adoption Group who will invest the money into various station and community projects.
Notes to editors
For media enquiries please contact the GWR press office on 0845 410 4444.
Great Western Railway (GWR) provides high speed, commuter, regional and branch line train services. We help over 100 million passengers reach their destinations every year - across South Wales, the West Country, the Cotswolds, and large parts of Southern England.
We're currently seeing the biggest investment in the network since Brunel so we can offer more trains, more seats, and shorter, more frequent journeys and continue the network's heritage of helping connect more businesses to new and prosperous markets. Through a series of initiatives we aim to be a good neighbour to the communities we serve and are committed to making a positive social impact in those regions.
Learn how we're Building a Greater West at GWR.com. GWR is a FirstGroup company.
Contact Information
James Davis
Media Relations Manager
Great Western Railway
0845 410 4444
07703 890 711