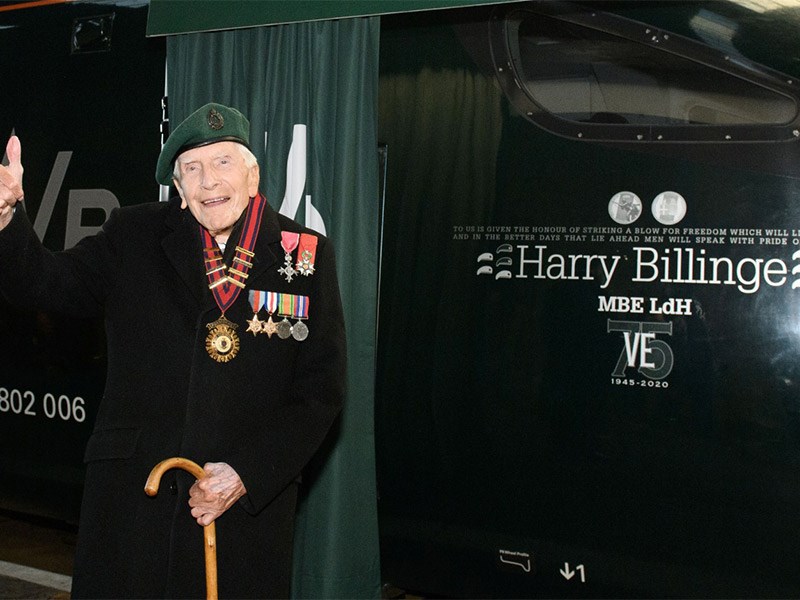 GWR joins forces with The Veterans Charity to plan special 'Poppies to Paddington' operation for Remembrance Day
Wreaths from across Great Western Railway network to be carried to the capital. Swathes of poppy wreaths will be placed on Great Western Railway trains and carried to London Paddington station on Remembrance Day.
Swathes of poppy wreaths will be placed on Great Western Railway trains and carried to London Paddington station on Remembrance Day.
The special Poppies to Paddington operation will involve nine train services and more than 60 stations covering the length and breadth of the Great Western network.
With many Remembrance events in the capital and around the region suspended because of the pandemic, GWR and The Veterans Charity have been coordinating with organisations including the Royal British Legion and The Soldiers, Sailors, Airmen and Families Association (SSAFA) to place wreaths on board early-morning services heading to the capital on November 11.
Great Westerner: D-Day veteran Harry Billinge MBE will be providing a wreath which will be placed on board at St Austell.
Local authorities and military bases are also taking part in the operation and more than 100 wreaths are expected to be taken to London.
On arrival at Paddington these will be placed at the station's iconic war memorial, on Platform 1, in time for the Remembrance Day service at 1100.
Poppies to Paddington is GWR's way of helping our communities to ensure our fallen heroes are remembered despite the restrictions in place around Covid-19. The arrival of the Poppies and the Remembrance service will be broadcast live on GWR's Facebook page and we encourage people to #RememberFromHome.
GWR's Head of Communications Dan Panes said:
"We all know how much change the pandemic has brought to everyone's lives but we are determined Remembrance Day should be marked in the best way possible.
"Poppies to Paddington allows all those organisations who would usually be present for the Remembrance services at London Paddington and around the region to pay tribute to the fallen by laying a wreath. We are proud to be able to help in this way."
Iain Henderson, Trustee of The Veterans Charity, said:
"Thanks to GWR and our friends in HM Armed Forces, the Emergency Services and numerous other groups and charities who support veterans, Poppies to Paddington will mean that people from across the region can still pay respects and remember those who fought and remember those who died in conflicts from World War One to Afghanistan. All from the safety of their home."
A Royal British Legion spokesperson said:

"In the year that marked 75 years since VE Day and VJ Day, the Legion is remembering the contribution of every member of our Armed Forces who stepped up to defend our way of life then, and those who continue to do so today, whatever the threat.
"Although we acknowledge that Remembrance will not be the same and communities cannot come together as they usually do at this time of year, it is still important to provide people with a safe outlet to pay tribute and as the champions of Remembrance, we are grateful to the GWR for helping people pay tribute."
Lt General Sir Andrew Gregory, CEO of SSAFA, the Armed Forces charity, said:
"Recognising the service and sacrifice of the Armed Forces around and on Remembrance Day itself is extremely important. In these increasingly challenging times, Poppies to Paddington is a poignant and entirely fitting example of how we need to adapt in order to continue marking this significant annual event."
The first of the Poppies to Paddington services will start from Penzance at 04:58, calling at 10 stations before arriving into London Paddington at 09:59. One of those stations is St Austell, where D-Day veteran and #GreatWesterner Harry Billinge will have his wreath placed on board the train that was recently named in his honour at 05:48.
Other services involved include the 06:43 from Hereford, the 07:13 from Paignton, 07:20 from Swansea, 07:22 from Taunton, 08:13 from Worcester Shrub Hill, 08:58 from Cheltenham Spa, 09:00 from Bristol Temple Meads, and 09:59 from Oxford.
A full list of all the station stops can be viewed below. Wreath bearers and organisations will be met at each station by GWR staff who will help to place the wreaths on board.
In view of the latest lockdown expected to come into force on Thursday, train operators are reminding passengers to:
plan ahead – travel at quieter times where they can, buy a ticket online and in advance, and book ahead if you need travel assistance
consider others – wear a face covering unless you're exempt, not travelling if you have Covid symptoms and consider others, not all disabilities can be seen
stay safe – maintaining your distance wherever possible; wash your hands and carry hand sanitiser, paying contactless where you can
GWR has been providing rail services throughout the pandemic and has worked to ensure that these are as safe as possible. This includes increased cleaning regimes and the use of a virucidal spray; extra staff at key stations to offer help and guidance; and processes in place to help customers maintain a safe distance where possible such as restricting the number of reservations available.
Notes to editors
Great Western Railway (GWR) provides high speed, commuter, regional and branch line train services. We help over 100 million passengers reach their destinations every year - across South Wales, the West Country, the Cotswolds, and large parts of Southern England.
We're currently seeing the biggest investment in the network since Brunel so we can offer more trains, more seats, and shorter, more frequent journeys and continue the network's heritage of helping connect more businesses to new and prosperous markets. Through a series of initiatives we aim to be a good neighbour to the communities we serve and are committed to making a positive social impact in those regions. Learn how we're Building a Greater West at GWR.com. GWR is a FirstGroup company.

The Veterans Charity was founded in 2008 and provides immediate needs support to Veterans and families who find themselves in hardship. In the past 5 years alone, we have delivered vital provisions including food shopping, clothing, household items, utilities support and communications devices to more than 2200 cases, bringing much-needed and deserved relief and morale boost. 2020 has been their busiest year to date. The Veterans Charity is registered in England and Wales as a charity under number 1123149.

SSAFA, the Armed Forces charity, has been providing lifelong support to our Forces and their families since 1885. In 2019, our teams of volunteers and employees helped more than 85,000 people in need, the currently serving (both regulars and reserves), veterans from the Second World War and those who have served in more recent conflicts, as well as their families. SSAFA understands that behind every uniform is a person. And we are here for that person – any time they need us, in any way they need us, for as long as they need us. www.ssafa.org.uk.
Contact Information
James Davis
Media Relations Manager
Great Western Railway
0845 410 4444
07703 890 711