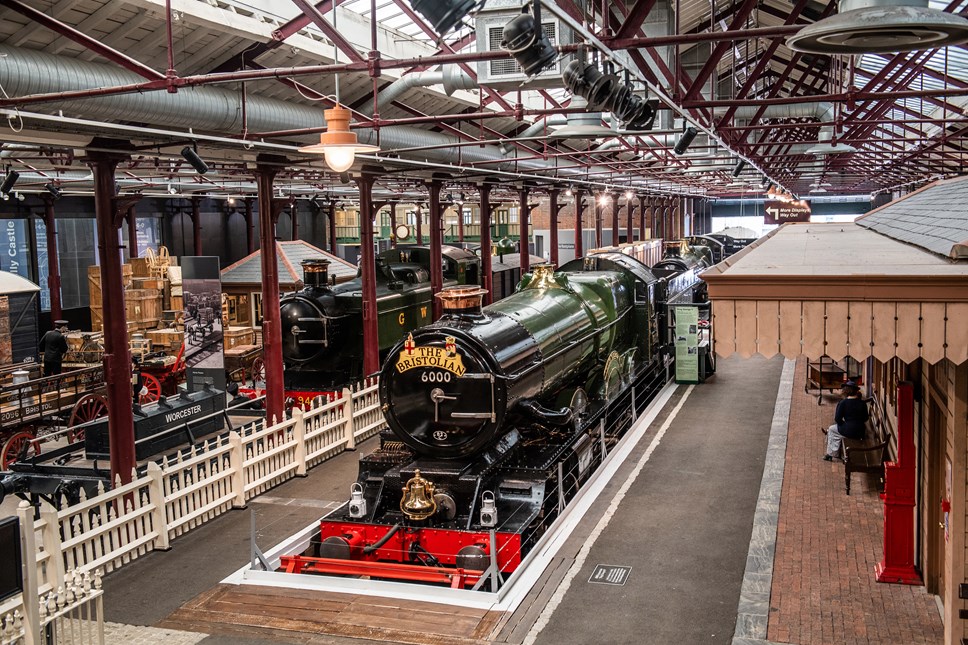 GWR grant will help safeguard nation's railway archives for generations to come
A project to safeguard the nation's railway archives has received a £110,000 grant from Great Western Railway.
The Railway Industry National Archive (RINA) Education Project aims to provide a vibrant and permanent resource which can be used for educational and research purposes.
Through a partnership with STEAM – Museum of the Great Western Railway in Swindon, the National Railway Museum aims to bring the railway to life for young people across the South West, encouraging them to consider the industry as a career choice.
As part of GWR's franchise agreement with the Department for Transport, the train operator is committed to supporting schools, colleges, community and other not-for-profit organisations by aiding a number of initiatives.
NRM Documentation and Railway Heritage Manager Sarah Norville said:
"The complexity of rail franchises past and present has meant that the identification, designation and ultimate preservation of records has proved challenging. It is imperative that such a key part of railway heritage is not lost for current and future generations.
"There is a pressing need to identify what material is held by various franchises across their main offices to ensure that material vital for recording how Britain's railway system has worked in the privatised era can be identified and – where appropriate – designated and preserved."
As well as documenting a major period in Britain's railway history, work between the NRM and STEAM will see the production of recorded interviews with GWR colleagues active in the industry during the privatisation era.
These will be made available for educational activities and feature alongside other modern-day material in an exhibition at STEAM.
South Swindon MP Robert Buckland and North Swindon MP Justin Tomlinson said:
"We are delighted to see Great Western Railway supporting Swindon and Wiltshire like this. It is important that we all work together as we start the recovery from Covid-19 and that means supporting local communities wherever we can.
"We are very pleased to see support for our very own STEAM museum, working in partnership with the National Rail Museum.
"STEAM is a great museum and a great visitor attraction for Swindon, drawing people to the area and helping us to build back the local and regional economy. We're really pleased GWR is investing like this in its 'home' town and to see the focus is on helping young people into railway careers."
GWR Community Manager Emma Morris said:
"Funding will be split between NRM and STEAM to enable a project that will benefit Britain's railway operators and the communities in which they serve. It also provides the basis for securing the future of the very records that tell the story of Britain's railway during one of the most pivotal periods in the industry's history."
Picture credit: Jack Boskett
Notes to editors
First Greater Western Limited, trading as "Great Western Railway" (GWR), operates trains across the Great Western franchise area, which includes South Wales, the West Country, the Cotswolds, across southern England and into London. GWR provides high speed, commuter, regional and branch line train services, and before the covid-19 pandemic helped over 100 million passengers reach their destinations every year. GWR was recently awarded an extension to its direct award franchise (called DA3), which shall run up to 31 March 2023 with an option to extend for a further year.

Find out more here: https://www.gwr.com/about-us
About the National Railway Museum
The National Railway Museum in York has the largest collection of railway objects in the world and prior to Covid-19, attracted more than 750,000 visitors per year
The collection includes over 260 locomotives and rolling stock, 600 coins and medals and railway uniform, equipment, documents, records, artwork and photographs
The museum holds an archive of over 1400 sound items and 16 boxes of papers and photographic material from pioneering sound recordist Peter Handford, whose catalogue can be searched here.
Admission to the National Railway Museum is free although tickets must be booked in advance at www.railwaymuseum.org.uk
The National Railway Museum is part of the Science Museum Group of national museums which includes Locomotion in Shildon, the Science Museum in London, the Science and Industry Museum in Manchester and the National Science and Media Museum in Bradford
About STEAM – Museum of the Great Western Railway
Housed in a Grade II listed railway building in the heart of the former Swindon railway works, STEAM tells the story of the men and women who built, operated and travelled on the Great Western Railway
Over 1,700 objects are on display at STEAM, ranging from the largest - steam locomotives and carriages to the smaller items such as drawing instruments and Swindon Works pay checks. The displays are supported by a total of around 250,000 objects and archive items in the Museum's stored collections
The Museum holds over 80,000 historic photographs relating to the Great Western Railway and British Railways (Western region)
STEAM is owned and operated by Swindon Borough Council
Contact Information
John Carter
Media and Communications Manager
Great Western Railway
0845 410 4444
07715 040424