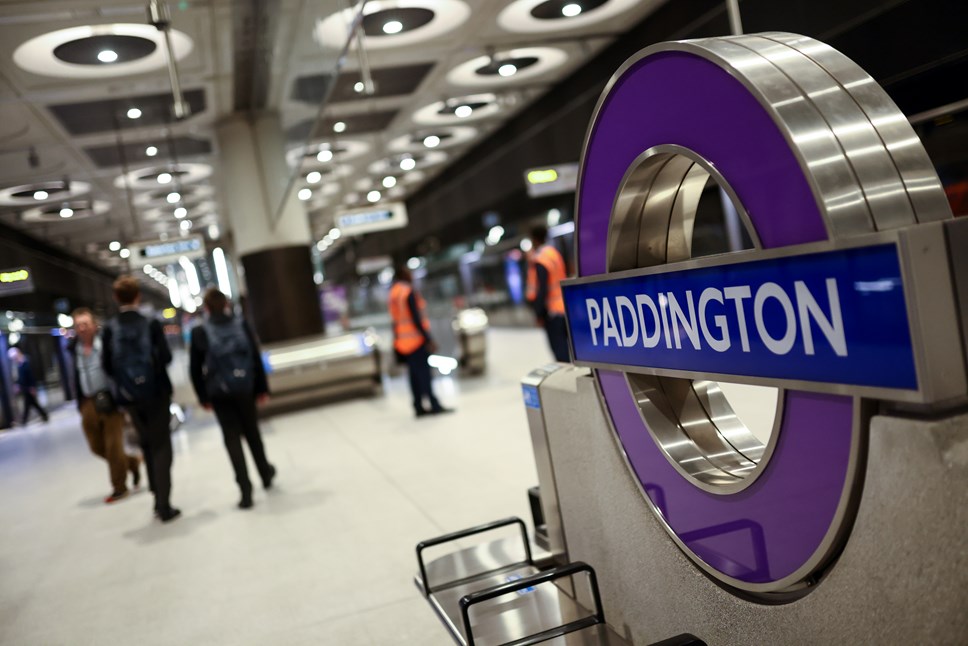 GWR customers can look forward to even greater connectivity with next phase of Elizabeth line
A date for the next phase of the Elizabeth line has been confirmed today – delivering more benefits for Great Western Railway passengers.
From Sunday 6 November, customers travelling on through central London can look forward to even better connectivity, with a train every 163 seconds between Paddington and Whitechapel during peak hours.
Customers will also be able to use the Elizabeth line seven days a week as Sunday services commence for the first time.
The brand-new Bond Street Elizabeth line station, at the heart of London's West End, is also set to open by November.
Since the central section of the Elizabeth line opened in May, more than 11 million journeys have been made between Paddington and Abbey Wood – more than 200,000 daily journeys.
Ahead of the Elizabeth line opening and to illustrate the improvement in journey times, local railway historian Tim Dunn took part in a race against himself using both the Elizabeth line and traditional London Underground:
GWR regional growth manager Edward Goose said:
"We know the Elizabeth line has proved extremely popular with GWR customers who have taken advantage of significant journey-time savings from Paddington into key parts of the city.
"This announcement for the next phase on 6 November is incredibly exciting, delivering even greater connectivity and – with services commencing on Sundays ­– greater flexibility for our leisure customers visiting the capital at weekends.
"The opening of the new Bond Street station will also be great news, taking passengers to the heart of one of the busiest shopping districts in the UK.
"This will help to make travel on GWR services into the capital even more compelling, attracting new customers across our network and boosting demand as we continue to work to attract customers back to the railway."
November's next stage will see the lines from Reading, Heathrow and Shenfield connect with the central tunnels of the Elizabeth line. This means customers travelling from Reading and Heathrow will be able to travel east all the way to Abbey Wood without changing at Paddington.
Customers travelling from Shenfield in Essex will be able to travel west all the way to Paddington without changing at Liverpool Street, opening faster, more convenient journeys to prized destinations across the GWR network.
The frequency of services in the central section between Paddington and Whitechapel will increase from 12 trains per hour to up to 22 trains per hour in peak times and 16 trains per hour during off-peak.
Ahead of the changes, from Monday 5 September, extended opening hours will run on the Elizabeth line between Paddington and Abbey Wood from around 0530 to around 2300.
The final timetable, bringing full end-to-end journeys and up to 24 trains per hour during the peak between Paddington and Whitechapel, is on track to be in place by May 2023.
Find out more about the Elizabeth line here.
Contact Information
John Carter
Media and Communications Manager
Great Western Railway
0845 410 4444
07715 040424
Notes to editors
Commuters can now travel from London Paddington to Canary Wharf in just 17 minutes – half the time the journey took before the Elizabeth line opened.
The capital's central business hub is now within an hour's reach from Reading; and under 90 minutes from Oxford and Swindon.
JOURNEY TIME COMPARISONS
Destination

Starting point

London Paddington

Reading

Swindon

Oxford

Before

Now

Before*

Now^

Before*

Now^

Before*

Now^

Tottenham Court Road

14 mins

5 mins

53 mins

46 mins

84 mins

74 mins

81 mins

76 mins

Farringdon

19 mins

8 mins

58 mins

49 mins

89 mins

77 mins

86 mins

79 mins

Liverpool Street

25 mins

11 mins

64 mins

51 mins

95 mins

79 mins

92 mins

81 mins

Canary Wharf

34 mins

17 mins

73 mins

58 mins

104 mins

86 mins

101 mins

88 mins

Abbey Wood

61 mins

29 mins

102 mins

70 mins

140 mins

98 mins

137 mins

100 mins
*Journeys allow for up to 15 minutes interchange at Paddington for the London Underground
^Journeys allow for up to 9 minutes interchange at Paddington for the Elizabeth Line
First Greater Western Limited, trading as "Great Western Railway" (GWR), operates trains across the Great Western franchise area, which includes South Wales, the West Country, the Cotswolds, across southern England and into London. GWR provides high speed, commuter, regional and branch line train services, and before the covid-19 pandemic helped over 100 million passengers reach their destinations every year. GWR has been awarded a National Rail Contract to continue operating the Great Western network, which shall run up to 21 June 2025, with the potential for a further three years at the Secretary of State's discretion. Find out more here: https://www.gwr.com/about-us