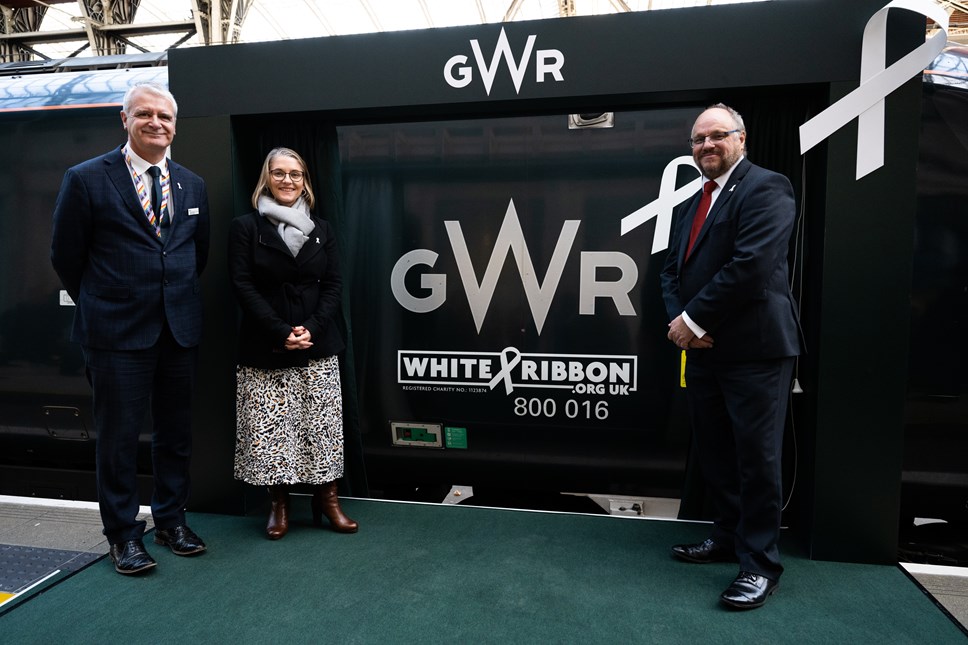 Great Western Railway unveils White Ribbon train to join the mission to end male violence against women
Great Western Railway (GWR) marked White Ribbon Day today (Friday 25 November) with a new train livery to commemorate the company becoming White Ribbon UK Accredited.
The unveiling, at Paddington Station, saw representatives from White Ribbon UK, local government and the rail industry come together to celebrate GWR begin its three-year partnership with the charity.
For B-roll footage of today's ceremony please click here.
White Ribbon is the UK's leading charity committed to ending male violence against women and girls through engagement with men and boys. Its mission is to change long-established and harmful attitudes, systems and behaviours around masculinity that perpetuate gender inequality and violence against women.
GWR has become an accredited White Ribbon UK organisation as a way of raising awareness both in its business and the wider rail industry, as well as in the communities it serves.
Intercity Express Train 800016 has been chosen to carry the White Ribbon emblem as White Ribbon Day coincides with the start of the United Nations' 16 Days of Activism against Gender-Based Violence.
The White Ribbon train will travel across the GWR network to locations such as Penzance, South Wales and Bristol, spreading the message of their commitment to supporting the education of men and boys to prevent violence against women.
Also in attendance at the event were colleagues from across GWR who have committed to become White Ribbon Ambassadors.
White Ribbon Ambassadors are men who share the message of White Ribbon and encourage everyone – but especially men and boys – to make a promise to never use, excuse or remain silent about violence against women.
GWR colleagues have also signed up as White Ribbon Champions to encourage men to get involved in the charity, through inspiring and informing through learning, conversations and social media.
GWR Head of On Board, David Crome, pictured, said:
"Our partnership with White Ribbon UK is one of our most significant to date. As a business that is male dominated we are in a strong position to showcase the hard work that White Ribbon do among our colleagues who identify as male.
"As a transport company, we are committed to safeguarding the women and girls who both travel and work with us. Our White Ribbon Ambassadors and Champions are perfect examples of how dedicated our colleagues are to preventing violence against women and keeping the rail industry safe for everyone."
White Ribbon UK Chief Executive, Anthea Sully, said:
"We are thrilled that GWR are showing the importance of raising awareness of ending men's violence against women with their White Ribbon train. The White Ribbon is the global symbol of changing harmful cultures that prevent women living the lives they want to lead.
"As the train travels the country it will inspire curiosity about White Ribbon and raise essential awareness about what steps we can all take to achieve #TheGoal of ending violence once and for all."
Information on White Ribbon UK can be found at www.whiteribbon.org.uk
Contact Information
John Carter
Media and Communications Manager
Great Western Railway
0845 410 4444
07715 040424
Notes to editors
Main picture: GWR Head of On Board, David Crome, GWR HR Director, Ruth Busby, and White Ribbon UK Vice Chair, Steve Barnbrook
First Greater Western Limited, trading as "Great Western Railway" (GWR), operates trains across the Great Western franchise area, which includes South Wales, the West Country, the Cotswolds, across southern England and into London. GWR provides high speed, commuter, regional and branch line train services, and before the covid-19 pandemic helped over 100 million passengers reach their destinations every year. GWR has been awarded a National Rail Contract to continue operating the Great Western network, which shall run up to 21 June 2025, with the potential for a further three years at the Secretary of State's discretion. Find out more here: https://www.gwr.com/about-us