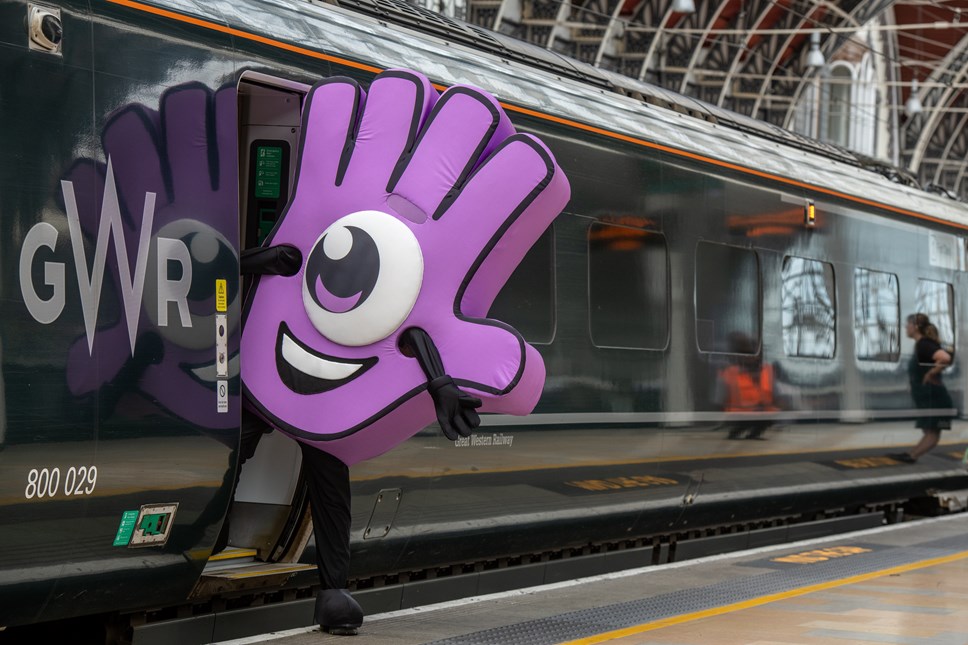 Great Western Railway teams up with Dobble for #TheGameTrain Day to 'EnterTrain' travelling families
Dobble and Great Western Railway (GWR) joined forces by inviting customers on board #TheGameTrain to make summer holiday travel more enjoyable for families, and to get 'More People Playing More Games More Often'.
The initiative saw one of Asmodee's most famous games, Dobble, being showcased on board a number of GWR services to and from London Paddington towards some of the UK's greatest holiday destinations on Tuesday 23 August.
Those travelling were offered the opportunity to play the game on board for free, keeping children 'EnterTrained', and adults stress-free.
Dobble provides endless fun for families of all ages to enjoy, while also reducing everyone's screentime and encouraging everyone to socialise together.
Asmodee Head of Marketing, James Arnold, said:
"We wanted to find a way to ease summer holiday stress and make travelling more enjoyable, not only for parents but also for the children. That's how we came up with the idea of a game day onboard Great Western Railway trains."
Six Game Trains ran through various parts of the GWR network on Tuesday 23 at the following times:
1202 London Paddington to Bristol Temple Meads – calls at Reading, Didcot Parkway, Swindon, Chippenham and Bath Spa
1248 London Paddington to Bristol Parkway – calls at Reading and Swindon
1250 London Paddington to Oxford – calls at Slough and Reading
1400 Bristol Temple Meads to London Paddington – calls at Bath Spa, Chippenham, Swindon, Didcot Parkway and Reading
1432 Oxford to London Paddington – calls at Oxford, Reading and Slough
1451 Bristol Parkway to London Paddington – calls at Swindon and Reading
GWR Head of External Communications, Dan Panes, said:
"We have some of the most inspiring destinations on our network, which are perfect for a family trip during the school holidays. We are incredibly grateful to Dobble for 'EnterTraining' our customers of all ages on our services, getting their Great Western Adventure off to an exciting start. It was fantastic to have them on board."
Contact Information
John Carter
Media and Communications Manager
Great Western Railway
0845 410 4444
07715 040424
Notes to editors
First Greater Western Limited, trading as "Great Western Railway" (GWR), operates trains across the Great Western franchise area, which includes South Wales, the West Country, the Cotswolds, across southern England and into London. GWR provides high speed, commuter, regional and branch line train services, and before the covid-19 pandemic helped over 100 million passengers reach their destinations every year. GWR has been awarded a National Rail Contract to continue operating the Great Western network, which shall run up to 21 June 2025, with the potential for a further three years at the Secretary of State's discretion. Find out more here: https://www.gwr.com/about-us
Asmodee
Asmodee is the leading distributor of tabletop games and accessories in the UK. This includes major titles such as Dobble, CATAN, Ticket to Ride, Bananagrams, BrainBox, and The Pokémon Trading Card Game. https://www.asmodee.co.uk/
Mason Williams
Mason Williams is a Public Relations agency specialising in Consumer Lifestyle brands. Founded in 1986 we have worked with, and currently represent, some of the biggest and most exciting brands, products and names in the UK and globally through our network IPREX. We have key senior directors based in London, Manchester, Cornwall, and Mallorca - to handle our growing Spanish brands.
For more details, please contact Mason Williams Communications:
Jenny Hill |jenny@mason-williams.com |07884579119
AItana Bayarri | aitana@mason-williams.com | 07917581298
Eugenie Simbaeva | eugenie@mason-williams.com | 07436072915
Visit www.mason-williams.co.uk or find them on Twitter @MasonWiliams, Facebook Mason Williams PR, and Instagram @masonwilliamspr