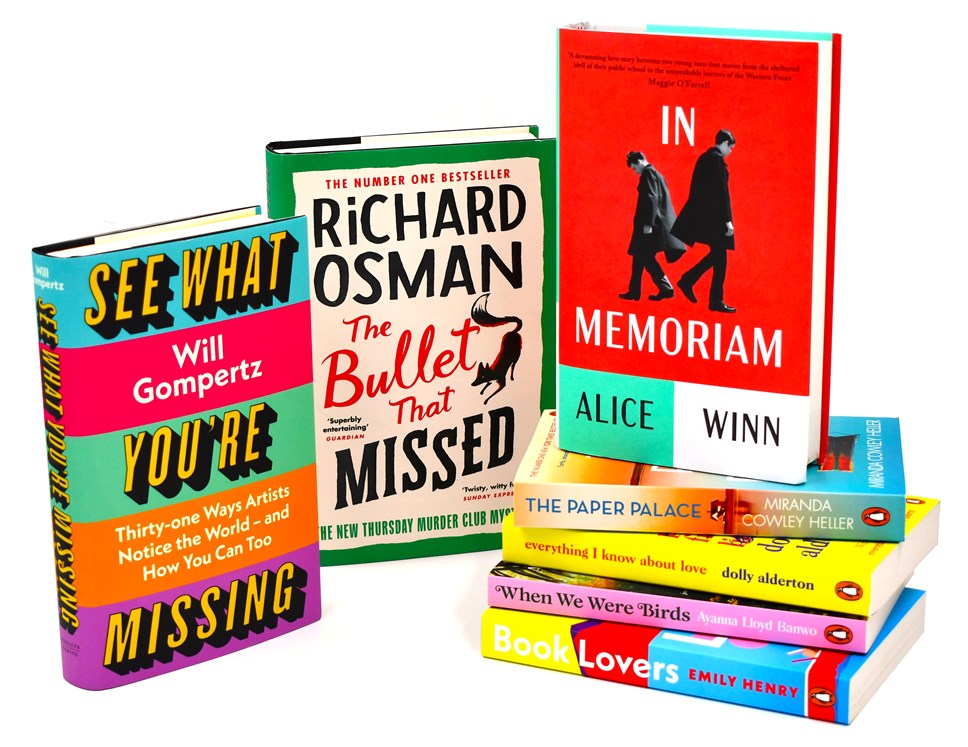 Great Western Railway partners with Penguin in World Book Day giveaway
Great Western Railway (GWR) is celebrating World Book Day with publisher Penguin Books by giving its followers the chance to win a bundle of books.
The prize comprising of seven books, including works by Richard Osman and Dolly Alderton, is up for grabs today to mark World Book Day. Designated by UNESCO as a worldwide celebration of books and reading, the day falls on the second Thursday of March every year.
Booklovers can enter the competition on Twitter and Facebook by simply following GWR's account, retweeting their World Book Day post, and tagging in a friend to be in with a chance to win the selection.
There are seven books up for grabs which include a mix of fiction and non-fiction.
Everything I Know About Love by Dolly Alderton
When We Were Birds by Ayanna Lloyd Banwo
See What You're Missing by Will Gompertz
The Paper Palace by Miranda Cowley Heller
Book Lovers by Emily Henry
The Bullet that Missed by Richard Osman
In Memoriam by Alice Winn
The competition strengthens GWR's long affiliation with Penguin Books which dates back nearly 90 years. In 1934, while waiting to travel back to London after visiting Agatha Christie, Sir Allen Lane found himself at Exeter St Davids station with nothing to read.
This experience, together with Sir Allen's passion to make quality literature affordable and accessible to all, led him to create the iconic sixpenny paperback and marked the beginning of Penguin Books and its lasting legacy.
The sixpenny paperback was affordable enough to be sold at railway stations, corner shops and even in vending machines across the country, ensuring no-one would go without a quality book to read on their journey again. The first Penguin paperbacks included writing by Ernest Hemingway and Agatha Christie.
Sir Allen went on to found Penguin Books alongside his two brothers, Richard and John, in 1935.
A memorial plaque, commissioned by Sir Allen's daughter Clare Morpurgo and designed by Penguin Random House, was unveiled at Exeter St Davids in 2017.
A Penguin Books spokesperson said:
"We are delighted to have partnered with Great Western Railway for this exciting competition on World Book Day, building on an affiliation which dates back nearly 90 years."
Interim Head of External Communications, Paul Gentleman, said:
"We are incredibly grateful to Penguin Books for providing us with this generous prize for our book-loving followers.
"A good book is always a great accompaniment to any train journey, whether you're unwinding on your way home from work, or reading about exciting adventures as you're embarking on one of your own.
"With so many great books to accompany so many destinations across the Great Western network, we hope our lucky winners will make them part of their next journey by train."
GWR's #WorldBookDay competition runs until 23:59 on Wednesday 8 March 2023.
To enter, simply tag a friend, follow @GWRUK on GWR's Facebook page, or @GWRHelp on Twitter and share the competition post. Terms and conditions apply.
Contact Information
John Carter
Media and Communications Manager
Great Western Railway
0845 410 4444
07715 040424
Notes to editors
First Greater Western Limited, trading as "Great Western Railway" (GWR), operates trains across the Great Western franchise area, which includes South Wales, the West Country, the Cotswolds, across southern England and into London. GWR provides high speed, commuter, regional and branch line train services, and before the covid-19 pandemic helped over 100 million passengers reach their destinations every year. GWR has been awarded a National Rail Contract to continue operating the Great Western network, which shall run up to 21 June 2025, with the potential for a further three years at the Secretary of State's discretion. Find out more here: https://www.gwr.com/about-us