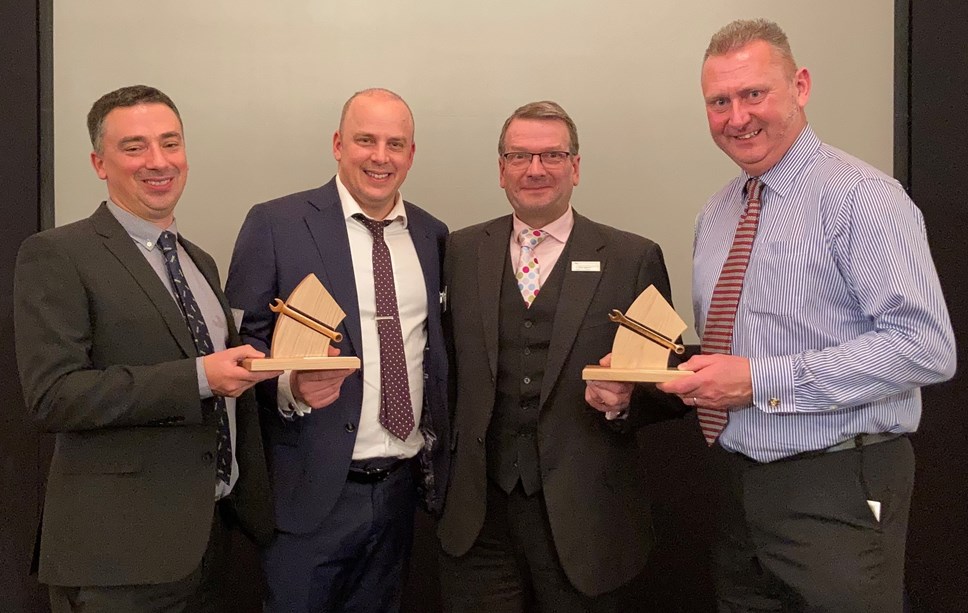 Great Western Railway enjoys double success at the Golden Spanner Awards
Great Western Railway scooped two trophies at the rail industry's prestigious Golden Spanner Awards – including Gold for its Castle Class HST fleet.
The Spanners celebrate improvements in train maintenance practices and reliability and GWR was awarded Gold in the Most Reliable HST category.
The Castle Class HST fleet operates on local services between Cardiff and Penzance and is maintained by colleagues at Laira depot, with support from Long Rock and St Philips Marsh.
The annual awards also saw GWR awarded a Bronze spanner in the Ex-BR Diesel Multiple Units category for its Class 165s, maintained by Reading and St Philips Marsh depots.
GWR Head of Engineering Andrew Skinner said:
"This is a fantastic achievement and reflective of the hard work and commitment by everyone in engineering at the respective depots, Control and HQ.
"We're extremely proud to be the first winner of a Gold Spanner for Most Reliable HST and that's testament to the teams at Laira, Long Rock and St Philips Marsh depots.
"Success in the Golden Spanner Awards is not just down to our engineering teams, but to everyone who works so diligently within GWR to ensure the reliability of our train performance."
More than 300 representatives from across the industry gathered at the Grand Connaught Rooms in London for the awards.
After-lunch speaker Bill Reeve, Director of Rail at Transport Scotland, reflected on experience from north of the border and challenge the rolling stock community to deliver improvements, before Modern Railways Industry and Technology Editor Roger Ford revealed the winners.
Three categories of trophy are awarded: Gold for best in class, Silver for most improved over the last year, and Bronze for the fastest average recovery time following an incident.
Figures are calculated using Miles per Technical Incident (MTIN) Moving Annual Average data, a TIN being recorded where a train is stopped for three minutes or more due to a rolling stock issue. Trains are broken down into categories based on age and type.
Roger Ford said:
"With declining numbers of ex-British Rail intercity trains, this was the first year that a Golden Spanner was awarded for Most Reliable Intercity 125. GWR's Castle Class took the new trophy following a very impressive 42% improvement in reliability.
"The Bronze spanner in each category is awarded to the fleet which causes the least delay following a failure. This reflects what the passenger experiences and is down to the training of the train crew and the quality of the technical back-up. GWR's Class 165 fleet's performance is one of the best on the whole network."
Notes to editors
First Greater Western Limited, trading as "Great Western Railway" (GWR), operates trains across the Great Western franchise area, which includes South Wales, the West Country, the Cotswolds, across southern England and into London. GWR provides high speed, commuter, regional and branch line train services, and before the covid-19 pandemic helped over 100 million passengers reach their destinations every year. GWR was recently awarded an extension to its direct award franchise (called DA3), which shall run up to 31 March 2023, with an option to extend for a further year. Find out more here: https://www.gwr.com/about-us
In line with the latest Government advice, GWR is encouraging customers to travel safely. People are reminded to:
Wear a face covering
Wash your hands more regularly
Buy tickets online, on a smart card or by using the GWR app
Throughout the pandemic GWR has worked hard to ensure customers can travel with confidence, providing extra staff at key stations to offer help and guidance and putting extra cleaning measures in place. This includes:
A 24% increase in cleaning hours every week since March 2020
Sanitising (fogging) of 1,120 vehicles every 4 weeks
Carrying out 2,150 on board surface tests (ATP) every four weeks, to ensure the effectiveness of our cleaning
272 train cleaning processes reviewed, and many adapted
Hand sanitising facilities at key stations across its network.
Contact Information
John Carter
Media and Communications Manager
Great Western Railway
0845 410 4444
07715 040424
Notes to editors
Pictured are, left to right, David Eveleigh (Depot Engineering Manager, Reading),
Olly Wise (DMU Fleet Engineer), Andrew Skinner (Head of Engineering) and
Karl Atkinson (HST & Locomotive Fleet Engineer)