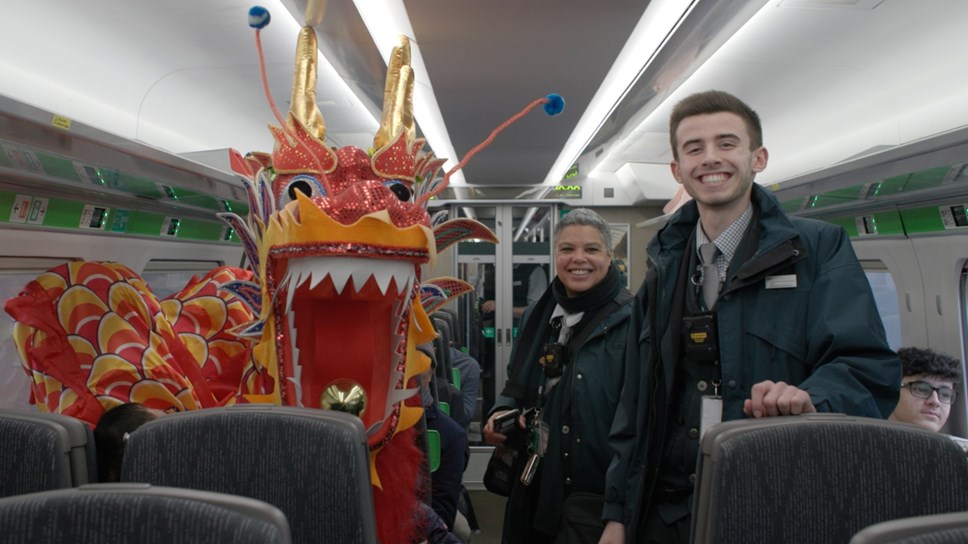 Great Western Railway brings the Chinese New Year to Reading with dancing, dragons and delight
Great Western Railway (GWR) got hopping into the year of the Rabbit with a special Chinese New Year celebration at Reading Station.
Passengers at Reading were treated to a flash mob of 30 dancers from South Gloucestershire Chinese Association (SGCA) taking part in a traditional Chinese dragon dance today (Saturday 21 January).
The dance, celebrating the start of the Chinese New Year on Sunday 22 January, has a history of more than 2,000 years and is believed to bring good fortune.
Chinese New Year, also referred to as Lunar New Year, dates to the 14th century and is a celebration of the first day of the Chinese calendar. There are twelve Chinese astrological signs, represented by various animals. Saturday saw the end of the year of the Tiger with the Rabbit bringing in the New Year on Sunday.
SGCA has received support through GWR's Community budget, which supports under-represented groups across the Great Western network. The £965 which SGCA received from the train operating company has helped to fund dance teaching and provide a space for the group to meet.
SGCA Secretary Rong Yang came up with the idea as a way of showcasing Chinese culture in the region.
She said:
"With the great support from GWR and Network Rail, members of South Gloucestershire Chinese Association headed to Reading station to perform in a fantastic flash mob. There was also a mix of traditional and modern dances, Tai Chi demonstrations, and above all, a mighty dragon dance show.
"If you were in Reading we hoped you enjoyed a truly unforgettable cultural experience."
Network Rail's station manager for Reading, Bernadette Sachse, who alongside GWR supported the event, said:
"Network Rail was thrilled to help the SCGA celebrate Chinese New Year at Reading station on Saturday. The dancing brought a smile to the faces of everyone who passed through, with plenty of colourful activities to brighten up a cold January day."
GWR Community Manager Emma Morris said:
"GWR is delighted to support projects such as SGCA's Chinese New Year celebration through its Community budget. Projects like these are a great way to get the local community involved and help amplify the voices of underrepresented groups across our network."
Contact Information
John Carter
Media and Communications Manager
Great Western Railway
0845 410 4444
07715 040424
Notes to editors
Picture credit South Gloucestershire Chinese Association
About GWR
First Greater Western Limited, trading as "Great Western Railway" (GWR), operates trains across the Great Western franchise area, which includes South Wales, the West Country, the Cotswolds, across southern England and into London. GWR provides high speed, commuter, regional and branch line train services, and before the covid-19 pandemic helped over 100 million passengers reach their destinations every year. GWR has been awarded a National Rail Contract to continue operating the Great Western network, which shall run up to 21 June 2025, with the potential for a further three years at the Secretary of State's discretion. Find out more here: https://www.gwr.com/about-us 
About South Gloucestershire Chinese Association
Established in 2001, South Gloucestershire Chinese Association aims to bring together the Chinese community living, working or studying in the area, to identify and meet their needs through a variety of projects and activities in association with different organisations and service providers.

The Association is funded and supported by South Gloucestershire Council and National Lottery Funding, and managed by a dedicated committee, with the support of volunteers, to provide communication and social platform for our members. We regularly organise festival celebrations, cultural events, information days, consultation meetings, health, or leisure activities. We work closely with council departments, health authority, police, statutory and voluntary organizations.

In the area of social or health welfare, we support, advice, or sign post our members in gaining access to various services and benefits, and we provide assistance to the disadvantaged groups such as non-English speakers, elderly, and children. In addition, the Association is committed to promote cultural understanding and community cohesion within the South Gloucestershire County.
Find out more here: http://sgca.info/