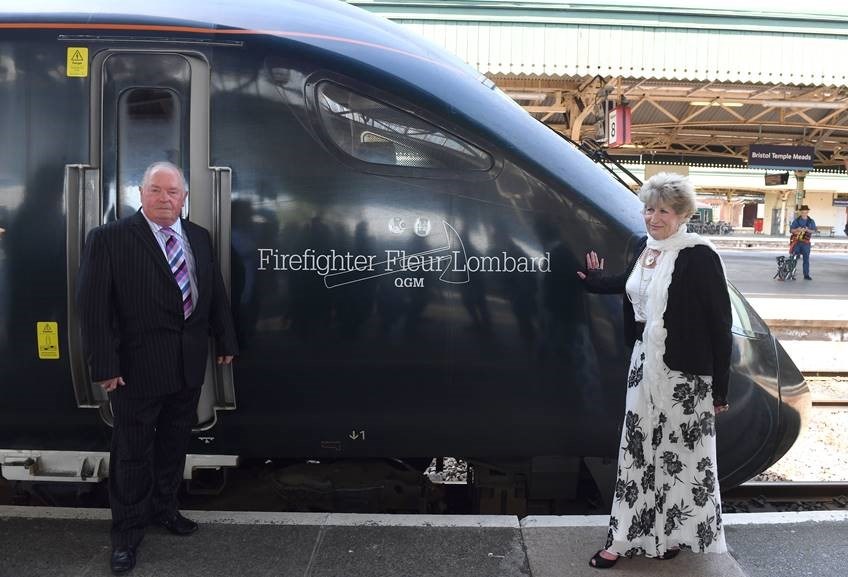 Fallen firefighter honoured in train naming
The first female firefighter to die on duty in peacetime Britain has been named on a new Intercity Express Train in Bristol today.
The first female firefighter to die on duty in peacetime Britain has been named on a new Intercity Express Train in Bristol today.
One of only eight women among Avon's 700 firefighters at that time, 21 year-old Fleur Lombard died on 4 February 1996 fighting a blaze started by an arsonist at Leo's Supermarket, Bristol.


Picture shows Fleur's Mum and Dad, Roger and Jane Lombard, with the named Intercity Express Train, 800023.
Together with fellow firefighter Robert Seaman, Fleur entered the building to search for missing persons and to help contain the fire. Shortly after entering conditions deteriorated and the firefighters ordered to evacuate. It was at this point Fleur was tragically caught in a flashover and was killed by the intense heat.
Fleur was nominated as part of Great Western Railway's 100 Great Westerners by Kerry McCarthy MP. The Bristol East MP said:
"I am really pleased that GWR is paying this tribute to the bravery of Fleur Lombard, who tragically lost her life in the line of duty. Public service often goes unrecognised, and Fleur made the ultimate sacrifice, while doing her job. This will help ensure that her bravery is not forgotten.

"I hope the naming of this train will also act as an opportunity to reflect upon the commitment, dedication and courage of all our firefighters, who continue to risk their own lives to protect their local communities, as we saw most recently in response to the large fire in Speedwell."


The naming ceremony took place in front of members of family, friends and fire service colleagues at Bristol Temple Meads on Tuesday 14 May.
The firefighter's father Roger Lombard said:
"Fleur's family, friends and work colleagues thank GWR and the good people of the West Country for this initiative and their support in enabling this grand tribute to another brave firefighter."

A representative of Avon Fire and Rescue stands in front of the newly named train
GWR Commercial Development Director Matthew Golton said:
"Fleur epitomises the spirit of the Great Western in so many ways: showing such passion and determination in seeking to become a firefighter, and to help others.
"It is an honour that we are here today to name a train in Fleur's memory, and alongside Kathryn Osmond, are able to mark our emergency services, not only here in Bristol but, as this train continues its own duties, across the Great Western network that we serve. "
From Derbyshire, Fleur moved to Bristol to begin training as a full-time firefighter, having served as a retained firefighter. On graduating in 1994 she received the Silver Axe Award for the most outstanding recruit in her training school; and was posthumously awarded the Queens Gallantry Medal and the Chief Fire Officer's Commendation in recognition of her bravery.
Assistant Chief Fire Officer for Avon Fire & Rescue Service Rob Davis added:
"Fleur was passionate, enthusiastic and doing the job she loved, serving her community as a Firefighter and helping others at moments of great need and distress. She encompassed this role as a true professional.
"With the naming of this train, Bristolians and people from across the South West through to London will forever see Fleur's name and her memory will live on as a young, brave and courageous firefighter who is dearly missed within Avon FRS and beyond.
"The train will be a permanent reminder of this extraordinary woman who did an extraordinary job, paying the ultimate price in protecting the community of Bristol."
GWR's 100 Great Westerners were nominated by the public through the region's media and are a mixture of well-known and less celebrated figures who have made a significant contribution to the West Country.
The other end of the train bears the name of Kathryn Osmond. Kathryn worked as a paramedic for the South Western Ambulance Service NHS Foundation (SWAST) for 16 years and passed away aged 41 on her 41st birthday on 18th April 2017 after a battle with melanoma.
The fleet of Intercity Express Trains first started to be seen on the GWR network in October 2017, and each train covers approximately 800 miles every day across the Great Western Railway network.
Notes to editors

Great Western Railway (GWR) provides high speed, commuter, regional and branch line train services. We help over 100 million passengers reach their destinations every year - across South Wales, the West Country, the Cotswolds, and large parts of Southern England.

We're currently seeing the biggest investment in the network since Brunel so we can offer more trains, more seats, and shorter, more frequent journeys and continue the network's heritage of helping connect more businesses to new and prosperous markets. Through a series of initiatives we aim to be a good neighbour to the communities we serve and are committed to making a positive social impact in those regions. Learn how we're Building a Greater West at GWR.com. GWR is a FirstGroup company.
Contact Information
James Davis
Media Relations Manager
Great Western Railway
0845 410 4444
07703 890 711