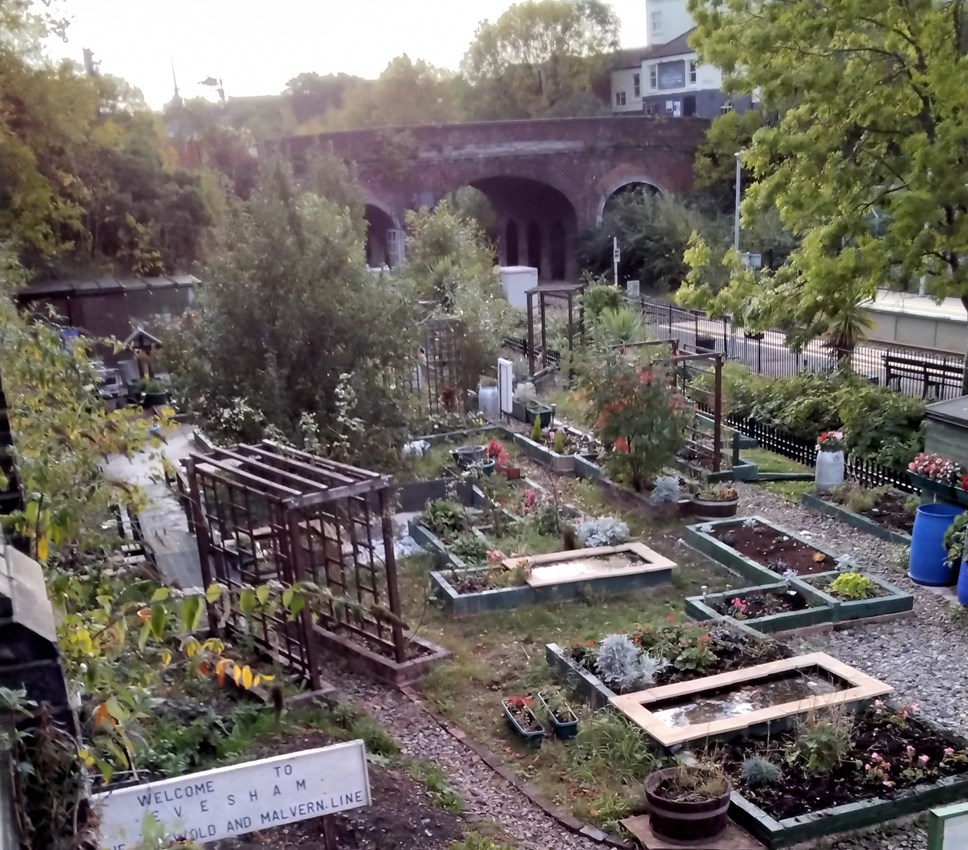 Evesham battles it out to be pride of West Midlands and the region's champion in World Cup of Stations
We need your support to help Evesham be crowned the best-loved station in the World Cup of Stations 2023
TV presenter Tim Dunn chose Evesham among 48 stations from across Britain and they will compete in a series of online public votes. You can take part via #WorldCupofStations or @RailDeliveryGrp on twitter or vote online at raildeliverygroup.com/WorldCupOfStations
The West Midlands is one of four regions to battle it out tomorrow (Tuesday 23 May) in a bid to reach the final on Friday 26 May and be crowned champion
The tournament showcase Community Rail and the benefits the railway brings to residents, the environment and the local economy.
Evesham needs your support as it battles it out for a place in the final to be crowned 'The UK's best loved station' and winner of World Cup of Stations 2023, the competition hosted by the Rail Delivery Group in partnership with the Community Rail Network.
This year's competition takes place during Community Rail Week (22-26 May), to shine a spotlight on the work of dedicated volunteers who support our stations through Community Rail, celebrating the benefits the railway brings to the community, the environment and the local economy.
Evesham is managed by Great Western Railway. It sits on the ever-popular Cotswold line and serves as a gateway to the pretty market town which has an abundance of history. Visitors are welcomed to the station by the stunning garden which is maintained by the Friends of Evesham Station. The beautifully-kept borders with a wide range of plants provide lots of interest throughout the year and the garden is also a haven for wildlife.
More than 100 nominations from across Great Britain were whittled down to 48 by TV presenter Tim Dunn. Stations in the West Midlands will now go head-to-head in a public vote against other regions tomorrow (Tuesday 23 May).
The winner of each regional group will go through to the semi-finals on 25 May and the final held on 26 May when the winner will be crowned.
You can vote for Evesham tomorrow via #WorldCupofStations at RailDeliveryGrp on Twitter or at www.raildeliverygroup.com/WorldCupOfStations.
Joe Graham, Business Assurance and Strategy Director at Great Western Railway, said:
"The World Cup of Stations is a fantastic way of promoting some of the wonderful destinations on the rail network and we believe Evesham is among the very best around.
"World Cup of Stations is also a brilliant way to celebrate Community Rail Week and the great work of our community volunteers."
Jacqueline Starr, chief executive of the Rail Delivery Group, said:
"Day in, day out stations up and down the country are proving to be at the very heart of the communities they serve. During Community Rail Week, we want to shine a light on the very best stations in England, Scotland and Wales, which includes [insert your station/station names]
"All of the stations nominated are making a positive impact on their local community, whether that's supporting local businesses, being used for a social space or making the local environment better by being more sustainable, whatever they're doing to make a difference, we want to celebrate."
Tim Dunn, TV presenter and shortlist judge, said:
"I had the tricky task of selecting the shortlist of 48 stations - tricky, because it represents the work of 48 groups of chuffing ace volunteers.
"The time, energy and love each group gives is because of a love of our shared railway and their communities too. It might seem bonkers, but this competition showcases the hard work of hundreds countrywide, then amplifies and celebrates all in community rail.
"Remember: like a football World Cup, the winners each day need more and more support - in every battle, it's the one with the most votes who wins!"
Contact Information
John Carter
Media and Communications Manager
Great Western Railway
0845 410 4444
07715 040424
Notes to editors
More than 1,200 stations across Britain are supported by station adoption groups, made up entirely of volunteers, that help to make stations welcoming and safe, bring people together and add value to their communities.
Often the work of these groups extends beyond basic upkeep, incorporating community gardening and food growing, local arts projects, and workshops and visits with children and young people.
The Rail Delivery Group received more than 100 nominations for stations to feature in this year's competition, recognising the efforts of so many across the country in the following categories:
Creating social spaces – stations rejuvenated by local adoption groups who are creating spaces for the local community
Supporting local business – adoption groups using station spaces to host and celebrate local businesses
Education stations – educational spaces and workshops arranged by adoption groups held in their station
Tourism stations – adoption groups using their station to promote local attractions
Sustainable stations – environmental efforts by local community groups to improve their station's green credentials
First Greater Western Limited, trading as "Great Western Railway" (GWR), operates trains across the Great Western franchise area, which includes South Wales, the West Country, the Cotswolds, across southern England and into London. GWR provides high speed, commuter, regional and branch line train services, and before the covid-19 pandemic helped over 100 million passengers reach their destinations every year. GWR has been awarded a National Rail Contract to continue operating the Great Western network, which shall run up to 21 June 2025, with the potential for a further three years at the Secretary of State's discretion. Find out more here: https://www.gwr.com/about-us