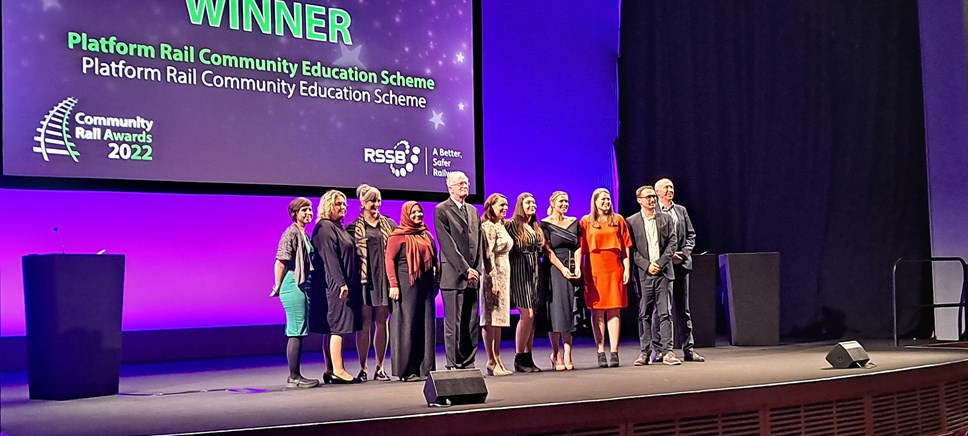 Community Rail Partnerships across the GWR network win big at prestigious awards ceremony
Community Rail Partnerships from across the GWR network are celebrating after scooping a host of prizes at the 2022 Community Rail Awards.
The prestigious awards ceremony celebrates the dedication and commitment of all those involved in community rail and the contribution it plays to local communities.
One of the big winners at last night's ceremony in Manchester was the Platform Rail Community Education Scheme, a project developed by Severnside, Gloucestershire, Worcestershire and Transwilts CRPs.
The CRPs had a shared vision of developing an education offer across their areas that would successfully support schools in their engagement with the rail industry, securing funding for an 18-month pilot via the Community Rail Development Fund, GWR and CrossCountry.
The Platform project took top prize in the Influencing Positive Change & Sustainability category.
Severnside CRP manager Heather Cullimore said:
"It has been wonderful for Severnside to collaborate with Gloucestershire, Worcestershire and TransWilts Community Rail Partnerships to develop such a high-quality education offer open to mainstream schools and specialist education provision.
"Platform supports teachers to deliver the National Curriculum while empowering young people to make sustainable, healthy travel choices as they grow their independence. At a time when many schools are struggling to meet the cost of running school trips, Platform's completely free-of-charge offer of curriculum-linked resources, in-school workshops and rail familiarisation trips have a really important role in supporting learning inside and outside of the classroom.
"It's incredible to think that in the first six months of Platform our small team of passionate and talented qualified teachers have delivered their programme to almost 2,500 young people, and thousands more will benefit during this academic year and beyond."
Another winner was Gloucestershire CRP's Getaway project, which took top prize in the Involving Diverse Groups category.
With funding from GWR and CrossCountry, GCRP established partnerships with two community organisations, The Friendship Cafe, and The Music Works, to open up rural spaces to younger members of Gloucestershire's ethnically-diverse community.
Ten day trips were delivered as part of the project, engaging 117 young people in 38 inspiring new experiences to expand their horizons, learn new skills, and gain confidence and independence through rail travel.
These included canoeing, farming, bushcraft, mountain biking, and outdoor cooking. The 16-25 year old also created vlogs for online platforms, encouraging others to take up new activities and develop their own creative skills.
Gloucestershire CRP Partnership Executive Director Hannah McDonnell said:
"We are so proud of the team and want to thank our community and rail industry partners for making our Getaway programme possible. Putting diversity and inclusion at the centre of our work is a priority for GCRP and winning the Community Rail Award for Involving Diverse Groups showcases our commitment to diversifying rural spaces. We hope this will inspire others to do the same."
Other local CRP prize winners were:
Community Creative Projects and Station Arts
2nd for British Sign Language Artwork at Patchway Station – Severnside CRP
Small Projects Award
2nd for Finding the Way to Bedminster Station – Severnside CRP, GWR and The Grove Youth Club
Most Effective Communications Campaign
1st for Go Green by TrainCO2 Savings – Southeast Communities CRP
Tourism and Leisure Award
1st for Wales on Rails Tourism Project – Great Little Trains of Wales and the Community Rail Partnerships of Wales and the Borders (South West Wales Connected CRP)
2nd for Walks from the Railway – Devon & Cornwall Rail Partnership (DCRP)
Photo competition – Capturing the essence of Community Rail in 2021/2022
3rd A Royal Tour of the 1066 Line – What will they think of next! – Catherine Simmons from Southeast Communities CRP
Influencing Positive Change and Sustainability
3rd Let's Talk Travel – GCRP
Most Enhanced Railway Spaces
2nd Restoration of Bere Alston Former Signal Box - DCRP
Great Western Railway Managing Director Mark Hopwood said:
"GWR has ten Community Rail Partnerships on our network and we are incredibly proud of the work they do. They have great local knowledge and I know that they all work incredibly hard, as volunteers, inspiring sustainable improvements to their community and the local economy.
"They continue to deliver a host of worthwhile projects and I am delighted to see them gain such deserved recognition at the 2022 Community Rail Awards."
Community Rail Network Chief Executive, Jools Townsend, said:
"The Community Rail Awards give deserved recognition to community rail partnerships, groups and volunteers across Britain. We were thrilled to welcome more than 430 guests, alongside ministers and rail industry leaders, emphasising the great value of community rail, helping to build stronger, fairer, greener communities, served and connected by their railways and wider sustainable transport network.
"Despite another challenging year, the array of entries defied expectations, showing how community rail continues to strive to help people get the most from their railways and stations, and impact positively on local places and people's lives.
"Our congratulations go to all our winners, and thanks to everyone who supports community rail, helping the movement to go from strength to strength."
Contact Information
John Carter
Media and Communications Manager
Great Western Railway
0845 410 4444
07715 040424
Notes to editors
First Greater Western Limited, trading as "Great Western Railway" (GWR), operates trains across the Great Western franchise area, which includes South Wales, the West Country, the Cotswolds, across southern England and into London. GWR provides high speed, commuter, regional and branch line train services, and before the covid-19 pandemic helped over 100 million passengers reach their destinations every year. GWR has been awarded a National Rail Contract to continue operating the Great Western network, which shall run up to 21 June 2025, with the potential for a further three years at the Secretary of State's discretion. Find out more here: https://www.gwr.com/about-us