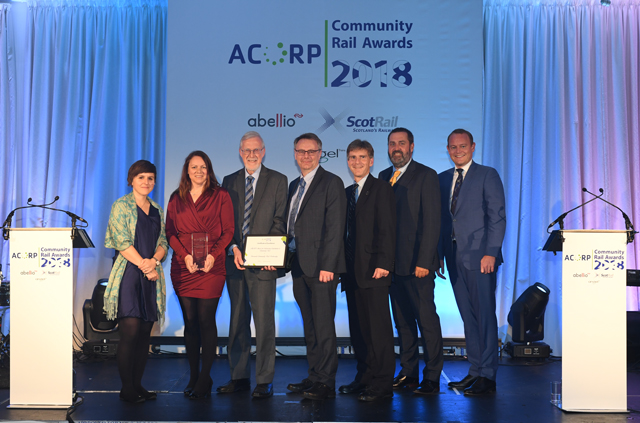 Celebrations for community rail success
Community Rail Partnerships in the region are celebrating after winning a collection of awards at the 2018 Association of Community Rail Partnership Awards.
Community Rail Partnerships across the GWR network recognised at national awards ceremony
Community Rail Partnerships in the region are celebrating after winning a collection of awards at the 2018 Association of Community Rail Partnership Awards.
The prestigious awards ceremony celebrates the dedication and commitment of all those involved in community rail and the contribution it plays to local communities.
Severnside Community Rail Partnership secured some of the biggest awards of the night which was held in Glasgow.
The award for 'Outstanding Contribution to Community Rail' was presented to the Severnside Community Rail Partnership. Judges praised the outstanding variety of work undertaken by the group, ranging from innovative ticket schemes for pupils to delivering school safety visits.
The Severnside Community Rail Partnership (CRP) also won first prize in the Permanent Art Schemes category for 'The Fearless Four Seasons Mural' work in partnership with Crimestoppers. This scheme has helped reduce crime and has integrated art into the station, reducing graffiti.
Success continued for Severnside CRP. The 'On the Move Events' initiative won second prize in the 'Best Community Engagement' category. This initiative project sees local groups and communities use space on-board trains serving the line to support causes from mental health to suffrage celebrations.
Severnside snatched second prize again in the Involving Children and Young People category thanks to a film aimed at informing young people about how to stay on the move during Easter 2018 during a period of railway upgrade works in the Bristol area. The film was a social media sensation with thousands of views and later became a training resource for GWR.
Joe Graham, GWR Business Assurance Director, said:
"GWR proudly supports community rail. It connects us closely to what our customers and supporters really want from their local railway. The resultant record breaking growth in passenger numbers underlines all the dedicated work that takes place across the network. Congratulations to all the winners and everyone who took part and plays such a key role in supporting community rail."
Keith Walton, Chairman of the Severnside Partnership said:
"I am delighted not only to have won prizes for our work on three separate innovative schemes in the West of England, but in particularly for being named as the overall national winner for our outstanding contribution to Community Rail."
Other Community Rail Partnerships celebrating success were:
Devon and Cornwall Rail Partnership for 'Branch Line Food Guides'. The team compiled a series of foodie guides to complement four different branch lines in Devon and Cornwall. The guides featured local businesses, local produce and were promoted as part of a multi-media campaign. This project won third place in the 'Best Marketing or Communications campaign' category.
Steve Lloyd – The Friends of Penmere Station won third place in the 'Outstanding Voluntary Contribution' award. Steve's decades of commitment to Penmere station were celebrated thanks to his work transforming the station near Falmouth into a welcoming and attractive station for customers and the community.
The Avocet Line Rail Users Group won third place in the 'Influencing Positive Change' category. This innovative project was aimed at improving the light on timetable boards during hours of darkness. Solar powered poster cases were manufactured locally and fitted to display boards at three stations.
Great Western Coffee Shop (Community Group) won third place thanks to the 'Informing responses to the Great Western franchise consultation' project which was entered in the 'Small Project' category.
Jools Townsend, Chief Executive of the Association of Community Rail Parternerships (ACoRP), said:
"The awards demonstrate the array of positive work being delivered by community rail partnerships, station friends and other groups around Britain – so we hope it offers ideas and inspiration for those working in community rail already, and those thinking of getting involved."
GWR supported Community Rail Partnerships were shortlisted in 12 categories including outstanding volunteer for Paul Johnson, Chair of the TransWilts CRP.
Notes to editors
Great Western Railway (GWR) provides high speed, commuter, regional and branch line train services. We help over 100 million passengers reach their destinations every year - across South Wales, the West Country, the Cotswolds, and large parts of Southern England.
We're currently seeing the biggest investment in the network since Brunel so we can offer more trains, more seats, and shorter, more frequent journeys and continue the network's heritage of helping connect more businesses to new and prosperous markets. Through a series of initiatives we aim to be a good neighbour to the communities we serve and are committed to making a positive social impact in those regions. Learn how we're Building a Greater West at GWR.com. GWR is a FirstGroup company.
*Seat increased based on a like-for-like replacement of High Speed Trains for new Intercity Express Trains. Final 2019 timetables subject to agreement by Network Rail.
Contact Information
James Davis
Media Relations Manager
Great Western Railway
0845 410 4444
07703 890 711