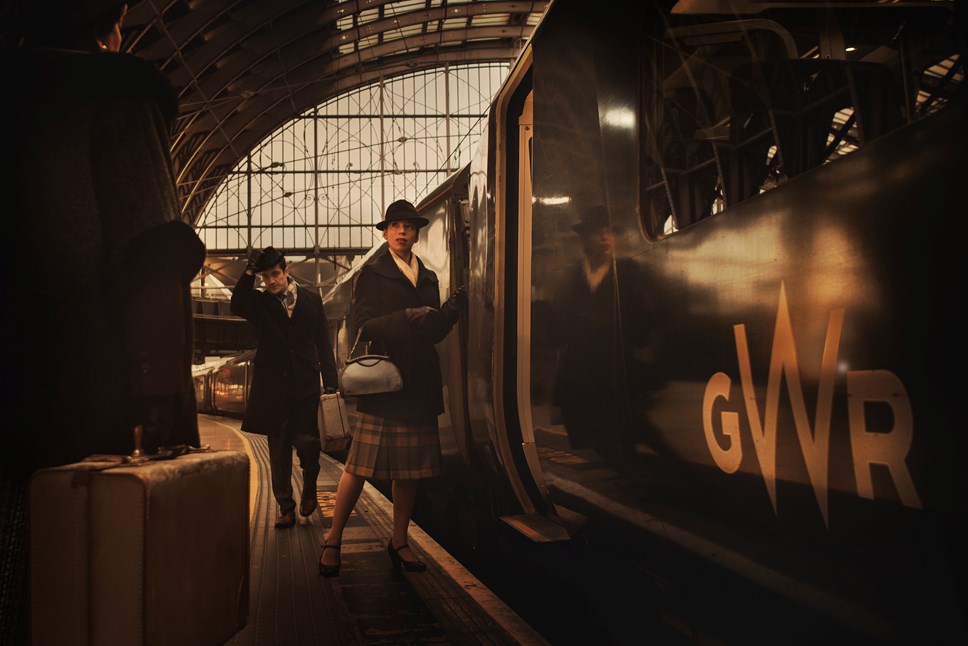 Cast of The Mousetrap snapped at Paddington to celebrate partnership with Great Western Railway
The Mousetrap has teamed up with Great Western Railway in a new partnership that celebrates Agatha Christie's most famous play and her love of train travel.
The cast of the iconic murder mystery play by Agatha Christie features in a series of photos taken at London Paddington station, to celebrate its 70th anniversary and the national tour of over 70 venues across the UK.
Known for its thrilling plot and surprise ending, the play, which is the longest running in history, will travel on to locations across the country such as Torquay, Truro, and Swansea. Along with its continued run in London's West End the GWR network will get its next taste of the murder mystery on Monday 26 June, when the tour arrives at Hereford Courtyard Theatre for eight performances.
Amanda Burns, GWR Sales and Marketing Director, said:
"The partnership between The Mousetrap and GWR is a natural fit, as both are steeped in British history and culture. The Great Western Railway was founded in 1835 and has proved inspirational to many authors, with Agatha Christie being one of the most notable.
"We are lucky to be able bring rail passengers to some of the most picturesque landscapes in the south of the UK, from the rolling hills of the Cotswolds to the rugged coastlines of Cornwall and I encourage all fans of the theatre to hop on a train to catch a performance.
"As Agatha Christie wrote in An Autobiography: 'To travel by train is to see nature and human beings, towns and churches and rivers - in fact, to see life.' We couldn't agree more. A journey by train holds as much delight now as it did back then."
Adam Spiegel, Producer of Agatha Christie's The Mousetrap said:
"I am delighted to be partnering with GWR, which has such a unique connection to Agatha Christie. Both GWR and The Mousetrap tap into this warm glow of nostalgia, reflecting an era that many of us may not have experienced, but one that's been so gloriously imprinted on us by the works of Christie. As we speed down the tracks, we can picture Christie's world of sleeper cars and hat boxes, hushed conversation, and piercing whistles.
"It was this evocative sense of glamour and nostalgia that we wanted to create with the images in this programme. Members of The Mousetrap cast were photographed in costume at Paddington station. Whether cautiously drinking tea in the GWR First-Class waiting lounge, scouring the daily newspaper with one eye on the station's clock or boarding a GWR train to embark on an intrepid adventure, the cast looked very much at home in this setting."
For those who hope to enjoy solving the mystery of The Mousetrap, or wish to indulge their love of Agatha Christie further, GWR's network effortlessly connects London with the Southwest, including Christie's beloved Devon. Her Georgian country home, Greenway, is open to the public, and would make an ideal trip for those with a passion for mystery.
Contact Information
John Carter
Media and Communications Manager
Great Western Railway
0845 410 4444
07715 040424
Notes to editors
Pictures by Matt Crockett
First Greater Western Limited, trading as "Great Western Railway" (GWR), operates trains across the Great Western franchise area, which includes South Wales, the West Country, the Cotswolds, across southern England and into London. GWR provides high speed, commuter, regional and branch line train services, and before the covid-19 pandemic helped over 100 million passengers reach their destinations every year. GWR has been awarded a National Rail Contract to continue operating the Great Western network, which shall run up to 21 June 2025, with the potential for a further three years at the Secretary of State's discretion. Find out more here: https://www.gwr.com/about-us
For further information on The Mousetrap, see uk.the-mousetrap.co.uk
For media information, please contact:
(e) lewis.jenkins@storyhousepr.co.uk (t) 07824 538 900 (w) www.storyhousepr.co.uk
(e) David.bloom@storyhousepr.co.uk (t) 07980 297 299 (w) www.storyhousepr.co.uk
Listings
St. Martins Theatre, West St, London WC2H 9NZ
Running Time: Approximately 2hr 20mins
uk.the-mousetrap.co.uk
70+ Venus across the UK
www.mousetrapontour.co.uk
For further information on Partnerships,
Please contact Paul Anderton, Founder of Bicycle Partnerships
(e) paul@bicyclepartnerships.com (t) +44 (0)7720539450
(e) abigail@bicyclepartnerships.com