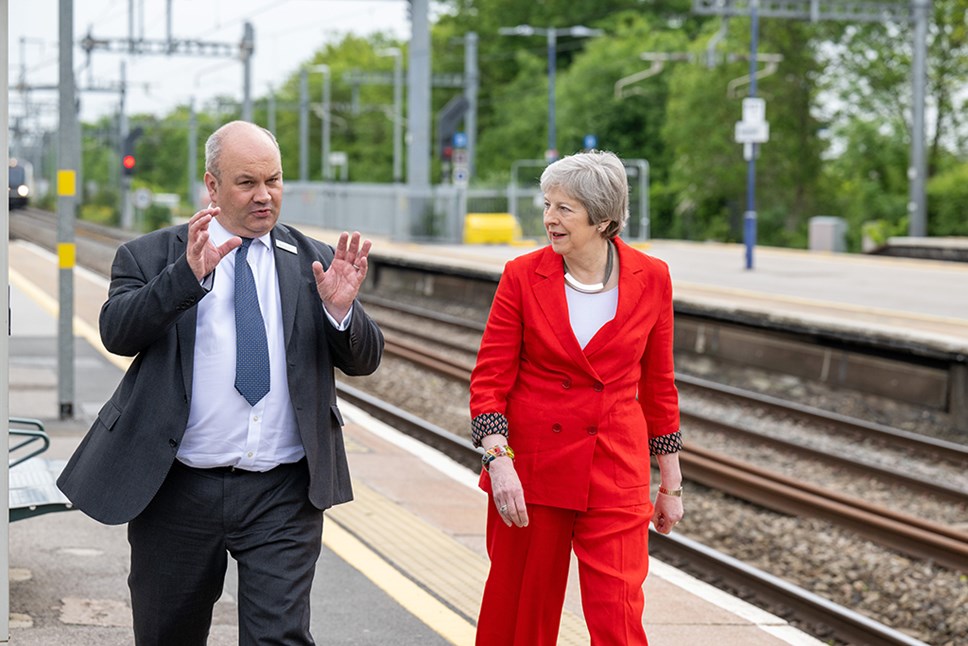 Biggest timetable shake-up in almost five years as GWR responds to changes in passenger travel patterns
GWR has responded to changes in passenger travel patterns in the Thames Valley, with the biggest shake-up to railway timetables since the introduction of Intercity Express Trains, bringing greater connectivity to Elizabeth line destinations.
From 22 May, the level of service on the Elizabeth line reaches the maximum planned level with up to 10 trains an hour east of Heathrow Airport Junction travelling into London. These planned improvements allow GWR to make changes to better shape services in the Thames Valley.
Travellers coming from the Marlow, Henley and Windsor branch lines will see services retimed to align with mainline services, allowing them to better connect with destinations across the south of the UK.
Welcoming the launch of the plans, Maidenhead MP Theresa May said:
"As the MP for Maidenhead, I remain committed to ensuring my constituents are served by top quality, reliable rail services.
"I welcome the announcement that from May 2023 local people will benefit from faster and more frequent off peak services to London. I am also pleased to see services on the Marlow and Henley branch lines linking in with the mainline services giving better connections for travellers.
"As your MP I will continue to work for investment in Maidenhead's railways. These faster off peak trains will improve our rail services. Taken together with the increased frequency of trains they will generate significant economic benefits for our local area."
Class 387 electric local stopping services from Didcot Parkway to London Paddington will run non-stop from Slough, saving as much as 10 minutes on passengers' journey times.
Off-peak services between London Paddington and the North Cotswolds will also be up to five minutes quicker, with trains now running non-stop between Reading and London Paddington.
GWR Managing Director Mark Hopwood said:
"With this new timetable we can now speed up some journey times, realizing some long-held aspirations of ours and our customers.
"Those using our branch lines will also benefit from better connectivity with the timetable working more harmoniously with Elizabeth line services.
"This new timetable delivers more train services, serving even more stations, and providing greater value for money for taxpayers."
Following an extensive review to give those travelling the right services at the times they wish to travel, the new timetable will deliver almost a 5% increase in services every day across the GWR network.
The changes will help deliver on long-planned ambitions across the network and will see around 20% of all trains retimed to better suit passenger needs, providing greater value for money for taxpayers and leaner and greener travel options on public transport.
The number of GWR services on an average weekday will increase from 1,643 in May 2019 to 1,720 in May 2023.
Passengers will also benefit from carbon reductions from changes in the type of train used on some routes.
Detailed service changes are now available in online journey planners and through GWR's Journey Check service https://www.gwr.com/travel-information/travel-updates/check-your-journey. Those used to catching a specific train should check their journey in advance.
Note to editors
The Changes
London and Thames Valley
Additional Elizabeth line services will run with up to ten trains per hour east of Heathrow Airport Junction, allowing GWR to make changes to better shape services in the Thames Valley:
London Paddington-Didcot Parkway Class 387 (electric trains) services will run non-stop from Slough to Paddington on the mainline – saving as much as 10 minutes on journey times.
Switching from the relief lines will also help performance, avoiding conflict with Elizabeth line services. Services on the mainlines will be retimed, and there will be various minor changes to re-cast services around the revised Paddington-Didcot service. The 0634 Didcot-Paddington, 0831 Reading-Paddington, 1656 Paddington-Maidenhead and 1757 Paddington-Reading services will be replaced by Elizabeth line services.
London Paddington-Oxford services will now call at Didcot Parkway.
Marlow, Henley, Windsor and Greenford branch line services will be retimed to ensure they better connect with the mainline services in the revised timetable.
London Paddington-North Cotswolds services will no longer call at Slough off peak. This will enable them to be sped up progressively. This will reduce journey times by approximately 5 minutes.
South and West Wales
GWR intends to introduce 65 additional direct services between Carmarthen and London Paddington.
It will introduce additional direct services to Carmarthen, calling at Llanelli, Pembrey and Burry Port. This is an extension of the Swansea services, and will mean two hourly services with additional weekday departures at:
Carmarthen to London - 0927, 1127, 1424, 1619, 1818, 2030 (to Bristol Parkway)
London to Carmarthen - 0648, 0948, 1148, 1348, 1548
And additional Saturday departures at:
Carmarthen to London - 0932, 1325, 1528, 1720, 1919 (to Swansea)
London to Carmarthen - 0648, 0848, 1048, 1248, 1448
The popular summer services to Pembroke Dock will also return for the first time since Covid, with four services a day between May and September.
The current 2022 Swansea to Swindon service will terminate at Bristol Parkway from May.
Enhancing leisure travel
Responding to changes in demand for leisure travel, GWR has reviewed its South-West timetable to develop support for this important market.
In May:
The 0637 Paddington-Penzance will cease to operate and the 0545 Paddington-Bristol will be replaced by a new 0600 Paddington-Penzance service travelling via Swindon and Bristol, calling Plymouth at 0940 and Penzance at 1140. This will provide a direct service from Swindon, Bath and Bristol to Devon and Cornwall
GWR will add eight additional weekday direct services between London and Weston-super-Mare by extending Bristol services. All services will call additionally at Nailsea, Yatton and Worle
GWR will add an 0838 Paddington-Westbury service calling at all Kennet Valley stations between Reading and Westbury to allow for earlier travel. Kennet Valley calls on the 0938 Paddington to Paignton will be removed to allow for a reduced journey time to Torbay
Additional Saturday Weymouth services will run with two morning services (0809 Gloucester-Weymouth and 0845 Swindon-Weymouth) and two evening services (1845 Weymouth-Bristol Temple Meads and 1940 Weymouth-Swindon) throughout the summer, along with a new, year-round additional service at 2128 from Weymouth to Bristol, Monday to Thursday
The 1004 Paddington-Penzance service will run non-stop from Reading to Exeter to give an earlier arrival in Devon and Cornwall
Direct London services to Newquay will run throughout the summer, alongside a number of other high summer services
Metrowest
Impacting Bristol, Gloucester, Worcester, Westbury, Salisbury, Southampton, Weymouth.
The next phase of the MetroWest Timetable will start in May, funded by the West of England Combined Authority. This will mean:
Bristol-Westbury becomes three trains per hour, with the new service being a stopping service (some services extend beyond Westbury to Salisbury and Southampton
Bristol-Gloucester becomes two trains per hour and Bristol-Worcester becomes one train per hour, by extending a Gloucester service to Worcester
The MetroWest changes also allow GWR to retime Bristol-Weymouth services into a regular two-hourly pattern.
Contact Information
James Davis
Media Relations Manager
Great Western Railway
0845 410 4444
07703 890 711
Notes to editors
Pic shows GWR MD Mark Hopwood chatting through the changes with MP Theresa May.