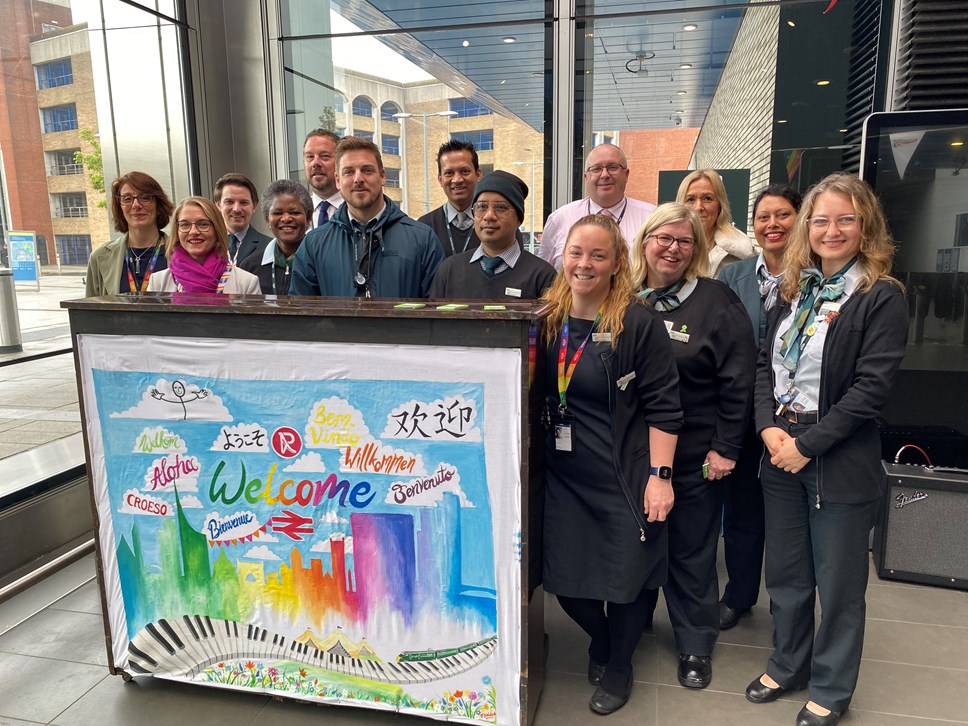 Winnie the Wellbeing Piano helps to promote mental health and wellbeing at Reading station
Winnie the Wellbeing Piano burst into life as colleagues from Great Western Railway and Network Rail hit the high notes at Reading station.
GWR conductor Tim Kay was among those tinkling the ivories on Tuesday 10 May as a piano designed to promote mental health and wellbeing was officially unveiled during Mental Health Awareness Week.
'Winnie' is located before the gateline on the north side of the station, meaning you don't have to travel and can just rock up and play a tune. It has been decorated with a sheet painted by GWR Train Manager Tracey Baldock.
Tim was accompanied by the newly-formed GWR Wellbeing Choir and colleagues from Network Rail, who sang the ABBA classics Mamma Mia! and I Have A Dream, plus Leonard Cohen's Hallelujah.
'Winnie' was sourced by GWR Train Manager and Wellbeing Champion Beth Witney, who found it listed for free on Facebook Marketplace.
Beth said:
"We were discussing lots of ideas in a wellbeing meeting and when a piano was suggested I thought I'd grab the bull by the horns and find one.
"I found one listed for free on Facebook 10 minutes from my home in Tilehurst. It was being given away by a lady who'd had it since she was a little girl. If we hadn't turned up it was going to be sent to landfill."
GWR Wellbeing Manager, Lucy Shephard, added:
"Music is a great way of boosting mental health and we think this will be a popular addition. Several of our Wellbeing Champions and Mental Health First Aiders will be at Reading to provide some musical cheer for customers. We're also delighted that our colleagues from Network Rail have been so supportive and will be joining us on the day."
Network Rail Station Operations Manager at Reading station, Harry Smith, said:
"We are delighted to welcome Winnie the Wellbeing Piano to Reading station, which I am sure will be a welcome addition and something passengers and visitors alike will enjoy playing.
"The wellbeing of our passengers and staff is something we take really seriously and we're committed to doing all that we can to make the time people spend on the railway and in our stations as pleasant and enjoyable as possible, and this piano will undoubtedly help with that.
"I look forward to having a play on the piano myself, not that I expect my playing will warrant an audience!"
Contact Information
John Carter
Media and Communications Manager
Great Western Railway
0845 410 4444
07715 040424
Notes to editors
Inset pictures
GWR Conductor Tim Kay with HR Director Ruth
Members of the GWR Wellbeing Choir
First Greater Western Limited, trading as "Great Western Railway" (GWR), operates trains across the Great Western franchise area, which includes South Wales, the West Country, the Cotswolds, across southern England and into London. GWR provides high speed, commuter, regional and branch line train services, and before the covid-19 pandemic helped over 100 million passengers reach their destinations every year. GWR was awarded an extension to its direct award franchise (called DA3), which shall run up to 31 March 2023, with an option to extend for a further year.