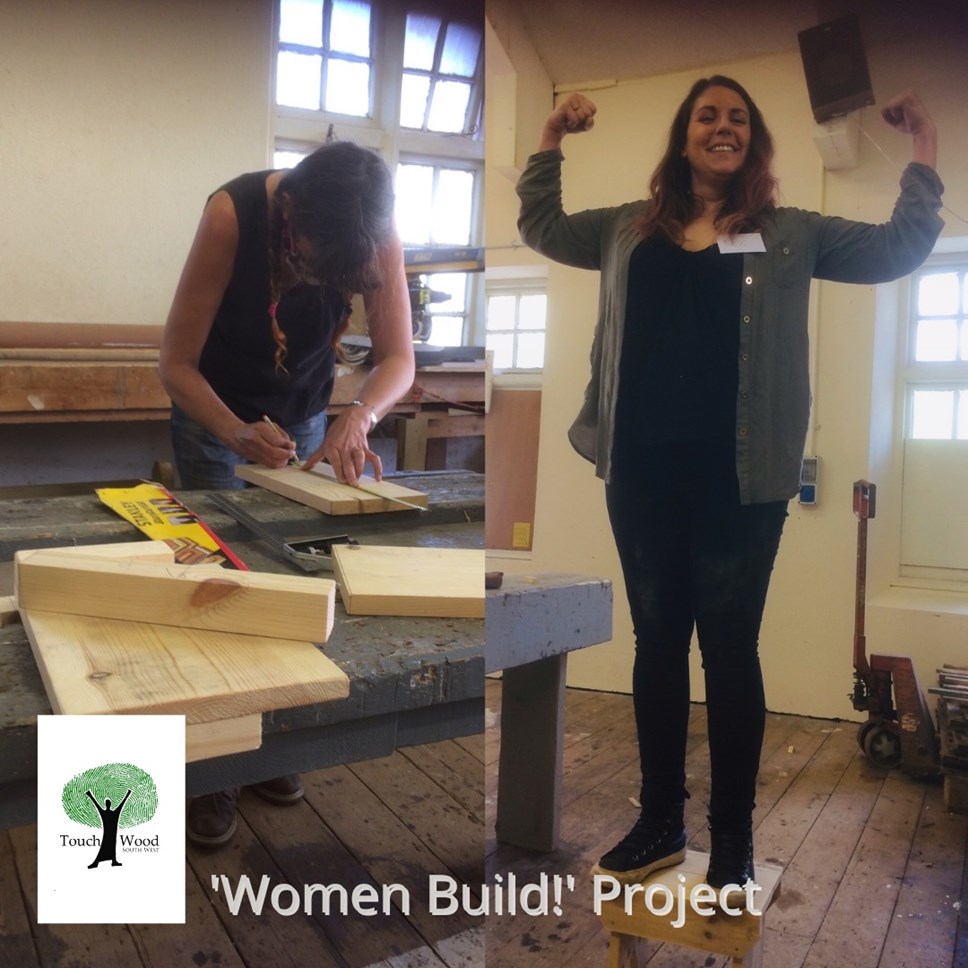 Torre station to get makeover as women learn carpentry and DIY skills thanks to GWR grant
A project aimed at empowering women by teaching them carpentry and DIY skills has received a grant of nearly £30,000 from Great Western Railway.
Women Build! will include a makeover of Torre station in Devon as up to 60 women learn how to produce wooden planters, window boxes and small raised beds.
The project has been devised by TouchWood South West and will support women who have been through the Criminal Justice System or who are unemployed.
As well as improvements at Torre station, the group will make wooden furniture to be sold at craft fairs, markets, or pop-up stalls, boosting social interaction, building confidence and inclusivity.
As part of GWR's franchise agreement with the Department for Transport, the train operator is committed to supporting community and not-for-profit organisations by aiding a number of initiatives.
TouchWood South West managing director Astrid Arnold said:
"The aim is to empower women through teaching carpentry and DIY skills to build confidence and independence. Evidence gained from previous experience of teaching practical skills shows that women become empowered and psychologically more resilient.
"Throughout the project we will have visits from support staff from JCP (Job Centre Plus) and other organisations, like The Entrepreneur Inside CIC, who provide entrepreneurial support for people with convictions.
"Our participants will be supported by a specialist well-being coordinator and signposted to relevant services or opportunities for on-going education, training or employment. This will contribute to significantly reducing unemployment or re-offending costs, whilst increasing employability."
Torbay MP Kevin Foster said:
"It is great to hear of this innovative Women Build! project which will not only improve Torre Station, but provide real benefits to those involved in delivering it. It is great to see GWR working with WomenBuild! to create a welcoming gateway to our bay at Torre Station as we prepare to re-open as a resort this summer."
GWR Community Manager Emma Morris said:
"We have a specific pot of money designed to support community and not-for-profit organisations. TouchWood South West's project to teach women carpentry and DIY really appealed, as it is giving them valuable skills and helping them on the path to a new career."
To find out more about TouchWood South West please visit touchwoodsouthwest.com
Notes to editors
First Greater Western Limited, trading as "Great Western Railway" (GWR), operates trains across the Great Western franchise area, which includes South Wales, the West Country, the Cotswolds, across southern England and into London. GWR provides high speed, commuter, regional and branch line train services, and before the covid-19 pandemic helped over 100 million passengers reach their destinations every year. GWR was recently awarded an extension to its direct award franchise (called DA3), which shall run up to 31 March 2023 with an option to extend for a further year.

Find out more here: https://www.gwr.com/about-us
Contact Information
John Carter
Media and Communications Manager
Great Western Railway
0845 410 4444
07715 040424