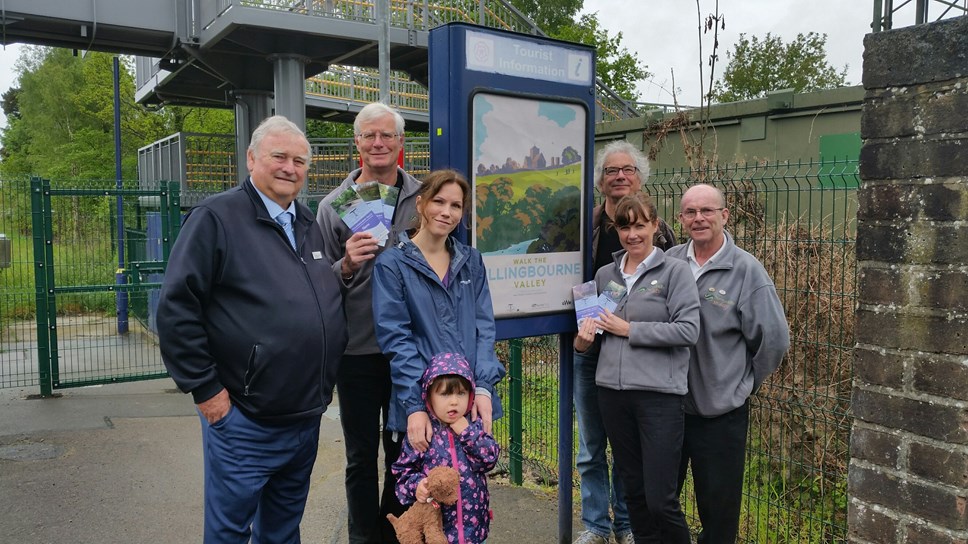 Take the train to the Tillingbourne Valley this Summer and discover the fascinating history
The Surrey Hills and Great Western Railway (GWR) have teamed launch a series of specially created walks to help encourage people to find out more about their local history.
The Surrey Hills and Great Western Railway (GWR) have launched a series of specially created walks to help encourage people to find out more about their local history.
A series of eye-catching posters have been created by local designer Ben Dragon to encourage rail passengers to visit the Tillingbourne Valley in the Surrey Hills Area of Outstanding Natural Beauty and take part in a series of specially created walking trails.
Seven trails have been created along the Tillingbourne Valley taking in the villages of Shalford, Chilworth, Albury, Shere, Gomshall, Abinger and Wotton.
From tranquil water meadows to stunning hilltops, each Tillingbourne Trail takes in a rich mosaic of woodland, landscaped parks, heathland and more, with each village boasting its own unique setting of historic houses, churches and shops.


The new trails have been produced as part of the Tillingbourne Tales Heritage Lottery funded project. The project has worked with the parishes of Shalford, St Martha's, Albury, Shere, Gomshall and Abinger to reveal the rich social history of the Tillingbourne Valley which was one of the most industrialised river valleys in 17th century England. With approximately 50 water wheels at its height, powering at least 24 mills and supporting over 12 different industries, including weaving, tanning, iron-working, paper-milling and gun powder production, the valley's idyllic landscape held a significant legacy of cultural heritage.
Christine Howard, Chairman of the Surrey Hills Society, who helped create the walks said:
"The Tillingbourne Tales project uncovered some wonderful local history and these walks are a wonderful legacy of the project. Without the support and dedication of our band of volunteers it would not have been possible to create these walks and I thank them for all their hard work. I encourage everyone to get out and enjoy the Surrey Hills and find out more about the rich heritage of the Tillingbourne Valley."
Caroline Price, Marketing Communications Officer for the Surrey Hills said:
"The Surrey Hills are delighted to be working with Great Western Railway on this promotional project. The more we can encourage visitors to this nationally protected landscape in a sustainable way, the better and to support our local businesses whilst they are here helps the rural economy."
Mal Thurman North Downs Station Manager from Great Western Railway said:
"We are very pleased to display these eye-catching posters in our stations, not only do they improve the customer experience but they also show Great Western Railway's commitment to working with local organisations and communities."
Look out for these eye-catching posters in a Great Western Railway station near you and discover the Tillingbourne walks by visiting
http://www.tillingbournetales.co.uk/places/trails/
Notes to editors

Great Western Railway (GWR) provides high speed, commuter, regional and branch line train services. We help over 100 million passengers reach their destinations every year - across South Wales, the West Country, the Cotswolds, and large parts of Southern England.
We're currently seeing the biggest investment in the network since Brunel so we can offer more trains, more seats, and shorter, more frequent journeys and continue the network's heritage of helping connect more businesses to new and prosperous markets. Through a series of initiatives we aim to be a good neighbour to the communities we serve and are committed to making a positive social impact in those regions. Learn how we're Building a Greater West at GWR.com. GWR is a FirstGroup company.
Contact Information
James Davis
Media Relations Manager
Great Western Railway
0845 410 4444
07703 890 711