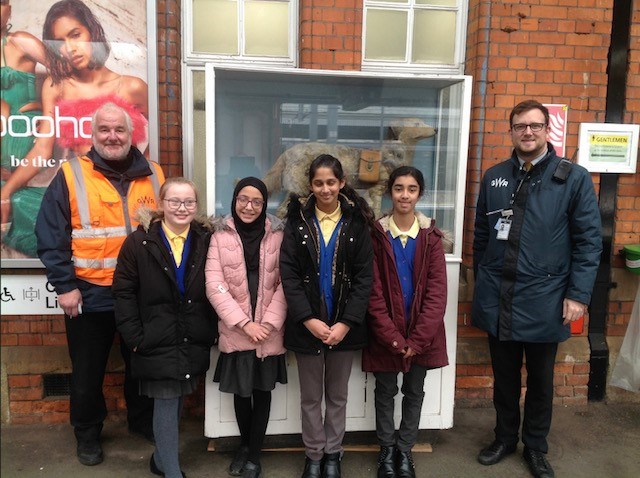 Schoolchildren spread Christmas cheer by presenting hamper to staff at Slough Station
Schoolchildren gave a Christmas hamper to staff at Slough Station to say thank you for keeping the railway running and continuing to work over the festive holiday.
Youngsters at Wexham Court Primary School, Slough, decided Great Western Railway colleagues should benefit from their special Christmas collection.
Year 3 pupils in Egypt Class visited the station on Tuesday to hand over a hamper packed with cakes, crisps, sweets and other goodies.
Headteacher Navroop Mehat said:
"It is important for all of us to appreciate that while we are at home on Christmas days, others will be working to keep us safe. Our children are so caring, they wanted to say thank you. The response we have had and the many thanks has made it worth it."
Duty Station Manager Vicky Norbury said:
"It was such a lovely surprise – we were completely taken aback. Working throughout the pandemic has been challenging, so for the schoolchildren to present us with a hamper was a real tonic.
"We were especially touched by the letter – it was so sweet. We've already shared out the hamper and colleagues were extremely grateful. It's so lovely for the school to have provided some Christmas cheer in the run-up to the festive season."
A letter addressed to 'all the staff at Slough Station' thanked them for their hard work in keeping the transport system running smoothly.
It continued:
"We know that you will be busy working over the Christmas holidays and will be spending time away from your own friends and family. Thank you for making it possible for us to travel to see loved ones during the holidays.
"As a small token of appreciation, Year 3 Egypt Class have collected some treats for you to enjoy. A huge thank you for your dedication."
Notes to editors
First Greater Western Limited, trading as "Great Western Railway" (GWR), operates trains across the Great Western franchise area, which includes South Wales, the West Country, the Cotswolds, across southern England and into London. GWR provides high speed, commuter, regional and branch line train services, and before the covid-19 pandemic helped over 100 million passengers reach their destinations every year. GWR was recently awarded an extension to its direct award franchise (called DA3), which shall run up to 31 March 2023, with an option to extend for a further year.
Find out more here: https://www.gwr.com/about-us
Contact Information
John Carter
Media and Communications Manager
Great Western Railway
0845 410 4444
07715 040424
Notes to editors
Main picture: Members of Egypt Class with dispatcher Mike Brown, left, and customer ambassador Martin Miles
Insets: The Christmas hamper and letter from Egypt Class