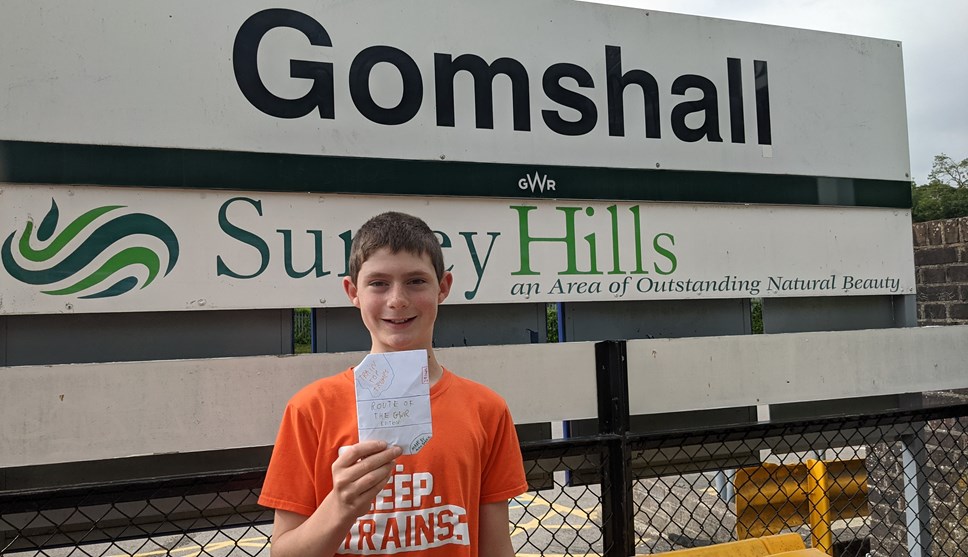 Schoolboy comes up trumps with game celebrating GWR stations
A young train enthusiast has designed his own collection of Top Trumps celebrating his favourite Great Western Railway stations.
Max Baker, 11, has created seven different sets of Top Trumps, detailing the year each station opened and comparing facilities, the number of daily train stops, convenience and design.
The 'Route of the GWR' edition features 27 stations on the Main Line from London Paddington to Bristol Temple Meads, plus three Underground stations to bring the set up to 30 cards.


Surrey schoolboy Max made Paddington the Trump card with a Train Top Trumps rating of 100 because of its grandeur and the number of connections it provides.
Max, who lives near to Gomshall station in Surrey, said:
"I got a bit bored during lockdown and wanted something to do. Before I've made a Monopoly set with Underground stations and wanted to come up with something else to do with stations, so I thought I'd try Top Trumps.
"I've been to a few of the stations but most of the information I got was from different sources online. It takes about 10 minutes to research each station."
As well as the 'Route of the GWR', Max has also designed sets featuring the North Downs Line and stations in Cornwall.
They're not without their controversy though, as mum Anna explains:
"Some of the Train Top Trumps ratings can cause a bit of debate. His grandad Robert lives on the Waterloo-Weymouth line and that edition does lead to a bit of disagreement!"
GWR already has its own set of Top Trumps featuring classic and modern trains, but Interim Head of Communications Paul Gentleman welcomed Max's station designs.
Paul said:
"During lockdown we launched our own #EnterTrainment package online to help home-schooling parents keep their children educated and entertained.
"It's fantastic to see Max using his own initiative and working so hard to create seven different sets of Top Trumps. I'm sure they'd appeal to lots of other train enthusiasts."
Top Trumps are manufactured by Winning Moves UK and marketing assistant Mia Thornby said:
"We always encourage people to send in ideas for possible Top Trumps collections and Max's designs are just brilliant.
"Our limited edition 'Trains and Locomotives of the GWR' proved popular with Top Trumps fans so a game involving train stations might be something we can explore."
To enjoy GWR-themed quizzes, take a cab ride, test your track safety knowledge, design a train livery, find colouring sheets and much, much more visit our #EnterTrainment page.
Notes to editors
First Greater Western Limited, trading as "Great Western Railway" (GWR), operates trains across the Great Western franchise area, which includes South Wales, the West Country, the Cotswolds, across southern England and into London. GWR provides high speed, commuter, regional and branch line train services, and before the covid-19 pandemic helped over 100 million passengers reach their destinations every year. GWR was recently awarded an extension to its direct award franchise (called DA3), which shall run up to 31 March 2023 with an option to extend for a further year.

Find out more here: https://www.gwr.com/about-us
GWR has been providing rail services throughout the pandemic and has worked to ensure that these are as safe as possible, including enhanced cleaning regimes. This work continues as it starts to welcome more people back to the railway.
The train operator has also provided extra staff at key stations to offer help and guidance.
Travelling by train is low risk as carriages are well ventilated with air regularly refreshed either by air-conditioning systems, or by doors and windows being opened.
GWR's enhanced cleaning regime includes:
A 24% increase in cleaning hours every week since March 2020
Sanitising (fogging) of 1,120 vehicles every 4 weeks
Carrying out 2,150 on board surface tests (ATP) every four weeks, to ensure the effectiveness of our cleaning
272 train cleaning processes reviewed, and many adapted
Hand sanitising facilities at key stations across its network.
Contact Information
John Carter
Media and Communications Manager
Great Western Railway
0845 410 4444
07715 040424