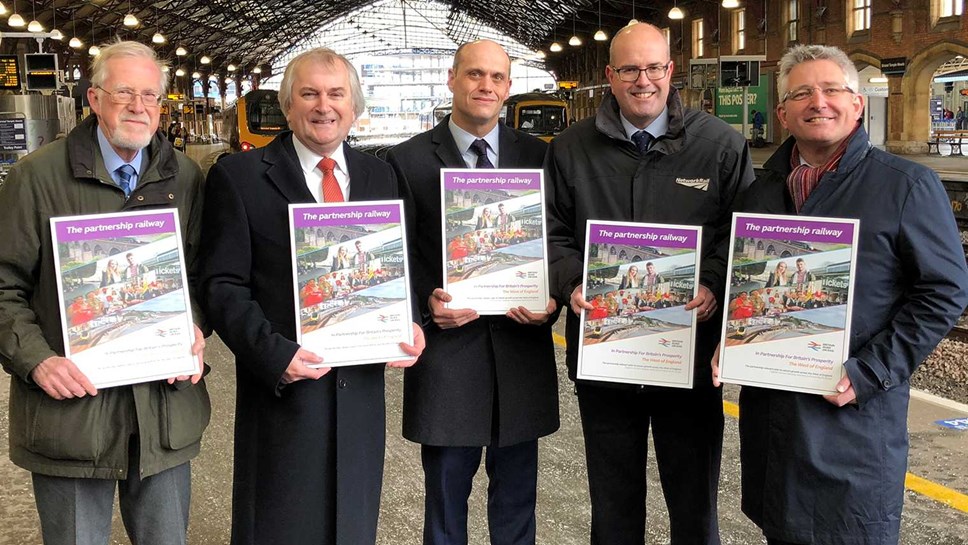 Rail companies together launch long-term plan to boost the West's Economy by £9.45 bn
The companies running the railway in the West of England have come together today to set out their long-term plan for the region's railway, which will secure £9.45bn of additional economic benefits for communities along the Great Western main line.
The plan sets out how an improved partnership railway of the public and private sectors will secure prosperity for the region
It explains how commitments made by the railway working in partnership nationally – to strengthen the economy, improve journeys, boost communities and provide rewarding careers – will deliver for the West of England
Passenger groups and local businesses unite in support
The companies running the railway in the West of England have come together today to set out their long-term plan for the region's railway, which will secure £9.45bn of additional economic benefits for communities along the Great Western main line.
Image left to right: Keith Walton, Severnside Community Rail Partnership, Andy Cooper Managing Director CrossCountry; Joe Graham, GWR Business Assurance Director; Mike Gallop, NR Director of Route Safety and Asset Management and James Durie Chief Executive, Chambers of Commerce & Initiative at Business West.
In the plan, the partnership railway of public and private sector companies outlines their commitments to improving services for customers, better connecting communities and providing employees with rewarding careers, as well as boosting the region's economy.
The plan, called In Partnership for Britain's Prosperity – The West of England sets out how £2.4bn invested in operating, maintaining and renewing the railway is enabling new and improved services. These will better connect people and businesses to key economic hubs in the region and beyond to London, Wales, the Midlands and the North. This is in addition to existing upgrades to electrify the Great Western main line and around £500m of private investment in a brand-new fleet of intercity trains to increase the frequency, quality and speed of journeys.
To deliver the plan's commitment to boost communities through localised decision making and investment, the partnership railway will deliver £50m of station and car park investment to improve and enhance the gateways to the villages, towns and cities the railway serves. Customer and Communities Funds from Great Western Railway and CrossCountry will see £4.5m spent on projects that meet social needs, educate or engage local people, like bringing disused buildings back to life, developing history or heritage activities or encouraging bicycle use.
The plan will see the creation of more than 250 apprenticeships in the decade to 2024, part of a 'Get into Railways' scheme developed with The Prince's Trust. This is in addition to apprenticeships created by rail businesses based across the West.
The Western route is already the second busiest freight route into the capital and by continuing work to support 'jumbo' aggregate trains that increase the amount of freight that can be moved in one go, the partnership railway's plan will also free up additional capacity for more trains to run.
Mark Hopwood, Managing Director of Great Western Railway, said:
"The West's railway, a partnership of the public and private sectors, is fundamental to the region's prosperity, connecting workers to jobs, businesses to markets, and people to their families and friends. Working in partnership, the railway's plan will spread growth to communities across the region and drive unprecedented improvements for our customers. All this adds up to a more secure and brighter future for people who work in rail."
Andy Cooper, Managing Director of CrossCountry, said:
"The commitments in our plan - to the region's economy, rail customers, communities and our people – set us on course to build on previous improvements and move forward together. Customers will benefit from simpler ticketing, more services and better value for money. We will transform our communities' social and economic futures by enabling more people to benefit from the opportunities provided by rail."
Mark Langman, route Managing Director for Network Rail's Western Route, said:
"The railway plays a key part in moving the people and goods that power our economy faster and more efficiently, connecting businesses in the West of England to markets all over the world. By supporting our existing talent, moving forward as one team and encouraging new recruits with workforce training, we are securing a bright future for our employees and the communities in which they live and work."
Karen Boswell OBE, Managing Director of Hitachi Rail Europe, said:
"Investment is bringing a new lease of life to this historic rail route, and we are very proud to be part of an industry team delivering for passengers. Hitachi is embedding itself in The West by introducing 93 new trains, investing £120million in a new depot network and choosing regional business to supply parts for our new trains."
Russell Mears, chair of the freight group at the Rail Delivery Group, said:
"The railway moves millions of tonnes of freight every year, getting goods made in the West to markets all over the world and from the world into the West. It keeps lorries off the region's road and makes the air cleaner. By coming together with a plan to improve further, the West's rail companies are committing to do even more for the economy, businesses and communities in the region, now and for the generations ahead."
James Durie, Chief Executive, Chambers of Commerce & Initiative at Business West:
"For the local and regional economy to thrive we need better connectivity, better, more reliable trains and better, more reliable infrastructure. It is critical that passenger and freight rail services work collaboratively with Network Rail on our local and national routes. It is great to see them coming together to launch a plan that seeks to strengthen the economy and to boost communities."
Vinita Nawathe, Chair of TravelWatch SouthWest, said:
"Passengers want value for money, reliable services that run at times they wish to travel and on which they can get a seat.
"TravelWatch SouthWest has long advocated a joined-up railway as the backbone of an integrated transport system that is responsive to the needs and aspirations of the communities it serves, enabling economic growth and social inclusion by connecting people to jobs, education, services and each other. The measures described in the West of England Partnership Plan are a good step towards realising this vision."
Keith Walton, Chairman, Severnside Community Rail Partnership, said:
"Passengers using local and regional trains in the West of England are very conscious of the need for improvement and for more investment to cater for growth. We need to promote rail travel, and communities will therefore very much welcome this commitment from all parts of the rail industry to deliver more capacity and better, reliable and easily accessible train services."
Graham Ellis, TransWilts Community Rail Partnership, said:
"TransWilts partnership, with GWR, has enabled a 600% growth in passenger numbers on our service. We welcome further strengthening of that partnership and local decision making and investment so that together we can sustain that growth, continuing the success from Swindon to Westbury and expanding it to build traffic onward to Salisbury and Southampton.
"Direct trains from Swindon and Chippenham to Salisbury, and to Southampton Airport will bring significant benefits to those places, and to towns along the way. We have already proven we can do it, and this announcement takes us forward to helping to continue that success."
Cllr Geoff Brown, Cornwall Council, Portfolio holder for Transport, and Chair of the Peninsula Rail Taskforce:
"Cornwall Council works closely with both Network Rail and our local train and bus operators. We are now developing our own One Public Transport system for Cornwall that will bring together operators to improve bus and rail services. This includes the two trains an hour to provide a clock-face timetable between Plymouth and Cornwall that GWR will deliver next year.
"This could not happen without GWR, NR and Cornwall Council investing in trains and track, and we are delighted to see this new partnership railway approach, that can only mean better services for Cornwall and the South West."
Thelma Sorensen OBE, Chairman, Cornwall Business Council, said:
"The four commitments in this single plan recognise the vital importance of the railway to our local economy in the far South West in terms of reducing journey times, which are essential to the business community, driving growth and improving connectivity to key economic hubs. It builds on the investments that have already been made and the fact that it has been signed up to by all parts of the railway is to be very much welcomed."
Paul Britton, Chief Executive, Thames Valley Chamber of Commerce, said:
"Thames Valley Chamber of Commerce members have identified in the Business Manifesto that transport infrastructure is critical to the continued attractiveness of the Thames Valley as a place to locate, run and grow a business. It is more important than ever for all key stakeholders in the region to work together to deliver improvements to the capacity and quality of rail travel as well as potential new routes and stations to ensure the railway can play a key part in supporting business in the Thames Valley."
Bill Wells, Bedwyn Trains Passenger Group (BTPG), said:
"The Bedwyn Trains Passenger Group (BTPG) welcomes this initiative. It's great to see the coordination of multiple parts of the network into a single strategic plan. The services provided by GWR are fundamental to the economic prosperity of Hungerford, Great Bedwyn, Marlborough and surrounding areas.
"The new services and trains, to be introduced in January 2019, will cut commuter times into London, allow for more relaxed and modern journeys and contemporary flexible working practises. BTPG has a great working relationship with GWR. The access and inclusion we have with their senior management makes our lives so much easier."
Notes to editors

Great Western Railway (GWR) provides high speed, commuter, regional and branch line train services. We help over 100 million passengers reach their destinations every year - across South Wales, the West Country, the Cotswolds, and large parts of Southern England.
We're currently seeing the biggest investment in the network since Brunel so we can offer more trains, more seats, and shorter, more frequent journeys and continue the network's heritage of helping connect more businesses to new and prosperous markets. Through a series of initiatives we aim to be a good neighbour to the communities we serve and are committed to making a positive social impact in those regions. Learn how we're Building a Greater West at GWR.com. GWR is a FirstGroup company.
Contact Information
James Davis
Media Relations Manager
Great Western Railway
0845 410 4444
07703 890 711