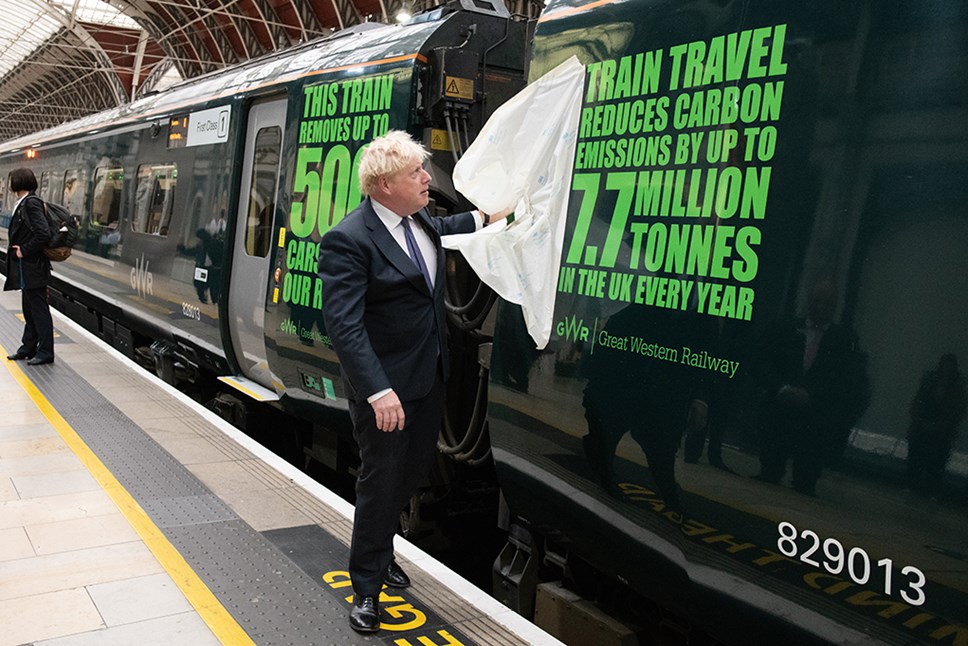 Prime Minister unveils GWR Intercity Express Train carrying special 'We Mean Green' livery.
Prime Minister Boris Johnson joined GWR Managing Director Mark Hopwood at Paddington Station this morning to unveil a special train livery outlining the environmental benefits of travelling by train.
The livery is part of the rail industry's 'We Mean Green' campaign, designed to encourage more people and businesses to choose greener train travel.
In a report published earlier this month, the Rail Delivery Group estimated that a 20% shift from rail to road would lead to an extra one million tonnes of CO2 emissions and 300 million hours stuck in traffic jams per year.
The new livery carries key messages highlighting how:
A single train removes up to 500 cars off our roads
Travelling by train reduces carbon emissions by 7.7 million tonnes in the UK every year
Train travel helps cut carbon emissions by two thirds compared to travelling by car
Leaving your car at home and taking the train cuts carbon emissions by two thirds
GWR Managing director Mark Hopwood, said: "We were really pleased to welcome the Prime Minister to Paddington station this morning to highlight the environmental benefits of travelling by train.
"With the world climate conference only a matter of weeks away, GWR is working hard to reduce carbon emissions even further make travelling on our trains even more environmentally."
Notes to editors
First Greater Western Limited, trading as "Great Western Railway" (GWR), operates trains across the Great Western franchise area, which includes South Wales, the West Country, the Cotswolds, across southern England and into London. GWR provides high speed, commuter, regional and branch line train services, and before the covid-19 pandemic helped over 100 million passengers reach their destinations every year. GWR was recently awarded an extension to its direct award franchise (called DA3), which shall run up to 31 March 2023, with an option to extend for a further year.
Find out more here: https://www.gwr.com/about-us
GWR's enhanced cleaning regime includes:
A 24% increase in cleaning hours every week since March 2020
Sanitising (fogging) of 1,120 vehicles every 4 weeks
Carrying out 2,150 on board surface tests (ATP) every four weeks, to ensure the effectiveness of our cleaning
272 train cleaning processes reviewed, and many adapted
Hand sanitising facilities at key stations across its network.
Contact Information
James Davis
Media Relations Manager
Great Western Railway
0845 410 4444
07703 890 711