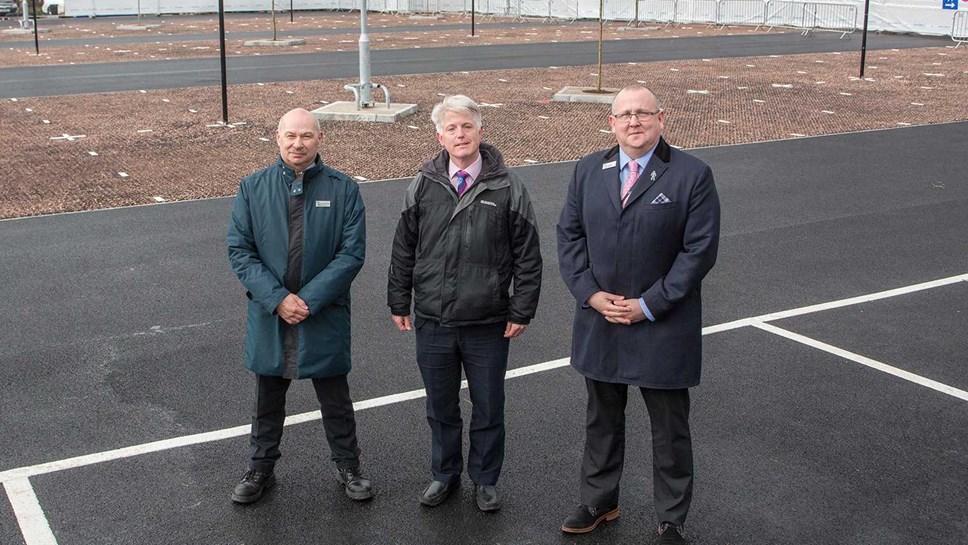 Parking at Gloucester Station doubles as part of station revamp
Car parking at Gloucester's railway station has been doubled by Great Western Railway, as part of a phased project to modernise the station.
Car parking at Gloucester's railway station has been doubled by Great Western Railway, as part of a phased project to modernise the station.
Over 200 additional spaces are now available at a new, separate car park, with even more to be added during the £2.7 million works.
The works will also see a new northern entrance into the station; secure gate lines; improved access; a new ticket vending machine, CCTV, and designated cycle storage.
This week 208 extra car parking spaces have been made available following the completion of the first phase of works, including three accessible spaces. On completion of the project, phase two, there will be 243 spaces in total with six accessible bays, as well as the access ramp, new station entrance and wider improvements.
GWR Station Manager for Gloucester Richard Morrish said:
"More and more people are turning to rail for their local and long distance journeys; to meet this demand later this year we will start to see brand new Intercity Express Trains reach Gloucester, offering more seats and more frequent services.
"GWR is dedicated to supporting the communities it serves and this new car park when complete, alongside improved rail services, will enable the local economy to continue to thrive both now and into the future."
Presently Gloucester Station has 199 long stay, plus short stay parking bays on the main forecourt. The new car park off Great Western Road will add an extra 243 spaces.
Leader of Gloucester City Council Cllr Paul James said:
"It has taken a lot of effort from all sides to reach this stage and these extra 208 spaces are a major bonus for the city as a whole.
"I've said it before, but this latest step forward in the project shows what we can achieve when national and local government and the private sector all work together."
Phase two of the project is due to be completed this summer.
Notes to editors
Great Western Railway (GWR) provides high speed, commuter, regional and branch line train services. We help over 100 million passengers reach their destinations every year - across South Wales, the West Country, the Cotswolds, and large parts of Southern England.
We're currently seeing the biggest investment in the network since Brunel so we can offer more trains, more seats, and shorter, more frequent journeys and continue the network's heritage of helping connect more businesses to new and prosperous markets. Through a series of initiatives we aim to be a good neighbour to the communities we serve and are committed to making a positive social impact in those regions. Learn how we're Building a Greater West at GWR.com. GWR is a FirstGroup company.
Contact Information
James Davis
Media Relations Manager
Great Western Railway
0845 410 4444
07703 890 711