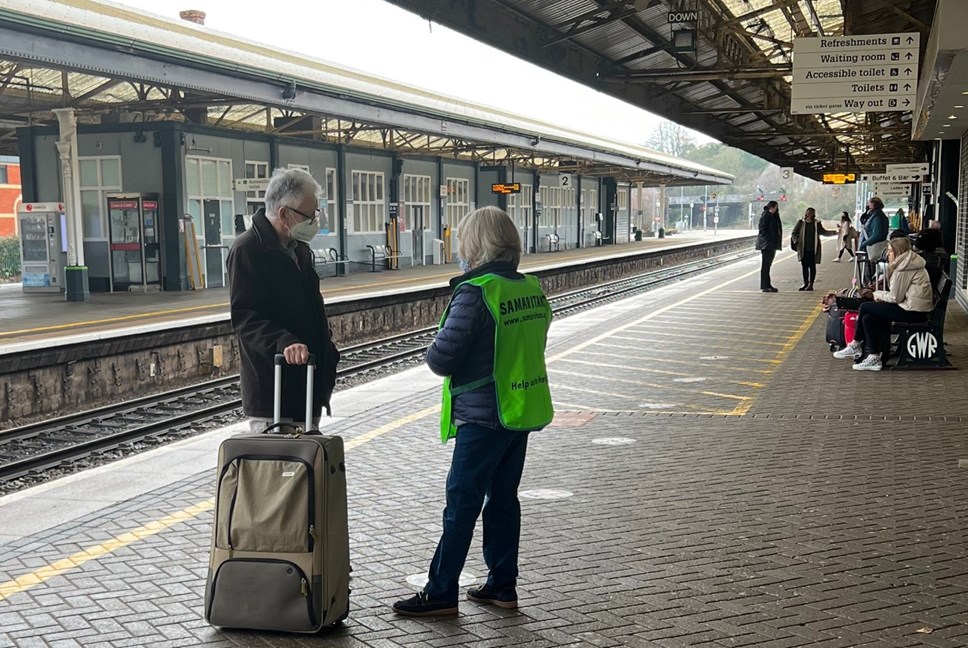 Out with the 'blue' and in with the 'brew' as GWR joins forces with Samaritans for Brew Monday
Great Western Railway is again joining forces with Samaritans to encourage staff and customers to share a cuppa and a catch-up with someone they care about for Brew Monday.
GWR and Network Rail colleagues will join Samaritans volunteers at stations, handing out teabags and talking to passengers about the importance of reaching out for a chat.
While the third Monday in January is sometimes referred to as 'the most difficult day of the year', Samaritans is highlighting that there's no such thing as 'Blue Monday' as people can feel a range of emotions any day of the year.
Colleagues at stations, depots and offices across the GWR network will also be sharing the warmth of a conversation thanks to a special 'Coffee Brewlette'.
The train operator already hosts a successful 'Coffee Roulette' each month, where colleagues from different parts of the business are picked at random and matched up for a cuppa and a chat.
The initiative was launched four years ago and also involves colleagues from GWR's alliance partners Network Rail, and stakeholders including members of the GWR Advisory Board.
More than 100 staff have signed up for 'Coffee Brewlette' and GWR Human Resources director Ruth Busby said it was a great way to meet different people and connect.
Ruth said:
"I've been taking part in Coffee Roulette ever since I joined the business four years ago. In these uncertain times it's more important than ever that we reach out to one another and lend a listening ear.
"It's why we're so pleased to be supporting Samaritans' Brew Monday campaign again this year and spreading this important message to our customers.
"We're encouraging people to recognise the power of human connection and start a conversation which could save a life. This Brew Monday we're saying out with the blue and in with the brew!"
Head of route human resources for Network Rail's Western route, Kerry Elton, said:
"We know that this time of year can be difficult for many, especially as we enter a new phase of the pandemic.
"Talking to others can really help, which is why we're pleased to be supporting Brew Monday. Something as simple as sharing a cup of tea and a chat can make a real difference to someone who may be struggling, so I'd encourage everyone to take five minutes and have a chat with a friend, colleague or family member to help banish the winter blues."
Samaritans' CEO Julie Bentley said:
"We're so grateful to the rail industry for their support of Brew Monday again this year. Throughout the various lockdowns and restrictions, the pandemic has shown us that staying connected with others has been a vital part of getting people through difficult times.
"We know the impact talking and listening can have, and a cup of tea and a chat won't solve everything, but it can be a start. You don't have to have all the answers or solutions, you just need to listen and start a conversation which could just be the support that someone needs."

Although winter is thought to be one of the harder seasons with dark days and frosty nights, Samaritans volunteers hear similar concerns all year round from those who contact the charity. The main concerns include mental health and illness (46%), family (34%) and loneliness (28%)*.
Samaritans volunteers were at Newton Abbot Station last Monday, where The Lions Barber Collective hosted a special pop-up barbershop encouraging people to get a free haircut and discuss their mental health at the same time.
Today Samaritans volunteers will be on hand at Bath Spa, Cheltenham Spa, Exeter Central, Exeter St Davids, Gloucester, Kemble, Plymouth, Swindon, Taunton and Truro stations, handing out tea bags and engaging in a chat with customers.
The charity has also worked with artists with their own mental health challenges to create inspiring artwork to be featured on digital screens at stations. This includes work by contemporary wellbeing artist Emelie Hryhoruk, who has a studio near Bath.
Find out more at samaritans.org/brewmonday or join the conversation on social media using #BrewMonday and why not make a donation while you're there, you could help save a life.
Notes to editors
*From December 2020-November 2021, 46% of contacts who reached out to Samaritans for emotional support mentioned mental health and illness, 34% mentioned family and 28% mentioned loneliness as a concern.
About GWR
First Greater Western Limited, trading as "Great Western Railway" (GWR), operates trains across the Great Western franchise area, which includes South Wales, the West Country, the Cotswolds, across southern England and into London. GWR provides high speed, commuter, regional and branch line train services, and before the covid-19 pandemic helped over 100 million passengers reach their destinations every year. GWR was recently awarded an extension to its direct award franchise (called DA3), which shall run up to 31 March 2023, with an option to extend for a further year.
Find out more here: https://www.gwr.com/about-us
About Samaritans
Anyone can contact Samaritans FREE any time from any phone on 116 123, even a mobile without credit. This number won't show up on your phone bill. Or you can email jo@samaritans.org or visit www.samaritans.org
Every day, Samaritans volunteers respond to around 10,000 calls for help.
Samaritans is a charity and it's the public's kind donations and more than 20,000 volunteers that mean we are always there for anyone struggling to cope. Find out how you can support us or volunteer with us.
Contact Information
John Carter
Media and Communications Manager
Great Western Railway
0845 410 4444
07715 040424
Notes to editors
Pictures
Main image: A Samaritans volunteer engaging in a chat with a customer at Newton Abbot Station
Insets: The pop-up barbershop at Newton Abbot and Brew Monday artwork by Emelie Hryhoruk